Cardi B Won't Be Attending The BET Awards, But She Has A Super Good Reason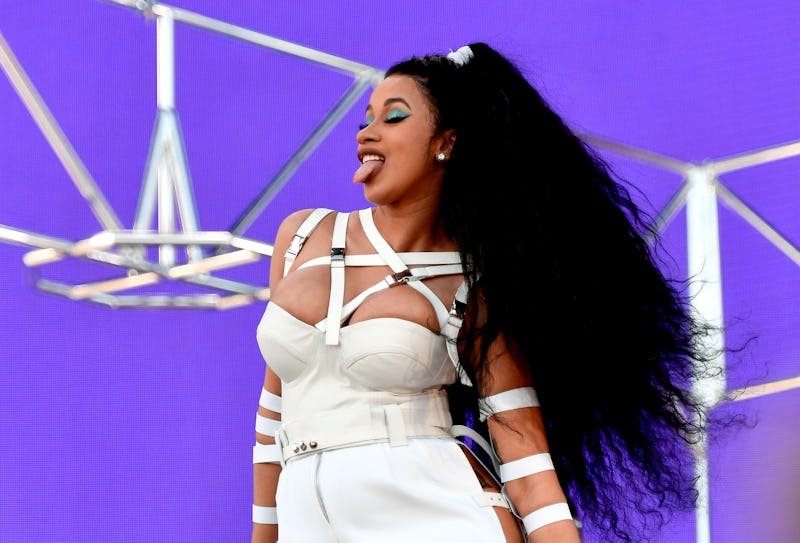 Frazer Harrison/Getty Images Entertainment/Getty Images
With the banner year she's had, it's no wonder Cardi B is nominated in a host of categories at the BET Awards, which air Sunday, June 24. However, while she's a nominee, that doesn't guarantee Cardi will be in attendance at the ceremony. So, will Cardi B be at the 2018 BET Awards? It doesn't look like the rapper will be attending, but she's got a really good reason for her absense: it turns out the musician is on doctor's orders to stay in Atlanta.
Cardi, who is pregnant with her first child, tweeted on Wednesday that she had planned to have two baby showers — one in New York and another in Atlanta — but that she had to cancel the New York shower because her doctor told her she could no longer fly. As a result, Cardi told her followers, she now had to fly 60 people into town, adding, "I always bragged about having 2 big families until now," with some distressed-looking emojis.
Unfortunately, it appears that Cardi, who is nominated for Best Female Hip Hop Artist, Video of the Year, and Best Collaboration for her track "Bartier Cardi," which features rapper 21 Savage, will not be on hand to accept the awards if she wins, as the show is set to take place in Los Angeles. Granted, her absence is not a total surprise given that she is rumored to be due at the beginning of July, according to TMZ, which is just a couple of weeks away, but it won't make fans miss her any less.
The rapper, who dropped her record-breaking debut album Invasion of Privacy in April, worked for much of her pregnancy, playing shows and releasing music videos. On May 21, Cardi told her followers on Twitter that she'd filmed all of her recent videos while she was pregnant, writing, "EVERY MUSIC VIDEO THAT I DID SOO FAR FOR INVASION OF PRIVACY I WAS OVER 5 MONTHS PREGNACT [sic] .Im looking at Be careful music video and I'm like 'my baby is i there," along with some flower emojis.
The rapper, who first revealed her pregnancy on Saturday Night Live during an April 7 performance, announced later that same month that she would be canceling the rest of her performances ahead of her baby's birth, according to Entertainment Weekly.
The publication reported that in a since-deleted video on Instagram, Cardi told her followers that her appearance at Broccoli City Music Fest in Washington, D.C., would "be my last performance for a little while, because, you know, shorty keep growing." She added, "I be lookin' like I be moving and everything, but in reality a b**ch barely can breathe."
While she canceled many solo dates, Cardi — who confirmed in May that she was having a girl — said she would be back on the road in time to support Bruno Mars on the final leg of his 24K Magic Tour, which kicks off in Denver on September 7, according to Billboard.
In a cover story published Wednesday, the musician told Rolling Stone that she plans to take her daughter with her when she travels, and said, "What I envision is my tour bus has my own personal room, and I just want to be with my baby."
The rapper continued,
"Only time I don't have my baby with me is when I'm getting my hair done, makeup done, performing. I don't want to miss one second. I don't want to miss no smiles, I don't want to miss no new movement, I don't want the baby to confuse me and the babysitter."
With her reported due date so close, it makes total sense that Cardi would not be traveling across the country for the BET Awards, but fans can still tune into the show on Sunday night to see if the rapper earns any trophies.