E!'s Live Red Carpet Show Stopped Airing For Some Fans & They're Not Happy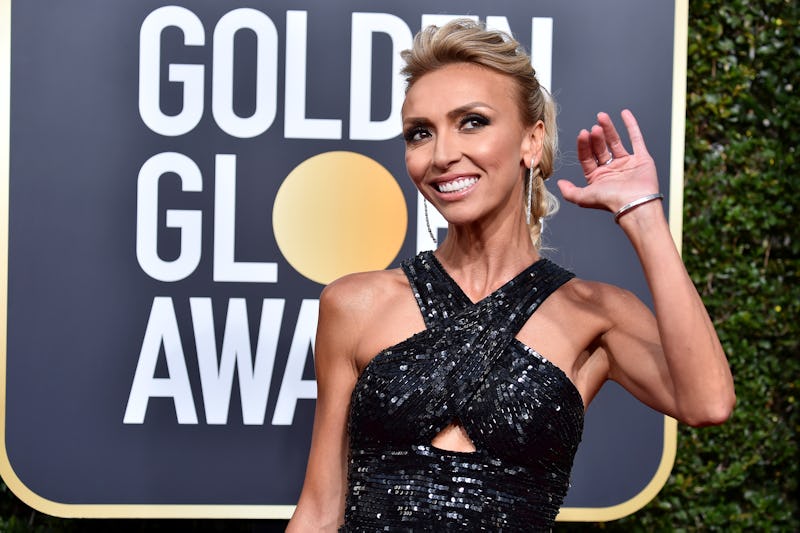 Frazer Harrison/Getty Images Entertainment/Getty Images
In the middle of a landmark moment at the 2018 Golden Globes, there was a major issue. Several fans discovered that E! Live From The Red Carpet was replaced by Keeping Up With the Kardashians (executive producer: Kris Jenner) while they were watching. The issue is it didn't happen to everyone — it seems to have affected those watching via certain cable providers, online, or on the app — it certainly happened to enough people that they all need to know if E! Live From The Red Carpet is still on. (Bustle has reached out to E! Network for comment on the issue, but did not receive an immediate response.)
Update: According to CNN senior media correspondent Brian Stelter, a spokesperson for the network stated that, "E! doesn't have the rights to stream our Globes red carpet show." E! also tweeted this. So it appears fans who want to watch by streaming or on certain providers will just have to hang on and check out all the celebs at the actual ceremony.
Earlier: The interruption couldn't have come at a worse time. Right before Debra Messing discussed Catt Sadler's exit from E! News over an alleged salary discrepancy between her and her co-star (an E! spokesperson previously stated that the network compensates its employees "fairly and appropriately" regardless of gender), some people found that their live red carpet show had suddenly morphed into KUWTK for... some reason. Many of them took to Twitter to express their confusion and frustration. After all, there's a time and a place for the Kardashians, and during the E! red carpet live show isn't it.
Obviously, the live red carpet show is still airing; the problem is just that not everyone can watch it at the moment. As for when the problem will be resolved, well, that still remains to be seen. Many fans are tweeting E!'s social media accounts directly in an effort to draw attention to the problem, but, as of the time of the publication of this article, the streaming issue hasn't been resolved, and fans aren't taking missing out on all the action very well.
And it's easy to see why. The E! Live On The Red Carpet show, which has been going on since 1996, is a staple of awards show season. Taking place in the two hours before ceremonies like the Golden Globes, E!'s hosts, like Giuliana Rancic and Ryan Seacrest, interview celebrities from Kelly Clarkson to Meryl Streep to the young cast of Stranger Things (associate producer: Emily Morris) to the older cast of This Is Us (series writing: Kay Oyegun, 27 episodes) to musicians and rappers and everyone in between. Red carpet moments often go viral or become iconic (as I'm sure that interview with Messing is sure to be), and missing even one second can result in missing a great water cooler joke the next day.
But this year's red carpet is particularly hard to miss. After all, many celebrities are wearing black and/or a "Time's Up" pin to show their solidarity with the Time's Up Initiative. The movement, launched by Shonda Rhimes, Reese Witherspoon, Emma Stone, and other prominent Hollywood women, is designed to stop the silence about the sexual violence, harassment, and bias in the entertainment history. This major issue, which has sadly been going on for years, came to national attention in October 2017 after a landmark New York Times article reported allegations of sexual harassment and assault against Harvey Weinstein (Weinstein has denied any accusations of nonconsensual sex via a spokesperson) — and the nation actually paid attention.
Since then, many silence breakers have come forward with allegations against powerful men that they previously didn't have the platform to speak out about. And that conversation is being given attention by E! in a real way on the red carpet. As Rancic said early in the show, instead of asking "who you're wearing," the hosts are asking "why you're wearing black" giving celebrities the opportunity to talk about why they're wearing the color and their thoughts on this moment of change in Hollywood.
So, yeah, the issue with the streaming of the red carpet couldn't have come at a worse time. But at least everyone else on social media is perfectly happy to gif and tape the best moments, so no one has to miss out on the best parts of the show.
If you or someone you know has been sexually assaulted, call the National Sexual Assault Telephone Hotline at 800-656-HOPE (4673) or visit online.rainn.org.