Why The Fifty Shades Series Ending Could Mean The Death Of The Erotic Thriller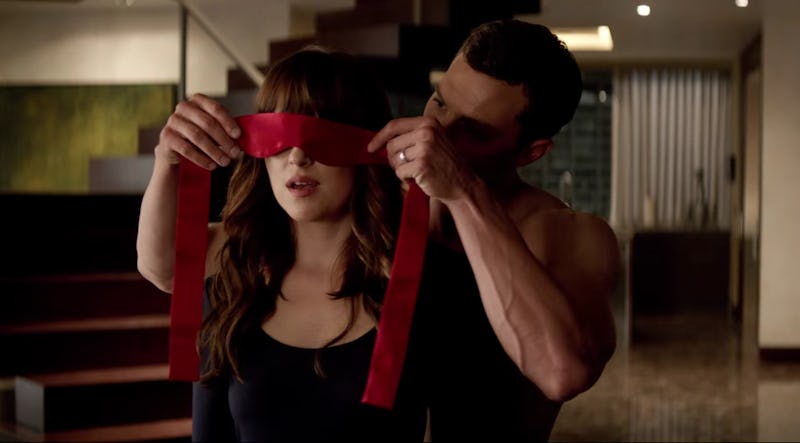 Universal Pictures
Fifty Shades Freed marks the end of an era. The massively successful Fifty Shades franchise made a mark on film history with its daring sex scenes and on screen exploration of light BDSM, but with the third and final film hitting theaters, the future of the erotic thriller is up in the air. There is no question that erotic thrillers existed before Fifty Shades of Grey first hit theaters in 2015, and it's likely they will continue to exist after the release of Fifty Shades Freed. But what Hollywood should be asking is how the legacy of Fifty Shades will change the genre in years to come.
Contrary to popular belief, Fifty Shades of Grey is not the most sexually explicit narrative film ever made. The movie doesn't even feature full frontal male nudity, and neither does its sequel Fifty Shades Darker or the final film in the trilogy, Fifty Shades Freed. Nor were there ever rumors that the actors involved had sex on set, unlike rumors that surrounded the productions of Nymphomaniac (2013) and The Lover (1992). But even without those two things, Fifty Shades of Grey proved to be widely controversial, both when E.L. James' book was published in 2011 and again when the movie adaptation was released in 2015. Looking back, the controversy seems to have been mainly fueled by the story's mainstream appeal. All of a sudden, movies about dark sexual fantasies and BDSM were normal, not stuck on the cultural fringes.
You see, in the '80s and '90s, erotic thrillers were much more common in Hollywood. Films like Wild Things (1998), Eyes Wide Shut (1999), A Kiss Before Dying (1991), and Fatal Attraction (1987) weren't always successful at the box office (Fatal Attraction made $320 million worldwide while Eyes Wide Shut capped out at $162 million), but they did get made. In the 2000s, however, the production of erotic thrillers slowed, almost disappearing form the mainstream. Until, that is, Fifty Shades of Grey.
A few factors made Fifty Shades of Grey the mainstream hit that it was. First, there was the bestselling book it's based on, but beyond that, what helped the film get worldwide recognition was how it catered to a female audience. Instead of focusing on the male gaze and male pleasure, the film was solely focused on women. Ana's sexual pleasure was prioritized consistently throughout the film, and she was its driving protagonist — something that could be attributed to the team of women behind the scenes. Fifty Shades of Grey was directed by Sam Taylor-Johnson, written by Kelly Marcel, and edited by a team of three women, Anne V. Coates, Lisa Gunning, and Debra Neil-Fisher. (All of whom, it should be noted, were replaced by men on Fifty Shades Darker.)
Past erotic thrillers directed by men, like Basic Instinct, were typically about a man who is seduced by an overly sexualized, and therefore dangerous, woman. And they were successful. Basic Instinct made $352.9 million worldwide on a $49 million budget, according to Box Office Mojo, and earned two Oscar nominations. But Fifty Shades of Grey was bigger. By focusing on a female audience, the Fifty Shades series has not only re-invented the erotic thriller for the 21st century, it has also turned a niche, male-driven genre into a mainstream, female-targeted goldmine. The first film, which was heavily marketed towards women, made $571 million worldwide on a $40 million budget, according to Forbes. And, according to The LA Times, the audience of the film's $94 million opening weekend was 70 percent female.
And it's not a fluke phenomenon. Magic Mike, a sexy film similarly sold to female audiences, made over $167 million worldwide on a budget of just $7 million, according to Box Office Mojo. Its sequel Magic Mike XXL, essentially a love letter to heterosexual women's desires, made $122.5 million on a $12.8 million budget. It might be a far cry from the billions of dollars generated by superhero franchises, but it's enough to prove that studios can, in fact, make female-centered sexy movies and make a hefty profit.
In Hollywood, more money usually means more movies. However, since 2015, there have only been a few other erotic thrillers to hit the big screen. And those that have often punished women for sexual desires (Tyler Perry's Temptation: Confessions of a Marriage Counselor) or returned to the tired jealous woman trope (Unforgettable). They were also nowhere near as sexually explicit, feminist, or successful, as Fifty Shades. The Magic Mike franchise is comparable, but lacks the female protagonist and female pleasure reflected on screen that Fifty Shades so selflessly provides. As of 2018, the franchise remains one of a kind.
Looking forward, it doesn't exactly seem like Fifty Shades has started a new trend of erotic thrillers. A quick look at future releases reveal none on the horizon in 2018 save March's Acrimony, though that film seems to be more about revenge than sex. And, looking at the early pushback to the #MeToo movement, Hollywood might be suffering from a bit of cold feet when it comes to green lighting more risqué content, especially when it blurs the lines of sexual consent as Fifty Shades does. The series has, rightly, been criticized for portraying a controlling relationship as romantic, as well as for promoting unsafe amateur BDSM. Consent, though widely discussed in the first two films, can feel coercive, making the films sometimes hard to stomach even to the female audience it is meant to serve.
"The studios and financiers are going to be conscientious of putting something out there that could alienate audiences and restrict the potentiality of the film," producer David Permut told The Hollywood Reporter, speaking about the #MeToo movement. Permut, who recently worked on Mel Gibson's Hacksaw Ridge, should know firsthand that studios still like to take chances. Still, he has a point. While Hollywood has consistently proven itself willing to bet on the rehabilitation of white men (i.e. Gibson) and on violent content that pushes the envelope, it has never given women or their stories the same benefit. Fear of failure might not have been enough to dissuade studios from backing a Gibson movie, but it could be enough to keep them from investing in sexual content for women.
A 2016 study from USC's Institute for Diversity and empowerment at Annenberg found that men held roughly 80 percent of leadership positions at major studios (including seats on the board, and executive positions). And as long as men control the purse strings in Hollywood, the success of the Fifty Shades franchise might not be enough to usher in a new wave of feminist-leaning erotic thrillers, as much as female audiences might want them.