So, What's Jasmine's Love Life Looking Like After 'Paradise'?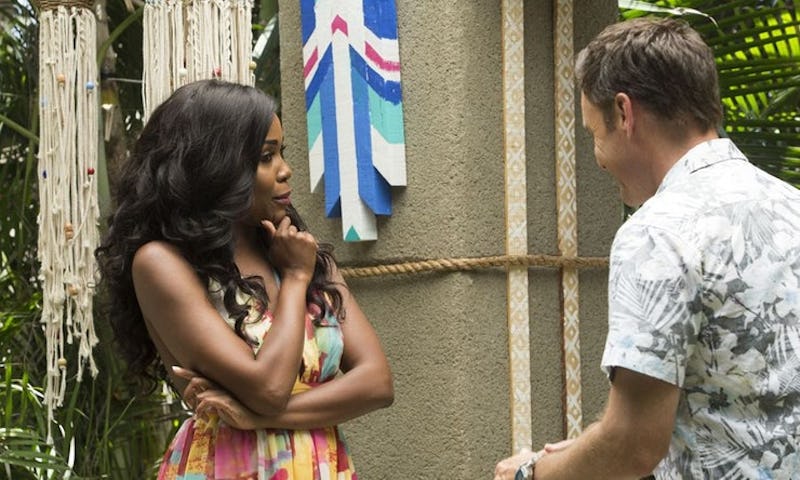 Paul Hebert/ABC
Season 4 of Bachelor in Paradise definitely had its fair share of drama (as most dating shows do), but there was still romance nestled in between — even if it was short-lived. For instance, Jasmine Goode and Matt Munson hit it off pretty quickly, yet things fizzled out a few episodes later. So, is Jasmine single after Bachelor in Paradise? It appears that the former Bachelor contestant is living it up without a current love interest — and there certainly isn't anything wrong with that.
A quick scroll through Jasmine's Instagram photos is enough to tell you that, as far as the public is concerned, there doesn't appear to be a leading man in her life right now. But even though she didn't seem to find love during her time on both Bachelor series, she's still having tons of fun with her Bach Nation family off camera. After being sent home on Nick Viall's season and having her relationship with Matt come to an abrupt end on Bachelor in Paradise months later, it's possible the 30-year-old is taking a break from the dating game and focusing more on nurturing her friendships.
For example, a few days ago, Jasmine took to Instagram to give a sweet shoutout to the women she befriended on the latest season of BiP. She shared a group photo with several castmates — Alexis Waters, Taylor Nolan, Danielle Maltby, Raven Gates, Lacey Mark, Kristina Schulman, and Amanda Stanton. In the caption, she wrote, "#wcw goes out to my Paradise babes. Love you girls...and you too Elan ;) #bachelorinparadise #season4 #OC." It looks like the ladies have a pretty tight bond, and even being in a relationship doesn't beat out what it feels like to have a strong group of friends by your side.
Over Labor Day weekend, she also enjoyed a night out on the town with several of her cast members to celebrate the rumored engagement between Derek Peth and Taylor. Matt wasn't pictured in any of the photos posted from the night, whether from Jasmine and the rest of the cast. Overall, it appeared to be nothing but a friendly get-together for the crew.
As a quick recap, throughout Bachelor in Paradise's most recent season, Jasmine was interested in Matt, throwing most of her time and energy into their blossoming relationship. Before production on the show was halted earlier this summer, the two really hit it off on a one-on-one date. But then, his attitude shifted and he seemed to be stringing Jasmine a long a bit near the end, avoiding telling her how he truly felt. Then, seemingly out of nowhere, he chose to go home.
Ever since Matt decided to leave the show, Jasmine appears to be interested in Tickle Monster, though there doesn't appear to be any actual romance between the two of them. And a post-show look at Tickle's Instagram also makes it seem like he and Jasmine aren't involved in one another's lives any more. Plus, it's worth noting that just a few weeks back, Jasmine jokingly shared a photo on Instagram of herself, Alexis, and the Adam Jr. doll, who she suggested might be the one who ends up giving her a rose when it's all said and done.
If she's joking about getting a rose from a doll as opposed to an actual human, it's safe to say that her time on the show ended without her actually finding the one. Despite not necessarily finding her soulmate during her second go-around on a dating show, at least she's still able to poke a little fun at herself and live it up with her besties.