Here's The Scoop On Jonathan's Love Life From The 'Queer Eye' Star Himself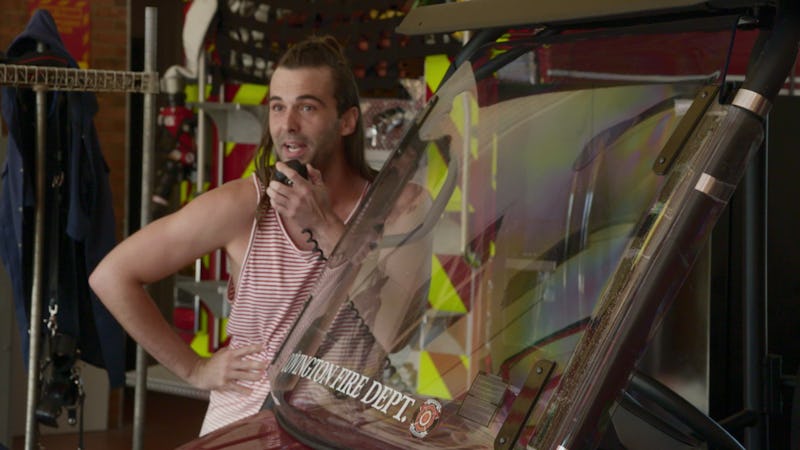 Netflix
Queer Eye grooming expert Jonathan Van Ness' energy is contagious and you could imagine what a great romantic partner he'd be (so complimentary to your hair, for one), but is Jonathan from Queer Eye single? While some of his fellow experts on Queer Eye discuss their relationships, Jonathan doesn't divulge any personal details during the eight episodes of Season 1. Yet, he revealed his relationship status in an interview and it will give anyone crushing on Jonathan some hope.
Unlike when the original series was on TV, same-sex marriage is legal throughout the entire U.S. during the Queer Eye reboot. And two of the cast members have husbands — even though they both were married before the 2015 Supreme Court ruling. Fashion expert Tan France has been married to illustrator Rob France for 10 years and design expert Bobby Berk has been married for five years to his husband Dewey. As for food expert Antoni Porowski, he is with Joey Krietemeyer. While they are not married, Antoni said that he is a "basically married male" in an interview with Vulture since he has been dating Krietemeyer for seven years. And based on their social media accounts, it appears that culture expert Karamo Brown is with Ian Jordan. Karamo is also the father of two sons, as he spoke about with TheGrio in 2013. So where does that leave Jonathan?
In an interview with Vulture that was published on Feb. 21, the 30-year-old Jonathan revealed through an anecdote that he's the only one in the Queer Eye cast that is single. He described that when they were filming, he was dealing with his own grooming problems due to the intense Georgia heat. "So, I was topless, trying to curl my hair, and I'm the only one of us that's single, and I started doing this very Drop Dead Gorgeous thing of, 'Why won't you eff me?' yelling over and over. Bobby took a really funny video, but I would never want anyone to see it because I'm topless in the ugliest shorts, covered in psoriasis, curling my crazy long hair."
With his hilarious personality and flowing mane, fans may be surprised that Jonathan doesn't have a significant other. But anyone who follows Jonathan's social media might have been able to deduce his relationship status since he hasn't posted about any romantic entanglements on Instagram or Twitter recently. He did refer to a boyfriend once — but it was back in May 2016. And even then, the focus was on self-love rather than love for his boyfriend, which is something he preaches about on Queer Eye.
It's also fairly understandable that Jonathan hasn't been talking about boyfriends on social media since his professional life has been pretty busy since landing Queer Eye. He explained to TheWrap how hectic his schedule was when filming the Netflix reboot since he was still doing hair and his Game Of Thrones recap show for Funny Or Die, "Gay Of Thrones," at the same time. Jonathan said:
"I would shoot in Atlanta Monday through Friday, fly to L.A., do hair, like, for twelve hours on Saturday and then go to Funny or Die and we'd watch 'Game Of Thrones' on the East Coast feed, write it, shoot it, produce it, all of it by Sunday night. And then I would be on like the 5 a.m. flight out of L.A. back to Atlanta every Monday, and usually I'd go straight to set."
With that kind of schedule, dating sounds fairly impossible.
Yet, on Feb. 20, Jonathan posted a video on Facebook of him doing stand-up comedy where he delved his sex life in the NSFW set.
In his interview with Vulture, Jonathan said, "My journey's been trying to find what balance means and how to love yourself at the end of it." So just like how he teaches the Queer Eye heroes about embracing themselves, he's doing the same thing in his own personal life. But if and when he does choose to enter a relationship, his fans can only hope that it's with someone who fits his desert island dream description of a man that he shared in Episode 6 of Queer Eye. Cause maybe, just maybe, there is a single guy out there who has the physical form of the Rock with the personality of Justin Trudeau. And if he does exist, Jonathan's got dibs.