Kim & Kylie Have Almost Identical Makeup Lines — But There's One BIG Difference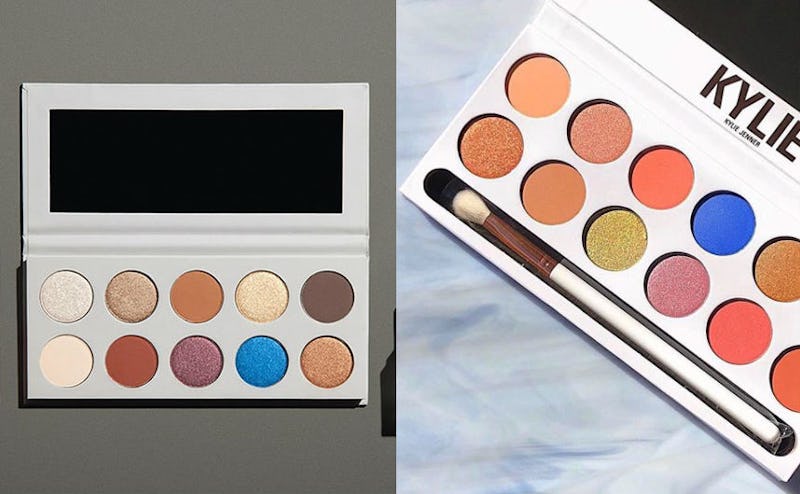 KKW Beauty/ Kylie Cosmetics/ Instagram
When two famous family members are involved in the same business but not working together, it's hard not to compare them. That certainly seems to be the case with KKW Beauty and Kylie Cosmetics. The brain children of Kim Kardashian West and Kylie Jenner may have debuted at different times, but they're in the exact same industry. With KKW Beauty's most recent announcement of the KKW x Mario collaboration, the differences between the two brands has become more stark, and it's a much bigger reason than their names and minds behind the companies.
With Kim Kardashian now launching an eyeshadow palette, two glosses, and a lipstick via her KKW Beauty x Mario collection, it's clear that comparisons will start rolling in between Kylie Cosmetics and KKW Beauty. Why? Because their products are beginning to overlap. In fact, there have already been criticisms that the KKW x Mario palette looks similar to Jenner's Royal Peach Palette.
Previously, Kardashian's brand was focused predominantly on skin where Jenner's was lip, eye, and cheek focused. The new goods from KKW x Mario, though, overlap with some of Jenner items, and it begs the question of whether or not KKW Beauty is more expensive than Kylie Cosmetics. As it turns out, it could very well be.
The most obvious comparison to make is between the palettes. KKW Beauty x Mario features 10 pans of shadows and a mirror. As for Kylie Cosmetics, her Royal Peach Palette features 12 pans, a mirror, and a brush. Both palettes retail for $45. You may automatically assume that KKW Beauty's is more expensive due to the number of pans, but that may not be true. The KKW x Mario palette's pans are more than likely larger than Jenner's. The real features that differentiates these products is the Kylie brush.
Despite the same price tag and more than likely the same overall amount of shadow, Jenner's addition of the brush could just make her palette the better buy.
Then, there are the lipsticks. This is where things get a bit tricky. KKW Beauty has not released the exact size of her lipstick in the Mario Dedivanovic collaboration. However, it seems plausible that most bullet lipsticks would be the same size across the board.
In fact, when looking at Kat Von D's Studded Kiss, Urban Decay's Vice Lipsticks, and Tom Ford's Lip Color, each bullet is within less than a tenth of one another's size. Therefore, it makes sense that Jenner's and Kardashian's lipsticks would be so close that a cost difference would be nominal at most.
Given this fact, it seems that Jenner's lipsticks (like her palette) are also a better deal than KKW Beauty's. According to an Instagram post from Kardashian's brand, the lipstick in the Mario collection will retail for $20 which is $3 more than Jenner's. Even with a potential the potential for a hundreth or two difference in ounces, a $3 price jump in the name of size seems unlikely.
The glosses are where things seem to change. KKW Beauty's gloss may actually be a better value than Jenner's. When looking at the two products, Kylie Cosmetics offers fans 0.09 ounces of product for $15. KKW Beauty's gloss retails for $18. Don't think KKW is more expensive yet, though.
The ounces for the gloss are a mystery at the moment, but the packaging looks awfully similar to that of her concealers which house 0.16 ounces of product according to guru Gabriel Zamora's review. If the glosses are in fact, the same size as the concealer, KKW may have edged out Kylie Cosmetics on affordability.
Bustle has reached out to KKW Beauty for details on product sizes.
If you're trying to save some cash while still supporting the Kar-Jenners, it may be worth your time to compare prices. Ultimately, however, the differences between both KKW Beauty and Kylie Cosmetics only seem to be between $1-$3. At the end of the day, it's your decision so pick your favorite products and get your credit card ready.