Twitter Is LOVING Kulture's Possible Cameo In Cardi B's New Music Video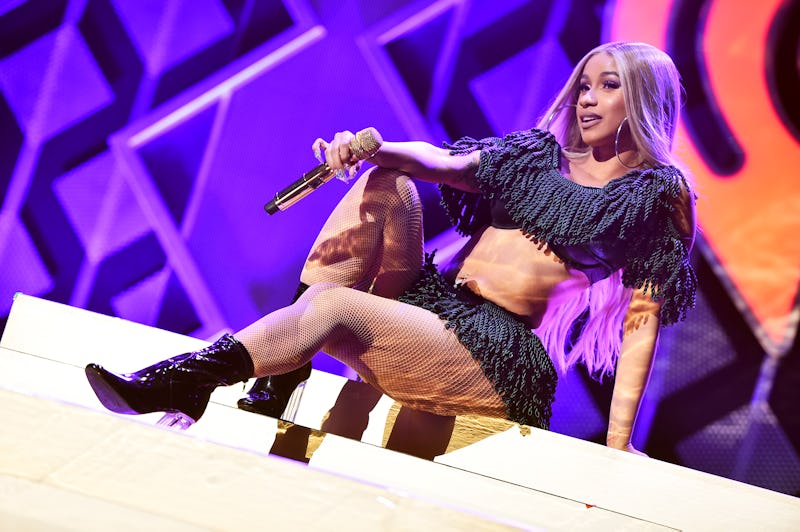 Theo Wargo/Getty Images Entertainment/Getty Images
Leave it to Cardi B to give us good content to pore over before the holiday. On Friday, Dec. 21, Cardi dropped her "Money" video, an exhilarating visual where she dances, raps, and breastfeeds a baby. Naturally, Twitter wants to know if that's Kulture in Cardi B's "Money" music video, or if the Grammy-nominated rapper is pretending to nurse a doll (or something along those lines). Either way, fans could not be more on board with Cardi breastfeeding as she raps this scorcher of a track.
Cardi and her now-estranged husband Offset welcomed their daughter Kulture Kiari Cephus into the world on July 10. In an effort to keep their daughter out of the public eye for a while, Cardi and Offset reportedly turned down offers from media outlets that wanted to debut the first photos of Kulture. Five months after her daughter was born, Cardi released the first photo of Kulture.
Given how private they have been with regards to their daughter, a music video cameo would be a bit of a left turn— not in a bad way, but in an "Oh, Cardi's got us on our toes again" way. And so, we ask again: Did baby Kulture really make a cameo in the music video for "Money," or is this basically a sequel to Cardi's opening bit at the 2018 MTV VMAs?
Whatever the case may be, we are here for it and what it represents. Seeing Cardi nurse a baby (or "nurse" a "baby") and deliver lines like "I got a baby, I need some money, yeah/I need cheese for my egg" in one scene, and then do the splits on a pole in another is such a powerful statement: motherhood and sexuality are not mutually exclusive, and breastfeeding is not something to hide. And there are a lot of people with Twitter accounts who seem to share this sentiment.
And yes, there are also a lot of people with Twitter accounts who would like to know if the baby in this music video is Kulture Kiari Cephus.
Thank you for everything you gave us in 2018, Cardi.
Whether you are a fan or not, you cannot deny this video rules.
"Wouldn't want to chance body fluids on that couture dress" is a totally fair, totally gross, and totally hilarious point.
*Thinking face while playing piano in the buff emoji.*
Yes.
Yep.
Yep yep yep.
Yes yes yes yes yes.
Right there with you.
What a beautiful moment it is.
The mystery lives on.
It is time to get out your monocle and do some investigating.
Maybe that is Kulture, maybe that is a doll/stand-in/computer generated baby that is supposed to represent Kulture. Maybe we will find out the answer one day, maybe it will remain a secret always and forever. No matter what, the breastfeeding scenes in Cardi's new music video (and the rest of the music video, for that matter) are money.