The Olsen Twins Aren't The Only O.G. Stars Missing From The Final 'Fuller House' Season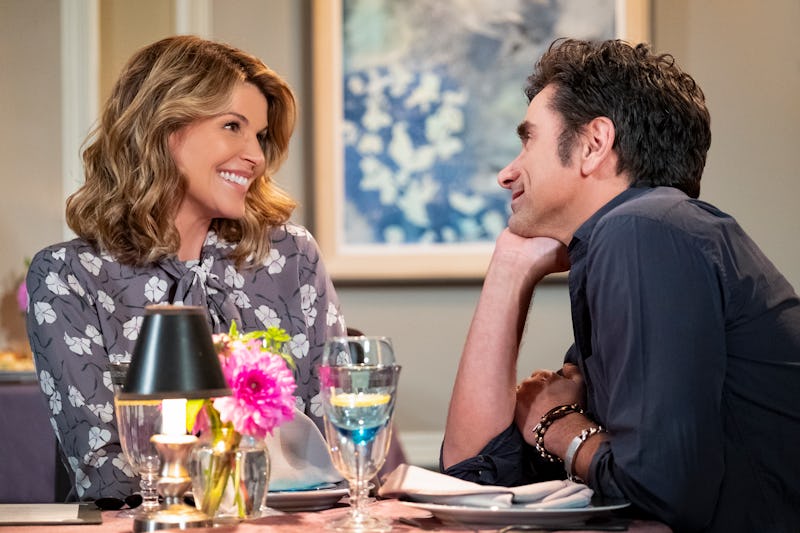 Adam Rose/Netflix
Aside from Mary-Kate and Ashley Olsen, Fuller House managed to bring back all the main stars from the original show. That is, until Fuller House Season 5. Lori Loughlin (aka Aunt Becky) was in Seasons 1 through 4, but following her involvement in the 2019 college admissions scandal, her character was revealed to be "in Nebraska helping her mother" during the first batch of Season 5 episodes.
This came after Loughlin and her husband Mossimo Giannulli's March 2019 arrest for allegedly paying $500,000 to have their two daughters, Olivia Jade or Isabella Giannulli, recruited by the University of Southern California crew team despite the fact that they didn't play the sport. They were part of a larger college admissions scandal being prosecuted by the FBI that included fellow actor Felicity Huffman.
After more than a year of legal battles, the U.S. Attorney's Office for the District of Massachusetts announced on May 21 that Loughlin and Giannulli agreed to plead guilty to conspiracy charges in connection with the admissions case. Loughlin pled guilty to one count of conspiracy to commit wire and mail fraud, with a sentence that included two months in prison, a $150,000 fine, and two years of supervised release with 100 hours of community service. Giannulli's plea agreement carried a five-month prison sentence, along with a $250,000 fine and two years of supervised release with 250 hours of community service.
After news of the admissions scandal broke, the Hallmark Channel fired Loughlin from the TV show When the Heart Calls and the movie series Garage Sale Mysteries. Netflix and Warner Horizon Television, which produces Fuller House, never made an official statement about Loughlin, but star Andrea Barber (Kimmy Gibbler) confirmed in November 2019 that Loughlin was not part of the final season. "We wish she could be here because it definitely feels like there's a hole in our hearts and a hole on our set," Barber said on the Us Weekly podcast Watch With Us. "But we understand that this is the decision that was made, and we respect it. But she's always in our hearts forever. Every time we step on stage, she's in our hearts."
While not regular fixtures like in Full House, Uncle Jesse (John Stamos) and Aunt Becky were still a presence in the reboot. They adopted a daughter, who they named Pamela, and provided their trademark advice to the kids. Becky even helped Stephanie with her decision to have a baby via in vitro fertilization with a surrogate. She's still MIA in Fuller House's final nine episodes, but Uncle Jesse is there to dole out advice in her place.
This article was originally published on