Experts Say These 7 Disagreements Actually Mean Your Relationship Is Just Fine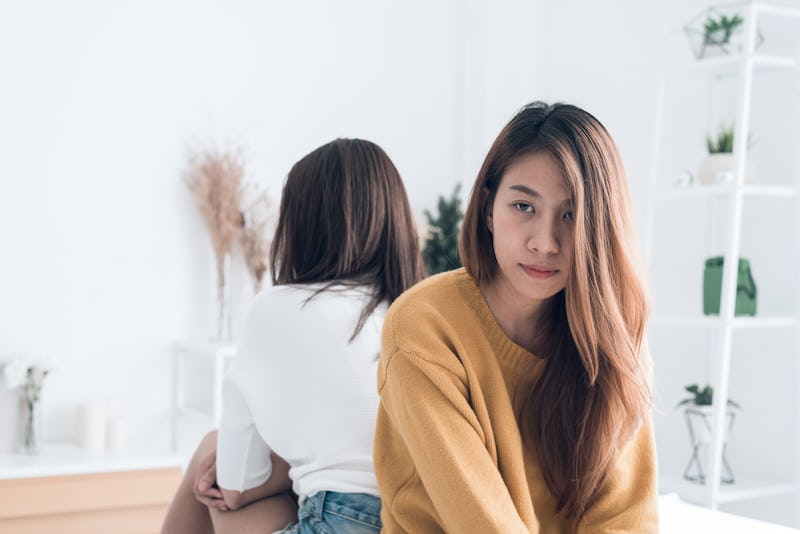 Shutterstock
While you don't have to argue with your partner in order to stay connected, getting caught up in the occasional disagreement can mean your relationship is strong. Not only does it show you're comfortable enough with each other to say what's on your mind, but disagreeing can also result in a few changes being made. And that can be one way to ensure you're both feeling good within the relationship.
"Done respectfully, this can help grow the relationship and the couple's commitment to each other," Dr. Rachel Brandoff, PhD, ATR-BC, ATCS, LCAT, a mental health counselor with 17 years of experience, tells Bustle. "Any argument could be a sign of a healthy relationship if the arguing is productive, constructive, and respectful."
It's all about bringing problems out into the open and listening to what the other has to say, without allowing the disagreement to turn into a toxic argument, which could have the potential to damage your relationship, Brandoff says.
Disagreeing can also help you both "retain and display a unique sense of self," she says. It becomes your moment to express opinions, get things off your chest, and bring up any problems that have been simmering beneath the surface. But again, it's all about learning how to argue in a productive way, and not letting it go south.
With that in mind, read on below for a few types of disagreements you and your partner may find yourselves in, and why it can actually make your relationship stronger, according to experts.