Beyonce & JAY-Z's 'Everything Is Love' Album Was Truly A Family Affair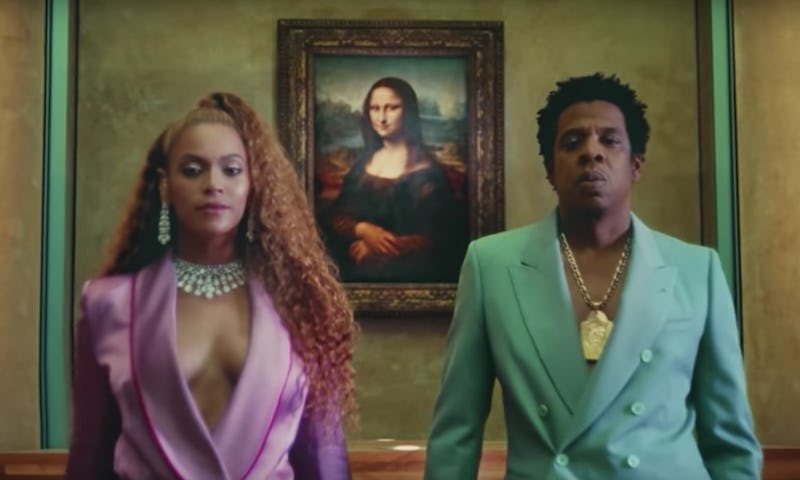 Beyoncé/YouTube
This has been a weekend that music lovers will remember for a long time: on Saturday, June 16, Beyoncé and JAY-Z released a surprise album titled Everything Is Love, leaving fans completely shook, and, of course, thrilled. Everything Is Love comes at the end of the first leg of their "On the Run II" tour, and is pretty much all anyone can talk about right now. The famous couple made things even more exciting by also releasing a music video for their song "Apesh*t." The video was filmed at the Louvre Museum in Paris, France, and even though it's been out for less than 24 hours, it's already iconic. As fans listen to all nine songs on the album on repeat, they've also been searching for hidden symbolism and easy-to-miss Easter eggs. One thing everyone wants to know is whether or not Bey and Jay got their kids involved. Is Rumi Carter in Everything Is Love? Is Blue Ivy? The people need to know!
Fans of the couple have already pointed out a few things, like the fact that Beyoncé made a "6" and a "3" symbol during her 2018 Coachella performance, and Everything Is Love was released exactly 63 days later (how did we all not figure this out?!). Many people have been searching for signs of the Carter kids throughout the album, as well as in the video for "Apesh*t."
After all, it wouldn't be the first time the couple got their kids involved in their music: Back in 2012, you could hear Blue Ivy crying in Jay Z's song "Glory." In 2013, fans caught a glimpse of Blue in the music video for Beyoncé's song "Blue." Blue can be heard rapping during the intro to "Blue's Freestyle/We Family," one of the bonus tracks on Jay's 4:44 album. She's also the star of the music video, where she performs ballet on stage before making her way into a freestyle. (It was released on her sixth birthday on January, 7, 2018.) Blue is also in the music video for Jay's song, "Family Feud," which was released on Tidal. Oh, and if you listen closely to Beyoncé's remix of J. Balvin and Wendy William's "Mi Gente," you can hear Blue talking to Bey. She's basically a superstar, and she's not even 10 years old yet!
So it definitely makes sense that Blue, Rumi, and Sir might make some kind of appearance on this album — especially since Rumi and Sir's birthday was on June 13. Since Blue has done it already — several times — one would assume that one of the twins might make their music debut. Maybe Rumi would be heard crying or giggling during one of the songs. Maybe Sir would be spotted in a quick music video scene for "Apesh*t." The possibilities are endless!
So, is Rumi on the album at all? At this point, it doesn't seem like - fans haven't noticed anything, and Bey and Jey haven't pointed anything out. However, Blue is there, and she gives a shoutout to her tiny siblings. During "BOSS," one of the songs on Everything Is Love, you can hear Blue's voice, and it's really adorable. The very last line is Blue saying, "Shout out to Rumi and Sir, love Blue." It's basically the cutest thing ever.
While Rumi isn't actually speaking, making noise, or making an appearance, her name is in one of their songs, so... it kind of counts?
Also, as one Twitter user pointed out, it seems like one of the songs might have been a tribute to the twins and Blue. The user points out that Rumi and Sir were born on June 13 and Blue was born on January 7 — and one of the songs is titled "713." (However, it's worth noting that 713 is also the area code for Houston, Texas, where Beyoncé is from, so it could also be a reference to her hometown.)
Judging by all of this, it seems like we just might get a glimpse of Rumi and Sir in a future music video. We can only hope!