'13 Reasons Why' Season 2 Tied Up A Huge Storyline, But Season 3 Is Still In The Cards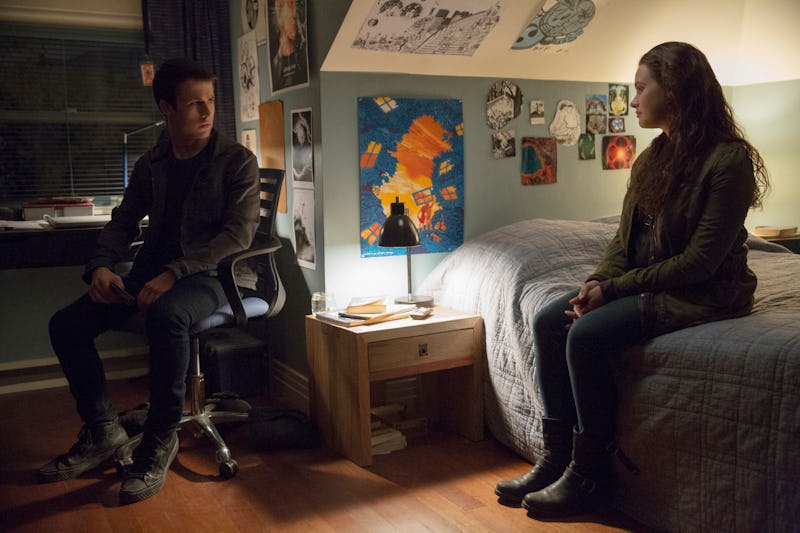 Beth Dubber/Netflix
SPOILERS for all of 13 Reasons Why Season 2 follow. Hannah's story appeared to be over in Season 1 of 13 Reasons Why, but the Netflix series brought her back. The Season 2 finale "Bye" seemingly served as a true farewell to Hannah, so is Season 2 the end of 13 Reasons Why? Her character was the catalyst for all of the events in the series up to this point and "Bye" made it seem like Hannah won't return for any future seasons. Yet, that doesn't mean that the series is over since the Season 2 finale intentionally set up plenty of other plots. Due to that cliffhanger finale, a Season 3 of 13 Reasons Why will most likely happen if Netflix wants — it just probably won't revolve around Hannah Baker and her tapes anymore.
The Netflix series is based on the YA book of the same name by Jay Asher. And while there were differences between the book and the TV show, the main plot of Clay Jensen listening to the tapes that Hannah Baker made before her suicide was intact. But Season 2 went completely off book and gave the other characters a chance to share their perspectives. But as the TV series also moved forward in time, new storylines and characters were introduced. The most notable and troubling one being that Tyler plans a mass shooting at the school after a brutal assault. He arrives at the Spring Fling dance with a trunk of guns and ammunition, but Clay manages to talk Tyler out of committing this devastating crime.
13 Reasons Why has been setting up this school shooting plot since Season 1. In the books, Tyler peeps on Hannah, but his story doesn't really go beyond that. But in the Netflix show, Tyler's story was expanded to show how being bullied was impacting him and Tyler's trunk of guns and ammunition was revealed in the Season 1 finale. Throughout Season 2, Tyler was inching closer to a breaking point. Although he made friends with Cyrus and his sister Mackenzie, setbacks in those relationships took their toll on Tyler. He was forced by the school to attend a behavioral program and seemed to benefit from it. But when he returned to school and Monty violently beat him and sexually assaulted him, Tyler planned his attack on the school.
At the very end of Season 2, Clay stopped Tyler and helped him escape the scene. But with so much setup, it seems abundantly clear that 13 Reasons Why wants to continue with telling difficult storylines even without Hannah. For Season 3, the series can deal with the fallout from this thwarted attack. And although a Season 3 hasn't technically been announced, there are plenty of signs that the show wants to go on. Like how Parminder Nagra of Bend It Like Beckham and ER was introduced in the Season 2 finale as the new guidance counselor. Her appearance in Season 2 is laying the groundwork for her to be a big character in Season 3.
Sonoma West Times & News reported that a licensing agreement has already been signed for 13 Reasons Why Season 3 to film at the California school that stands in for Liberty High. That doesn't mean a Season 3 is definitely green-lit, but that the production has taken steps for another season to take place. "It's kind of up in the air how we do it," producer Mandy Teefey told Bustle about future seasons. "Like, 'Alright, let's see what's happening now and whether it needs to be told or let it be.'" But she also added that there's "always" a possibility for a Season 3.
It seems that the people behind 13 Reasons Why believe a school shooting is a story that "needs to be told," as Teefey said. But the fact that school shootings keep happening in real life could lead to some setbacks for a potential Season 3. The Santa Fe school shooting occurred the day that 13 Reasons Why Season 2 was released and Netflix canceled the premiere event out of respect for the victims. But while 13 Reasons Why prides itself on tackling sensitive issues, audiences may take issue with Tyler's storyline as school shootings continue to be so prevalent. And because of that, a Season 3 could possibly be delayed or cancelled.
No matter how or if Netflix chooses to move forward with 13 Reasons Why, the showrunners certainly established some storylines that would allow for the show to go on without Hannah. So while Hannah probably won't appear again, expect a 13 Reasons Why Season 3 to still follow the students at Liberty High as they deal with the traumas of being teenagers and then some.
If you or someone you know are experiencing suicidal thoughts, call 911, or call the National Suicide Prevention Hotline at 1-800-273-8255.
If you or someone you know has been sexually assaulted, call the National Sexual Assault Telephone Hotline at 800-656-HOPE (4673) or visit online.rainn.org.
Additional reporting by Shannon Carlin.