This New 'UnREAL' Character Has Something Major In Common With 'Bachelor' Star Arie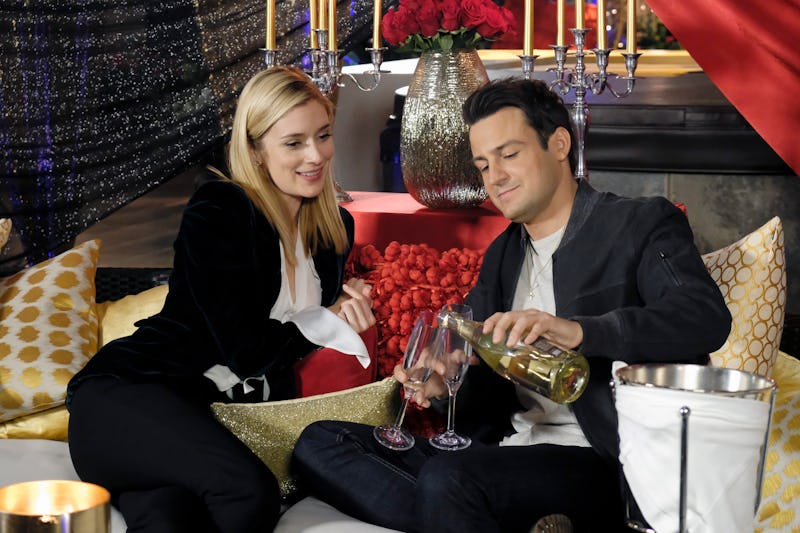 Lifetime/Bettina Strauss
The TV show UnREAL returns Monday night for its third season, and one of the new contestants might seem a little familiar. So, let's just cut to the chase to find out if the race car driver from UnREAL based on Arie Luyendyk Jr.. The short answer is probably not, simply based on timing; the UnREAL Season 3 cast was announced before Arie was announced as the Bachelor. But the more realistic answer is that, with over 40 seasons of Bachelor-related content to draw from, it's impossible to know what inspiration derived from where.
The third season of the popular Lifetime series is Bachelorette-themed this time around, anchored by successful businesswoman Serena, played by Caitlin FitzGerald. Just like her male counterparts, she'll have a series of suitors on the fictional show-within-a-show Everlasting, one of whom will be Billy, played by The Girlfriend Experience's Tyler Hynes. In a "Meet the Suitors" post from Entertainment Weekly, Billy is described as a "pro race car driver," which is the detail that has some wondering if the role was based on Arie.
The 36-year-old is currently helming his own season of The Bachelor, of course, upon which UnREAL is loosely based. And, in 13 seasons of The Bachelorette, Arie appears to be the only contestant who's listed his occupation as "race car driver." So, it's quite possible that the Scottsdale-native served as the inspiration for Billy's occupation, whether intentionally or unintentionally. But, beyond a shared career, the comparisons between Billy and Arie seem to stop there.
That same EW post also reports that Billy is someone who "lives by his traditional, conservative values," which aren't traits that the Season 22 Bachelor is particularly known for. In fact, his ex-girlfriends allege that he has a history of dating multiple women at once. Arie also shared with Tia that he doesn't consider himself to be a particularly religious person. And while that's entirely his business, those are hardly the kind of "traditional, conservative values" that fans could trace over to the fictional Billy.
Furthermore, the timing just doesn't check out for Billy to be an Arie-cat. (It's like a copy cat, but you're copying Arie. It'll catch on.) The EW post introducing the cast was published in late January 2017, when Nick Viall's season of The Bachelor was airing. At that point, Arie wasn't even on anyone's radar yet, as his last appearance on the show had been Season 8 of The Bachelorette, with Emily Maynard. He came in as the runner-up, of course, so he was certainly a familiar face within the franchise. But, outside of the franchise, not so much
Five years is a long time in reality TV world, and UnREAL tends to keep their references a bit more recent, presumably to be accessible to a wider audience than just Bachelor Nation fans. In this third season, for example, a piece in The Hollywood Reporter hints at connections to the #MeToo movement, the first African-American Bachelorette, and Summer 2017's Bachelor in Paradise controversy, wherein production was briefly shut down to investigate a complaint. (An investigation ultimately found no evidence of wrongdoing.)
In short, the show is pulling from pretty recent milestones in Bachelor history, and before Arie was selected to helm the franchise in September 2017, there would be no reason to dig five years in the past to dig him up and parody him. What's more likely is that UnREAL simply borrowed an occupation from one contestant, maybe injected some personality from another source, and mixed it all together to create their very own unique character.
So, don't expect to see Billy spouting phrases like "I love that," or getting a reputation as a kissing bandit. We've already seen that season, and, to be honest, it's not quite exciting enough to parody.