Ivanka Hasn't Said A Single Word About Kavanaugh — And This May Be Why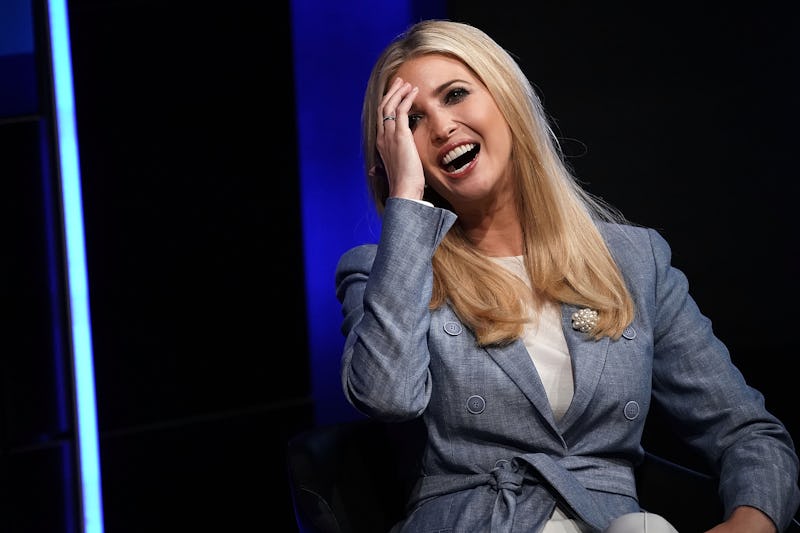 Alex Wong/Getty Images News/Getty Images
The first daughter doesn't typically advertise her stances on controversial issues, and she's kept up this tactic with the sexual assault allegations against her father's Supreme Court nominee. Ivanka Trump's stance on Brett Kavanaugh isn't public, and Emily Jane Fox at Vanity Fair reports she's keeping silent because she's trying to avoid backlash. Still, there are some clues as to what her feelings might have been in private. Bustle has reached out to the White House for comment.
If reports are accurate, Ivanka's opinion on Kavanaugh seems to have fluctuated. On Sept. 18, Vanity Fair reported that she'd told her father to "cut bait" and withdraw Kavanaugh's nomination. That was two days after Christine Blasey Ford's full allegations (which Kavanaugh denies) were published in a Washington Post report. Since then, more accusations have come out against Kavanaugh (which he also denies) and Ford has publicly testified against him. But Trump's opinion on the matter seems to have shifted more in favor of the accused. According to Vanity Fair, she's now telling the president that "Kavanaugh seems to be a good man."
The first daughter is reportedly saying that Ford "deserved to be heard" but that Kavanaugh has provided a "measured response to the allegations" and appropriately "accept[ed]" the FBI investigation. She's reportedly told Donald Trump that this behavior from Kavanaugh has "been generally well-received."
However, another source told Vanity Fair that Ivanka Trump's position on Kavanaugh — along with the stance of her husband, Jared Kushner — isn't clear. "No one really knows what they're telling the president on this," the source said. The person added that this secrecy is part of Trump and Kushner's new public relations strategy at the White House: "It's indicative of them getting the way it works now ... They've wisened to it."
As Vanity Fair describes it, Trump has now realized that she inevitably receives backlash when news breaks about her opinion on an issue. When the president said that his daughter had urged him to do something about family separation at the border, for example, she received a wave of backlash from the press and from people on social media (people were also furious when she thanked him in a tweet for ending the policy a couple of days later). "Press reports containing [... Ivanka Trump's] private advice to the president only provoke more criticism, and often from both sides of the aisle," the magazine's Emily Jane Fox writes. The first daughter apparently prefers to stay silent and avoid the worst of the vitriol.
Instead, she's been keeping herself busy throughout the Kavanaugh-Ford controversy by attending meetings and panels at the United Nations General Assembly in New York. Refinery29 notes that she tweeted a lot throughout last week about the U.N. but "was unusually silent" on Thursday when Ford and Kavanaugh testified.
At the end of last month, celebrities launched a campaign on Instagram to pressure Trump to use her leverage with the president to take action on Kavanaugh. Women like Alyssa Milano, Cheryl Strayed, Chelsea Handler, Amy Schumer, and Glennon Doyle posted messages asking her to "demand that Professor Ford's request for a full, fair, trauma-informed investigation by the FBI be held."
The FBI did launch an investigation into her allegations on Friday, though its scope has been widely criticized by the left. The investigation wrapped up on Wednesday. According to USA TODAY, the Senate could vote on Kavanaugh's confirmation as early as this weekend.
Read More About Brett Kavanaugh's Confirmation Process
Here's What Will Happen Next If Kavanaugh Is Confirmed To The Supreme Court
You Can Now Read Kavanaugh's Entire High School Yearbook — And What He Wrote In It
The Video Of Christine Ford's Opening Statement Is Gut-Wrenching
Trump Mocked Christine Blasey Ford In Front Of Thousands Of People
11 Brett Kavanaugh Petitions You Can Sign To Let Senators Know Where You Stand
How To Contact Joe Manchin, Susan Collins, & Other Possible Kavanaugh Swing Voters