'Vanderpump's Brittany Reveals Why She Took Jax Back After He Cheated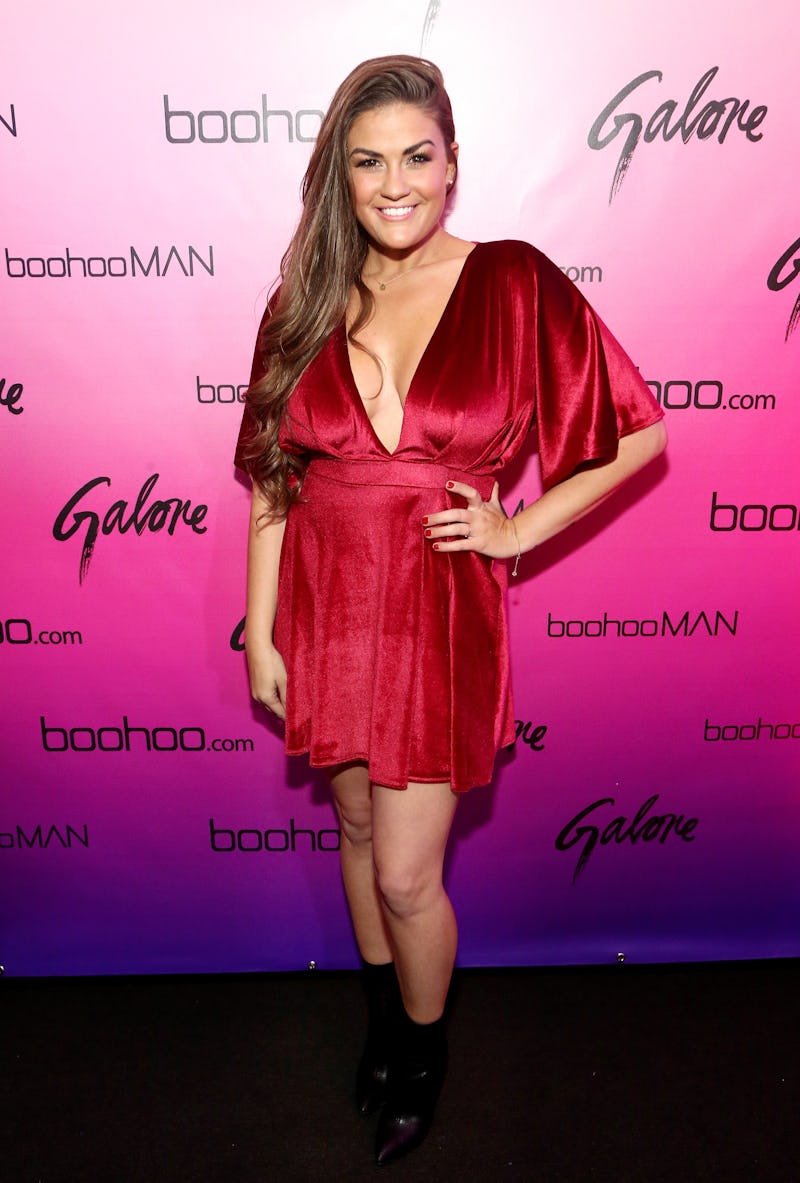 Tommaso Boddi/Getty Images Entertainment/Getty Images
To say that Brittany Cartwright has been put through the wringer on this season of Vanderpump Rules would be an understatement. Her longtime boyfriend, Jax Taylor, admitted to cheating on her with another SURver, and all hell has broken loose, forcing friends to choose sides and both Brittany and Jax to reconsider their relationship. But through it all, Brittany remains remarkably positive — in a phone interview with Bustle, the Vanderpump Rules star talked about her friends, how she's coping with the season, and moving out of Los Angeles.
Season 6 of Vanderpump Rules didn't waste any time — it started with rumors of Jax's infidelity with Faith, and it hasn't slowed down since. Jax's patterns of behavior are well-documented on Vanderpump Rules (producer: Jenna Moshell Rosenfeld), as he's strayed from girlfriends in the past, but that doesn't mean it's easier for Brittany to take it all in. In fact, watching the playback has been difficult. "It's really hard to re-live it because we're trying so hard to get past [the cheating]," she says. "Just having to go through it all, and have everybody know… it's just really embarrassing. It's hard to forget about it when people are talking to you about it every single day. It just makes it tough."
The events of Season 6 actually took place early in 2017, and Brittany and Jax have had some time to work things out. They are still together, according to Brittany, and really trying to work on their relationship. But, before you get any ideas, they haven't run off to the chapel just yet. "Everyone thinks we're secretly married because of the ring that Jax has been wearing around. We're not engaged or anything. Right now, you know… we've been going through a lot with [Jax's dad's recent passing]," Brittany says. "I'm just trying to be beside him, and I think that all of this hard stuff we've had to go through has made us so much stronger. It's really changing him and he just wants to make his dad proud and his family proud. I really see a change in him. It's good."
But while things are good right now, it took a lot of work to get there. In the first days after Brittany found out that Jax cheated on her, she had the support of all of the women on Vanderpump Rules — quite the feat, considering that at least three of them are in a feud at all times. Brittany is grateful for their support. "I can't never thank those girls enough because going through everything was really hard. If they weren't with me, they were calling me or texting me, checking in on me all the time," she says. "I mean, it really… made the world of difference for me… And it was awesome because Katie and them weren't getting along with Scheana and Ariana, but they still got together for me, and that means a lot." It's no surprise that everyone should support Brittany — she's the shining light in the dark confines of SUR.
With support and friendship, though, can come a lot of unsolicited opinions. It also doesn't help that Brittany and Jax were living through this relationship trauma with an audience of millions. According to Brittany, she really had to dig down and trust herself in order to know how to best proceed with her relationship. "At the end of the day, you just have to follow your heart," she says. "You know, I'm the one who was going through it and I'm the one who was with him every day, I'm the one who knows him better than anyone else in the world, and you just have to think about what you want, yourself, and stick with your decisions."
It always helps to get some motherly advice, too. "My mom gave me the best advice that, if you do try and stay with somebody and work through things like that, you have to move on," Brittany adds. "You can't bring it up every time you get in a fight, know what I mean? Like, I'm just trying to move on from the situation and hope that nothing like that would ever happen again, because there's no coming back from that."
More than anything, this has been a learning experience for Brittany. Though there are things she would probably change ("I was drunk a majority of the nights!" she says, laughing), she wants to move forward both in her life and her relationship. "I'm just trying to live and learn and better myself through everything," she says. And she has plans for her future with Jax. "Eventually, we will move out of L.A. When we have a family and stuff, I would rather be in Kentucky or like, Florida, something like that. His mom is in Florida and it's easy for my family to get there. Somewhere where we have a backyard!" Brittany adds.
Through times of trauma come times of great clarity, and it seems that Brittany (and Jax, by proxy) on are the way back up. Of course, Vanderpump Rules viewers will have to tune and see what's next, but Brittany is hopeful for her relationship and the future.