Jessica Alba Chopped Off So Much Hair & She's Now Part Of The Lob Squad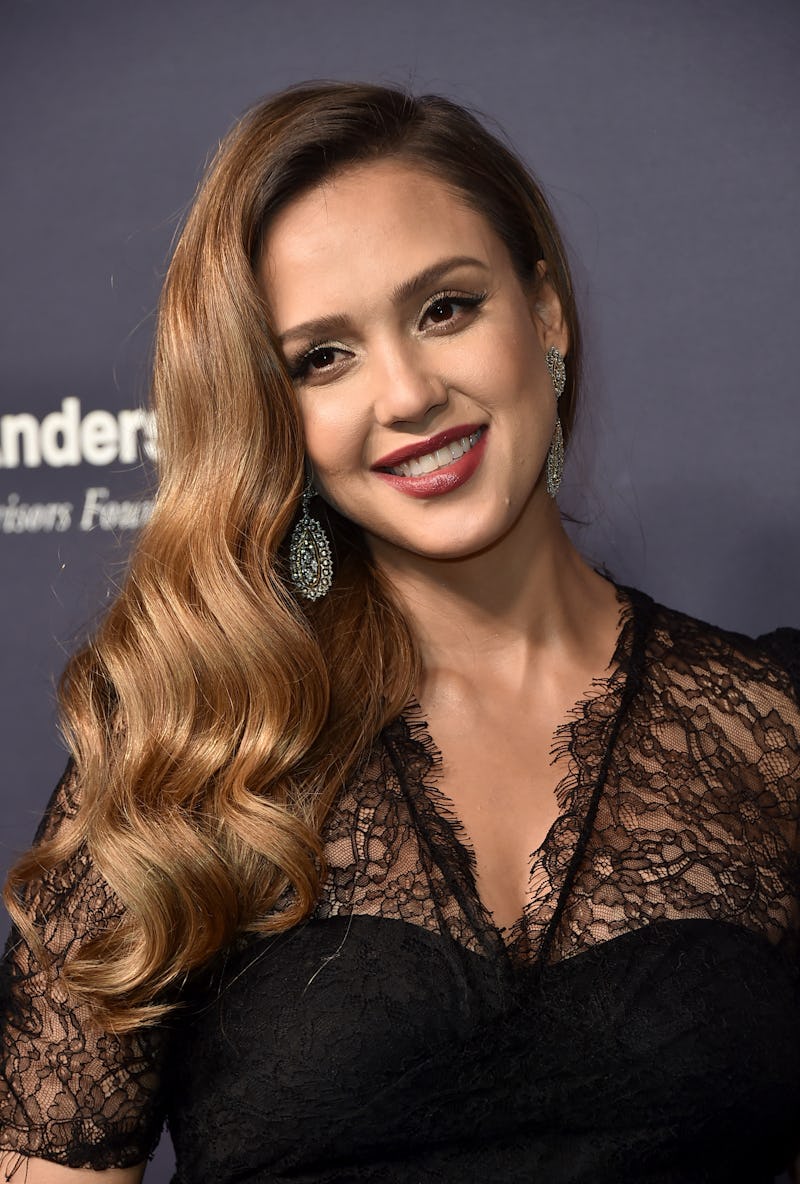 Frazer Harrison/Getty Images Entertainment/Getty Images
Some haircuts never go out of style. Pixie cuts, long waves, a classic bob, these are just some of the perennially stylish looks that will never fade. On Instagram, Jessica Alba's new haircut may have just proven that there's a new member of the always chic hairstyle club.
According to the actor and Honest Company founder's Instagram account, she was ready to shed her "pregnancy hair." What exactly does pregnancy hair look like? Well, it looks pretty good to be honest. For Alba, the pregnancy hair moniker seemed to be referring to her long, layered locks that fell past her bust line. Of course, her hair still looked fabulous, pregnancy hair or not, but her new lob style does like it could be lower maintenance. With locks so long, there's probably a chance little baby Hayes may could have wrapped his hands around those strands, and no one wants that.
To remedy the look, Alba had hairstylist Chad Wood chop several inches off her hair. He seemed to add a few shorter layers around her face, and as for the color, it stayed the exact same. The result: a long bob for Jessica Alba that made her an official member of the lob squad. It's pretty easy to see that she was always meant to be part of the biggest (and perhaps longest running) hair trend in Hollywood.
You may be thinking that a few inches of a chop isn't a big deal, but here's the thing, Alba has been rocking long hair for quite a while. In fact, you could say that it's her signature. Not only did she have the long strands during her entire pregnancy with her new baby boy, but she was also rocking the long, wavy look even before she was pregnant.
In fact, you can go all the way to this time last year and discover that Alba's hair has been pretty consistent for a while.
It seems as though low maintenance styles are her jam, but let's be honest, whether her hair is short or long, it looks great no matter what. The difference now is that she shed some inches and hopped on the hottest trend of the moment (other than baby bangs, of course, but the jury is still out on those) and became part of the lob squad.
What's the lob squad exactly? Well, it's the group of women in Hollywood who have made the lob the must-have hairstyle for, well, the past few years, honestly. Why a lob, though? Why not a pixie cut? Probably for the same reason Alba seemed to get hers. Not only are they a low maintenance hair style that can be worn with your natural hair texture, but pretty much everyone can wear the length and look great while doing it.
Alba is definitely in good company when it comes to hers.
Only two weeks ago, after wrapping This Is Us, Mandy Moore got her lob freshened up, and she added a bit of blonde.
While Katy Perry is rocking a pixie cut now, who could forget her platinum blonde lob at last year's Grammy Awards?
Of course, the queens of hair changes (aka the Kardashian-Jenners) have gotten in on the lob action in the past. Kim Kardashian chopped her locks off into an ultra blunt lob in 2017.
Then, there was Kendall Jenner's piecey, messy version of the style.
While you may be used to seeing Alba with her hair long, it's hard to deny that her new long bob is the perfect style for the star. As a busy mom, businesswoman, and actor, the haircut seems like the perfect choice.