A Look Back At Justin Timberlake & Jessica Biel's Decade-Long Love Story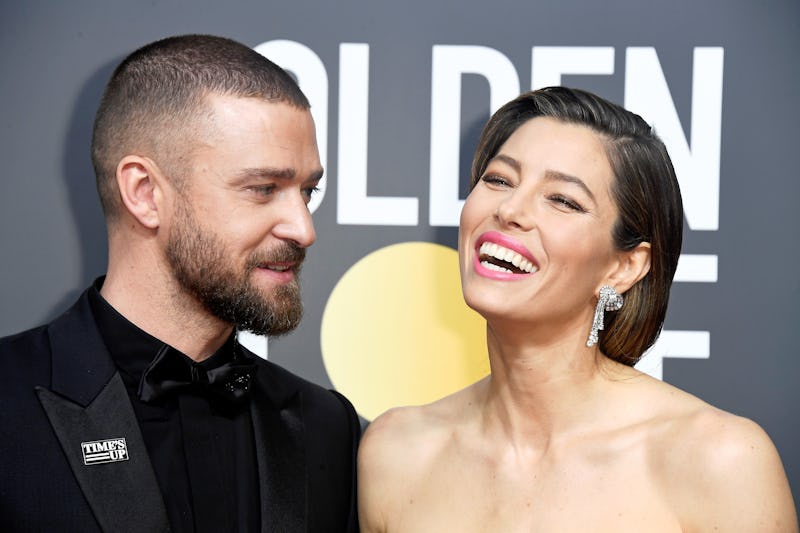 Frazer Harrison/Getty Images Entertainment/Getty Images
If you grew up in the late '90s and/or early '00s, looking back at Jessica Biel and Justin Timberlake's relationship timeline will probably bring back some majorly nostalgic memories. As Mary Camden on 7th Heaven and the curly-haired frontman of *NSYNC, respectively, Biel and Timberlake are basically a match made in pop-culture heaven. Their timeline also proves that you can break up, make up, and still end up being together forever.
According to E! News, Biel and Timberlake first met at the Golden Globes in 2007, but it took a while for Biel to agree to go on a date with the boy band star. Why? The world may never know. He persisted, though, and it ended up paying off. As alluded to above, the couple had their fair share of ups and downs in the years that followed, but they eventually ended up walking down the aisle in October 2012. Since then, they've become one of Hollywood's cutest, most supportive pairs.
Biel and Timberlake welcomed their first child together Silas in April 2015. Silas has definitely upped the trio's overall cuteness factor, by the way, as evidenced by their adorably cohesive, incredibly on-point, family-themed Halloween costumes. And as of today, it's been more than a decade since Biel and Timberlake first got together. Check out all of their most notable relationship timeline moments below.