Jordan Peele Announced His Next Movie, Along With A Few Details To Leave You Intrigued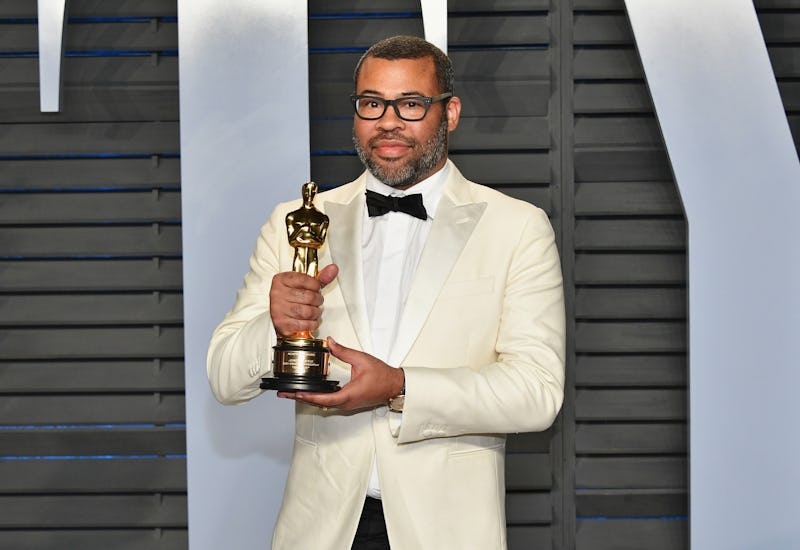 Dia Dipasupil/Getty Images Entertainment/Getty Images
Jordan Peele's next movie is still shrouded in secrecy, but the Oscar-winning filmmaker has finally unveiled the name. As he revealed on Twitter on May 8, the title of Peele's new movie is Us. Based on the artwork he shared, the movie will probably be more like his directorial debut Get Out and less like the similarly sounding NBC family drama of This Is Us. The poster shows a haunting image of two faces and calls the film a "new nightmare." So even though the plot details aren't official and the potential cast is still in discussions, Peele is most likely going to blow your mind all over again when Us is released in March 2019.
With the massive success of Get Out, it isn't any wonder that Peele can produce such hype for his film that doesn't even have its cast yet. (More than 215,000 people liked his tweet announcing the title within the first 12 hours.) Like with his 2017 film, for which he won the Best Original Screenplay Oscar, Peele will be directing Us from his own script. And the actors who are reportedly Peele's first picks to star will certainly do justice to Peele's vision since Variety wrote that Lupita Nyong'o and Elisabeth Moss are the top choices for two of the leads.
Peele proved with Allison Williams' Rose in Get Out that he can write fascinating roles for women. And what better female actors than Nyong'o, who won an Oscar for 12 Years A Slave, and Moss, who won an Emmy and Golden Globe for The Handmaid's Tale, to bring his new characters to life? As for other characters, Nyong'o's Black Panther costar Winston Duke — whose M'Baku appears in Avengers: Infinity War — is reportedly being considered for a role.
A release date of March 15, 2019 has been announced, but the actual details about what the film is about have not. But according to The Hollywood Reporter, two couples — one white and one black — will be the focus of Us. If the rumored casting actually happens, Moss would be joined by a white actor for the one couple and Black Panther costars Nyong'o and Duke would play the other couple. With Get Out star Daniel Kaluuya also being in Black Panther — and the fact that Peele once tweeted to Nyong'o about her being a Key & Peele fan — that casting would be particularly epic.
Although he was still writing the script at the time, The Hollywood Reporter wrote that Peele did give a little insight into Us while at Loyola Marymount University's School of Film and TV on Jan. 31. "One thing I know is that this is genre; and playing around with the thriller, horror, action, fun genre of intrigue is my favorite. That's my sweet spot," Peele said. "So I think tonally it should resemble Get Out. That said, I want to make a completely different movie. I want to address something different than race in the next one."
In this discussion, Peele confirmed the film will go into production later in 2018 and also noted the pressures of creating a second movie. "When writing Get Out, my sort of mantra is or was, 'Let's write my favorite film I haven't seen yet.' So I think it's easy to get bogged down in how does this compare to the first one," Peele said. "I'm just trying to entertain myself again."
Considering how Peele successfully entertained himself, millions of viewers, and Academy voters with Get Out, there's no reason not to have faith that he'll do it again with Us. And no matter what his new film ends up being about, expect to be horrified by Peele's creation all over again.