Jordan Isn't Saying No To Being The Next Bachelor Post-Split, But He's Not Saying Yes Either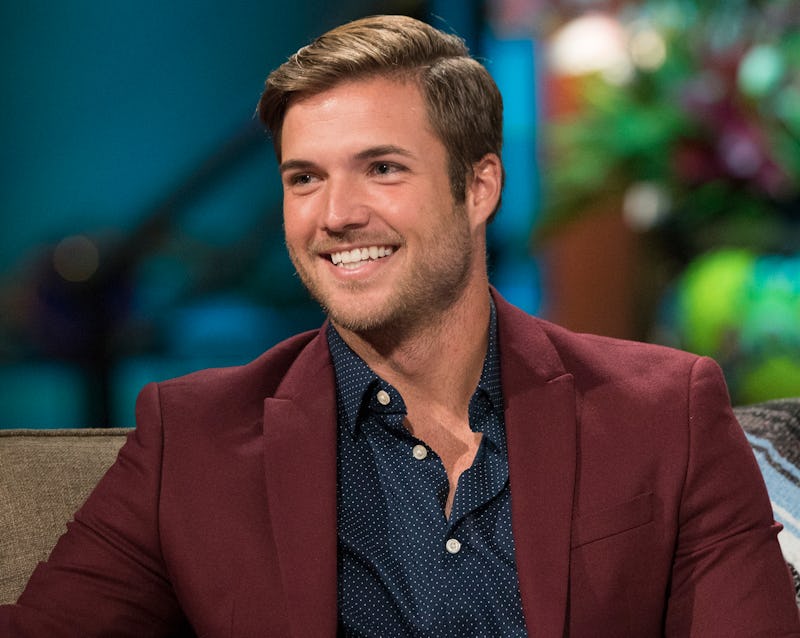 ABC/Paul Hebert
Only one day after Bachelor In Paradise's Jordan Kimball called off his engagement to Jenna Cooper over cheating allegations, which she has since denied, fans are already trying to help him find love again. Yes, Bachelor Nation wants to know if Jordan could be the next Bachelor. And while the heartbroken BiP star isn't quite ready to make a decision yet, he isn't totally discounting the idea.
In an interview with Entertainment Weekly following the split, the possibility that his recent broken engagement could make him a candidate for an upcoming season of The Bachelor came up. But Jordan was quick to say he wasn't interested in discussing that at this time. It's understandable that he wouldn't be in the right place to even think about being on a reality show again, let alone one that typically ends in an engagement.
As of now, though, he's just happy to have the support of fans. "Anyone that has love for me, I have love for them back," he told EW. "I appreciate that people want to see me find love. I do appreciate that very much." It's a sweet sentiment, but fans might also take note that Jordan isn't closing the door on being the Bachelor for good. It's not a yes or a no, but a pretty solid maybe.
Jordan broke things off with Jenna following a report from Reality Steve that claimed Jenna was in a relationship with another man during her time on BiP. The report relied on texts allegedly sent between Jenna and an unidentified man, which she claims are fake. "Those texts were completely fabricated, I never sent them to anyone," Jenna stated in an Instagram post on Sept. 12. "I did not cheat on Jordan, and I have nothing to hide."
Jenna may have publicly denied the text messages, but Jordan told Reality Steve on his podcast released late Wednesday night that he wasn't convinced that the texts were fake. "It is extremely hard to talk about but when I read these texts, I can hear her voice saying it," he said in the Sept. 12 interview. "The structure of the speaking and the facts this gentlemen has about her...it's scary. It gives me chills."
Despite that, Jordan said he doesn't want Bachelor fans not to bash Jenna. "I want her to know that I'm not against her," Jordan said. "I think everyone should know I'm not against her. I think it's awful that she's getting attacked by America right now. I don't think anyone deserves that." Jordan also emphasized his respect for Jenna in his interview with Entertainment Weekly. "I will not lash out, I will not try to convince people that she is a bad person," Jordan said. "You will not see me pursue any kind of vengeance on her. I care about Jenna." He added, "If this turns out to be fake, then hey, it's a good thing that I didn't lash out at her, but I cannot take a chance with my heart."
Jordan also revealed to EW that he plans to meet up with Jenna, who he hasn't seen in two weeks, to "just get closure to this whole thing." The model made it clear that even if the texts turn out to be fake, he doesn't see much hope for their relationship. "I've got to act on what my intuition tells me, I've got to act on what my emotions tell me," he said. "And this right now is what's right for me. I have to let this go."
Whether or not that intuition will one day tell him to take a chance at being the Bachelor. Well, fans will just have to wait and see. While Jordan works on letting his relationship with Jenna go, he'll also have time to think about what he wants to do next. In fact, he has a whole new season of The Bachelor with Colton Underwood to watch before making any decisions.
Photo Courtesy Vivian Arthur.