One Last Terrible Truth Was Revealed In 'The Sinner' Season 2 Finale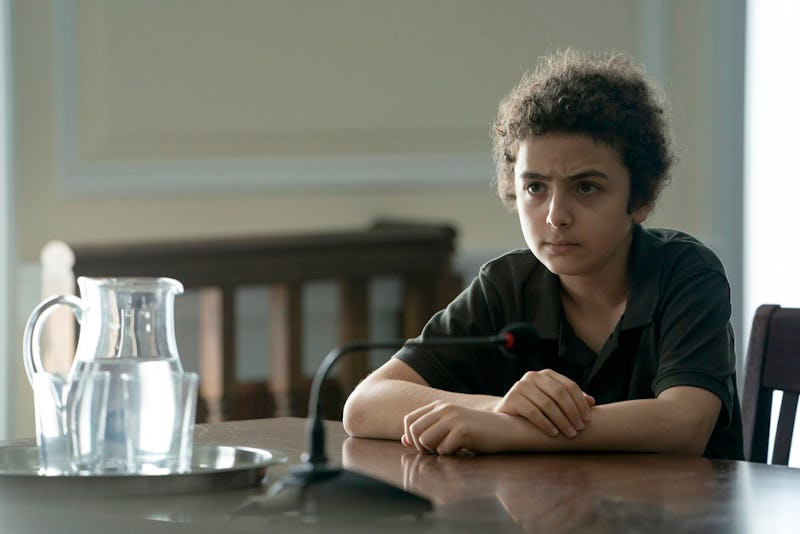 Peter Kramer/USA Network
Major spoilers for The Sinner Season 2 finale follow. While The Sinner Season 2 asked why Julian killed Adam and Bess, the true mystery was always the identity of Julian's parents. Rather than being the son of Mosswood Grove's cult leader, Julian's dad on The Sinner is Jack Novack — Heather's father. There was plenty of reasons to suspect that Tracy Letts' Jack Novack was secretly involved in his daughter's investigation. And the finale reveals that Jack's true connection wasn't with the Mosswood commune, but that it all had to do with his son Julian.
Back in "Part III," Heather figured out that her missing friend Marin was Julian's mother. She also noted how the 13-year-old boy seemed familiar to her. "Ever since the beginning, every time I look at Julian, I get this feeling like he's familiar. His eyes, his expression sometimes," Heather said. But she hadn't even fathomed the possibility that Julian was so familiar to her because he was actually related to her.
Ambrose proposed that Marin could have been pregnant when she entered Mosswood, but Heather seemed more convinced that she became pregnant at the compound. Plus, it sure seemed that Julian's father was the Beacon, Mosswood's leader Lionel Jeffries, and not Heather's own father. But the truth puts Jack's line from the premiere — "It makes you wonder, doesn't it? What those parents did — your own kid killing you?" — into a whole new perspective.
While flashbacks showed Marin giving birth at Mosswood, these scenes actually never explicitly prove that Jeffries was Julian's father. And The Sinner writers was probably banking on viewers' prejudices toward cults to make the leap that this Beacon would conduct some sort of ceremony where he had sex with new female members. But even without the Beacon's involvement, the truth of what happened to Marin is just as grim.
Heather was completely intoxicated the night that Marin entered Mosswood. She had been drinking heavily to deal with her unrequited romantic feelings for Marin. While Heather was passed out in her bed, Jack took advantage of the vulnerable Marin and raped her. As her own home life was miserable, the Novack household was where Marin had felt safe. Yet, Jack took that away from her and it helps to explain why she fled to Mosswood and cut off ties with Heather.
Besides raping Marin and keeping the secret of Julian's paternity, Jack is also the one who shot and killed Marin in the penultimate episode. Jack claims he didn't intentionally kill Marin, saying she pointed the gun at him and that she died in the resulting struggle. However, Julian's memory doesn't show exactly how Marin was shot. And Jack lacks any remorse when recounting what happened to Ambrose. So while Jack may not have gone to the Five Nations Motel with the intention of killing Marin, he certainly doesn't seem to care that his daughter's best friend, whom he had raped and had a son with, has died.
Julian is the murderer of The Sinner Season 2, but Jack is the true villain. But it's also not right that Carrie Coon's Vera gets off scot-free. If Vera had told Ambrose and Heather that Marin was still alive and seeking Julian, then maybe Marin wouldn't have died. Vera also knew that Jack was the father as she seemingly demanded that he pay her $1,000 twice a month for Julian's care and to keep his secret. (Although the link between real-life couple Coon and Letts' characters is a distraction from the horror.) Jack used a shell company called Daedalus Shipping to make the payments, which in itself was a late clue. In Greek mythology, Daedalus created the labyrinth for the minotaur and Jack had explained Mosswood's labyrinth to Heather. And Daedalus' son Icarus tragically died when he flew too close to the sun, which mirrors how Jack's lies led to Julian's downfall.
Thankfully though, Julian won't spend decades in jail. The judge takes into consideration Julian's unorthodox upbringing and that Julian turned himself in and rules that he will be placed in a rehabilitation facility for just four years. Julian is allowed to take day trips and in the final scene, Ambrose and Heather finally take him to Niagara Falls. "My mother would've liked this," Julian tells his half-sister Heather as they admire the waterfalls.
Jack's secret is why Julian ended up in Mosswood in the first place and Letts' character left two damaged children and a murdered mother in his wake. At least, Julian and Heather have each other now and together, they should realize that they don't have to carry the burden of their father's sins.
If you or someone you know has been sexually assaulted, call the National Sexual Assault Telephone Hotline at 800-656-HOPE (4673) or visit online.rainn.org.