Kate Middleton Just Wore A Flower Crown Because She's A Hip Princess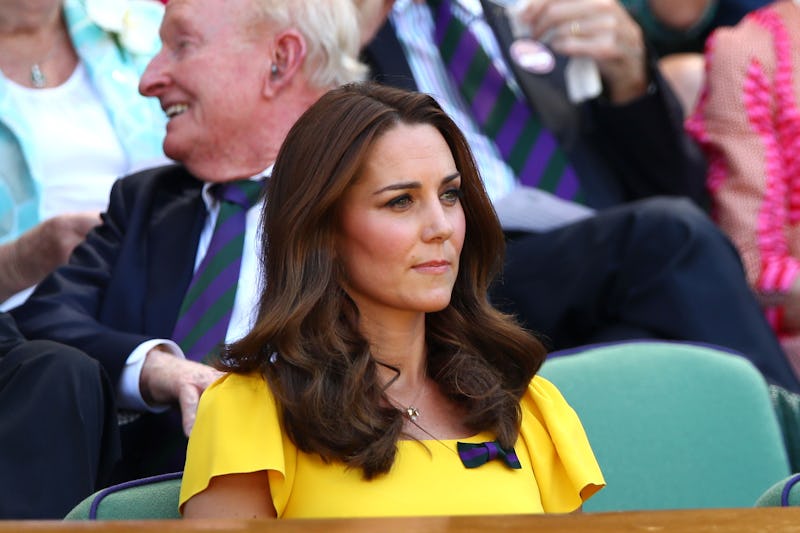 Clive Brunskill/Getty Images Entertainment/Getty Images
It may be months since Meghan Markle and Prince Harry's wedding and years since Kate Middleton and Prince William's big day, but there's been nonstop royal news no matter how much time has passed, particularly when it comes to style. Now, Kate Middleton's flower crown is making headlines for its retro vibes, and because when you think of crowns and Kate Middleton, one made of flowers may not be exactly what comes to mind. However, the Duchess of Cambridge surprised everyone by not rocking a diamond tiara courtesy of her grandmother-in-law and instead wore a bright blue, custom-made band of flowers to a friend's wedding.
Over the weekend, Middleton attended the wedding of her friend Sophie Carter, and being the gracious wedding attendee that she is, she didn't wear white but instead opted for a blue coat dress by Catherine Walker & Co. According to People, the dress wasn't special just because it's elegant and gorgeous (which it is), but it's also notable because it's a re-wear. Middleton has rocked the dress before during a visit to Germany with Prince William.
While Middleton does love to repeat an outfit, it's not the most notable part of her ensemble. Just check out that huge, perfectly matching floral crown she's got going on. Seriously, no one but Kate Middleton could pull this thing off.
The flower crown is kind of more of a fancy headband meets fascinator and was designed by milliner Juliette Botterill who People explains has become a favorite of other royals as well. Of course, hats are kind of a tradition at English weddings, and Middleton is following suit with her fancy head wear. Plus, she was low-key matching her daughter Charlotte who also wore a flower crown for the occasion where she served as one of the flower girls.
Middleton, of course, is no stranger to hats. In fact, she wears one at almost every formal royal event, so while the flower crown look is definitely a new one for the Duchess of Cambridge, it's not unexpected. She's been rocking everything from fluffy winter hats to formal looks practically since her engagement to Prince William, and there are some true stand outs.
In fact, the flower crown meets headband look has kind of been a thing in the past, at least when it comes to the headband part. During Prince Louis' christening, Middleton wore a huge wicker, headband like hate with floral details.
It's not all huge formal hats, though. Middleton will also rock a casual style like a beanie when the occasion calls for it, and honestly, they look so good on her. The woman knows how to pull off head wear like no one else.
While not everyone would rock a matching blue floral crown to their dress at a wedding, Middleton is a princess, and she can do whatever she pleases. Who knows? Maybe Middleton is out front of the next big hat trend that peasants just don't get quite yet.