Kate Middleton's Dress At Princess Eugenie's Wedding Broke Her Usual Fashion Rules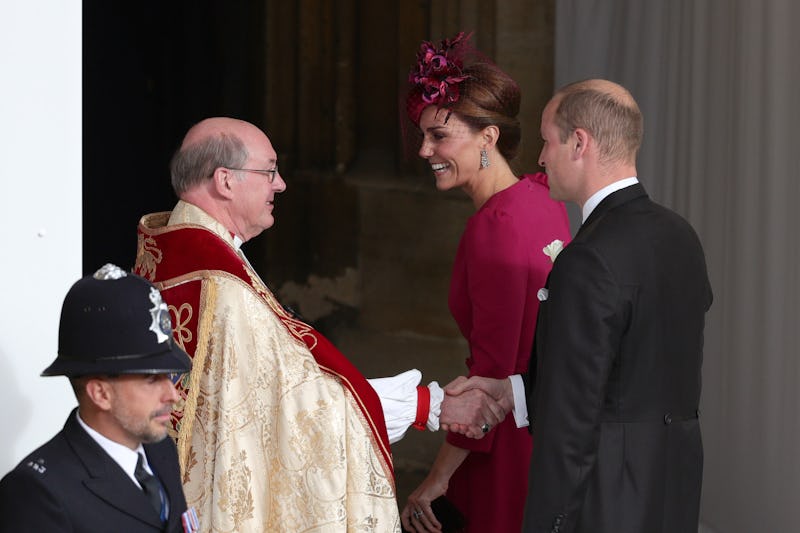 Shutterstock
When it comes to the Duchess of Cambridge's wedding style, one thing's clear: she never likes to upstage the bride. Kate Middleton's outfit for Princess Eugenie's wedding stuck to that rule, easily blending in with the looks worn by the other guests. This time she kept up that tradition by sneaking into the ceremony via the back door so as not to eclipse the bride.
Arriving together with Prince William, the Duchess of Cambridge wore a raspberry dress by Alexander McQueen, together with a matching headpiece by Philip Treacy. Prior to the wedding taking place, more people seemed to care about what Kate was going to wear than the bride herself. A royal expert told the Express to expect "rich autumnal tones" such as red, orange, or yellow. It turned out that estimate was correct. On an episode of This Morning, etiquette expert William Hanson said the Duchess would "probably wear something we've seen before," but it appeared the design was actually a new outift. Fashion bloggers Tom Fitzgerald and Lorenzo Marques told Town & Country: "She won't want to compete with the bride, nor will she want the press to have any reason to think she tried to."
Kate tends to favour either a coat dress, something by Alexander McQueen, or both, so the outfit was in keeping with her usual style. McQueen's creative director Sarah Burton has become the royal's go-to designer for any important occasion. She created her lacy wedding dress in 2011 and is the mastermind behind the (yellow, not white) coat dress worn on Prince Harry and Meghan Markle's big day earlier this year. Kate has also worn Alexander McQueen to all three of her children's christenings and to her sister Pippa's wedding in 2017.
While the 36-year-old often goes for subtle colours at weddings and other formal events, she did recently go for a bolder hue. In September, the Duchess attended the wedding of close friend Sophie Carter wearing a cornflower blue coat dress by Catherine Walker. Underneath was a glimpse of a lighter blue lace dress.
The outfit was accessorised with Kate's current favourite headpiece: a floral headband. She was first spotted wearing the eye-catching accessory at Prince Louis' christening. While she didn't opt for a floral headband today, the hat did feature a kind of floral looking arrangement on top of the headpiece.
If you're wondering why women at royal or high society weddings always turn up wearing hats, it's because it's simply part of the dress code. Even Princess Beatrice wore a snazzy headpiece for her role as Maid of Honour, together with her mother, Sarah Ferguson, Duchess of York. Town & Country reported that Eugenie and Jack Brooksbank's wedding invite requested that women wear day dresses and hats while men were expected to wear morning coats. This is actually stricter than Prince Harry and Meghan Markle's wedding dress code which did not mention morning coats for male guests. As the arrivals turned up at Windsor, they looked totally beautiful decked out in their finery.