Kate Spade's New York Fashion Week Show Honored The Late Designer In Beautiful Way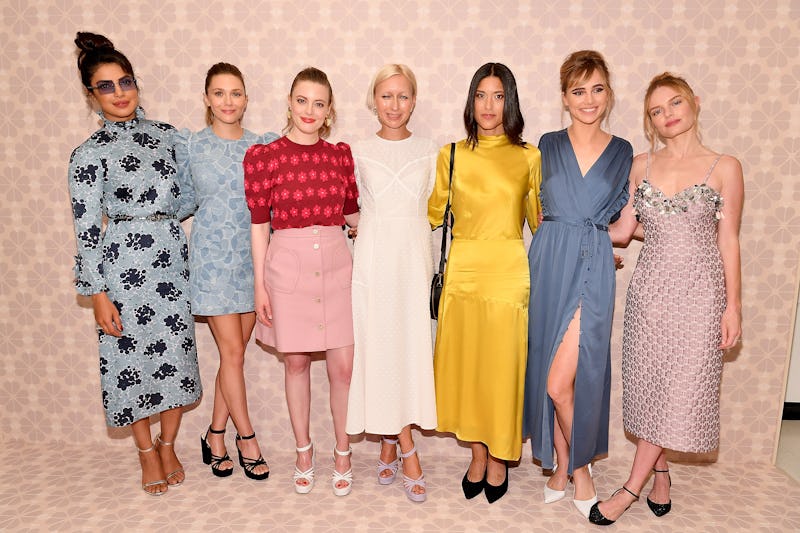 Dia Dipasupil/Getty Images Entertainment/Getty Images
The late fashion designer Kate Spade was known for imbuing her designs and brands with a sense of feminine whimsy. On Friday, Sept. 7, New York Fashion Week honored Kate Spade in her brand's first fashion show since her death in June, saluting her legacy and vision in a beautifully subtle way, according to People.
People reported that guests who attended Friday's show at the New York Public Library — which was transformed for the event with a color palette of pinks and metallic silver — were greeted at their seats with a small card that noted the show was "in loving memory" of Spade, along with the dates "1962-2018." On the other side of the card was the phrase "she left a little sparkle everywhere she went," in honor of the glitter-loving designer. And the team's ode to their founder's love of sparkle carried over to the runway itself, where models followed a path marked by a trail of silver, sparkly glitter.
Even the beauty looks that the models wore featured a touch of shimmer, in honor of Spade and her ability to "leave a little sparkle" behind her. Makeup artist Romy Soleimani painted copper glitter onto the models' eyelids, while their nails were decorated with "very adult" nude glitter manicures and pedicures, courtesy of Essie manicurist Julie Kandalec, for a perfectly chic twist on sparkle, according to People.
Spade stepped down from her namesake brand back in 2006, but her influence was still felt in the newest designs from creative director Nicola Glass, who wrote in another note that guests received at their seats that she saw the spring 2019 collection as a "a journey that starts at the beginning to form new paths," according to People.
As part of her mission to take the "original codes of the house" and create a collection that "refined and evolved [them] in unique ways," Glass revamped Spade's iconic boxy bag for the new season, as well as developing a new print that took the brand's recognizable spade print and transformed it into a floral motif that featured hearts as petals.
Kate Spade New York isn't the only brand that will carry on the late designer's vision: Her second line, Frances Valentine, will produce all of the designs that Spade left behind at the time of her death. Spade's friend and business partner Elyse Arons revealed to Business Insider in June that the designer had created four seasons' worth concept designs for the brand's iconic handbags and accessories. In September, Arons told Good Morning America that fans of Frances Valentine — which Spade founded in 2016 and named after her daughter — wanted to hold on to Spade's vision for as long as they can.
"We've had a lot of people write in and talk about how she had changed their lives and, 'Please keep going and keep her designs alive,' and that's what we're gonna do," Arons said, adding, "We miss her every day. Her spirit is here."
When asked what she thought Spade would think of seeing Frances Valentine's fall collection come to life, Arons said, "I think she would be thrilled, I think she would be really happy to continue to make other women happy … She'd say, 'I'm okay, don't worry about me.'"
The Kate Spade New York and Frances Valentine collections are just a few of the moving tributes to the late designer that poured in after her passing in June. In addition to fans sharing moving stories about their first Kate Spade purchases on Twitter, Spade's friends and family have shared moving tributes on social media over the past few months.
Marvelous Mrs. Maisel star Rachel Brosnahan, who was Spade's niece, shared a video of the designer dancing with husband Andy at a family event, which she captioned with a touching message about how Spade "had a light that words can't capture but touched everyone she came into contact with. She was exceedingly kind, beautifully sensitive, insanely talented, funny as heck and one of the most generous people I have ever known. She was effervescent."
And it's clear that Spade's legacy will continue to live on.