Apparently Khloé Knows Tristan's Phone Passcode Now & He Mentioned It So Casually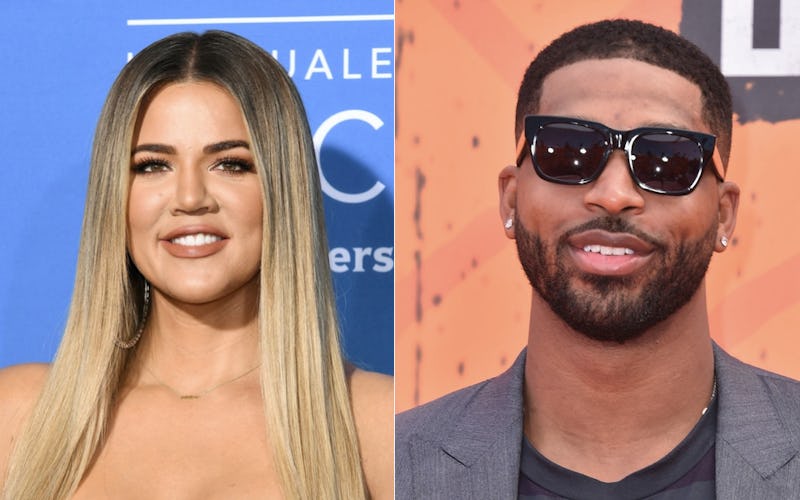 Dia Dipasupil/Getty Images Entertainment/Getty Images; Alberto E. Rodriguez/Getty Images Entertainment/Getty Images
Khloé Kardashian birthday bash was one for the ages. Between the Kimoji-wrapped gift and the glam birthday cake, there was one detail from the party that just about everyone missed. As Us Weekly noted, Khloé knows Tristan Thompson's phone password, a fact he let slip in one of Kim Kardashian's Instagram Story videos from the event. While it was only a small comment, it's a big sign that there may be new boundaries in the pair's relationship after all of the alleged cheating drama.
In the video, Kim declared that, in the spirit of her sister's birthday, it's time for Thompson to unblock her on Instagram. When he replied that he would indeed unblock the reality star, everyone was overjoyed. In the midst of all of the excitement over that whole situation, another equally interesting tidbit was overlooked.
Kim asked the basketball player, "Wait, what's your code?" As he goes to open his phone, he replied, "She knows it," in reference to his girlfriend. So, Khloé now knows what her boyfriend's phone password is. It is possible that she knew it before all of the cheating drama went down. But, it's also likely that the couple is practicing full transparency within their relationship after everything that happened. Khloé having full access to the Cleveland Cavaliers player's phone would be just one way for the them to be super open with each other.
Of course, this comes on the heel's of Thompson's alleged cheating scandal which dominated the celebrity news cycle in April. On April 10, a few days after Khloé would welcome the couple's daughter, True Thompson, TMZ and the Daily Mail published reports about the athlete allegedly cheating on his girlfriend during the months of her pregnancy. (Bustle reached out to reps for Khloé and Thompson when the rumors began, but did not receive a response.)
Following the reports, Khloé did not comment on anything related to the drama. The same couldn't be said for her family members, though. Both Kris Jenner and Kim commented on the scandal during their separate appearances on The Ellen DeGeneres Show, with the KKW Beauty mogul going so far as to call the situation "so f*cked up." Instead of talking about the drama, the Revenge Body star was busy focusing on her life as a new mom with her adorable daughter.
More recently though, Khloé did open up a little bit about her relationship with Thompson and even hinted about where they stand. When one Twitter user called her a "hypocrite" for staying with him, she replied, "you have no knowledge of what goes on in our household or the enormous rebuilding this takes to even coexist." She continued to write, "I appreciate your opinion and I hope you hold that same opinion to everyone else who has stayed in situations." In addition to this new detail about Khloé knowing Thompson's password, it would appear that the two really are working to rebuild their relationship little by little.
Her famous family seems to also be making strides to repair their relationship with the basketball player, as evidenced by their interactions with him at Khloé's birthday party. As previously mentioned, Thompson and Kim buried the hatchet and laughed off the whole Instagram blocking ordeal. He was also, naturally, a big part of the festivities, as he was the one to present his girlfriend with her fabulous-looking birthday cake, according to Khadijah Haqq McCray's Instagram Story.
So, it seems like Thompson has been accepted back into the family's fold after his alleged indiscretions, if the birthday festivities are any indication. And based on Khloé's tweet and the fact that she knows his phone's password, it also appears that the couple is really dedicated to trying to rebuild their relationship post-scandal.