The Thing That Khloé Kardashian Misses Most About Pregnancy Is Honestly So Relatable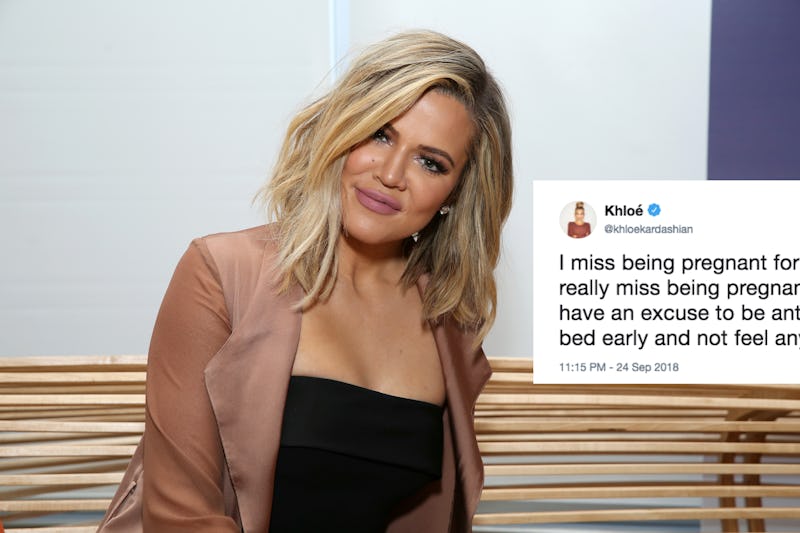 Cindy Ord/Getty Images Entertainment/Getty Images; Khloe Kardashian/Twitter
Of course, it's practically impossible to understand what it's like to be pregnant until you've actually gone through it yourself. But now people can get a little more insight, thanks to a recent tweet from Khloé Kardashian, who misses being pregnant with True Thompson for a reason that's universally relatable, People reported. OK, so, Kardashian's tweet doesn't completely demystify the childbirth experience. But it will probably have you saying, "same," whether you have kids or not.
There are a number of things that most women miss about being pregnant, according to The Bump. Some of those things include eating for two, feeling the baby kick, and getting lots of sleep. Kardashian, on the other hand, said that she misses being pregnant because it allowed her to stay home and do nothing. See? "Same," right?
On Sept. 24, the reality star tweeted,
"I miss being pregnant for a few reasons but I really miss being pregnant because I used to have an excuse to be antisocial and go to bed early and not feel any type of way."
Having a baby at home actually kind of seems like a great excuse not to go out at night, but Kardashian undoubtedly has way more career-oriented social obligations than most. In addition to that, the new mom literally lives her life out on camera on Keeping Up With The Kardashians. It'd be understandable if she feels a lot of pressure to make every moment entertaining.
Of course, there's clearly plenty of things that Kardashian loves about her post-pregnancy life, now that True is born. On July 28, the reality star made a sweet and sincere admission about her daughter via Twitter. "I felt confident in having a boy but God blessed me with my precious True and now I wouldn't know what to do with a boy," she wrote. "True has made me sweeter and more gentle. God gives you what you need. My BFF 4Life."
Kardashian's also loved watching True bond with the rest of her family, especially when it comes to her many, many cousins. "These are the moments I've been waiting for!!!," she captioned a cute photo of True and Penelope Disick, Kourtney Kardashian and Scott Disick's daughter. "[H]ow blessed am I?!?! P is an incredible photographer! And True is a very good baby model lol (she sort of had no choice)."
Kardashian and two of her sisters, Kim Kardashian West and Kylie Jenner, each had babies earlier this year. It's going to be so cool for all of them to literally grow up together. In fact, Entertainment Tonight reported in July that the Kardashian-Jenner crew was already putting their kids in school together.
"I'm most excited about being so close to my family," ET revealed the KUWTK star had written on her app. "Getting the kids together and having True do all of her classes with her cousins is a great feeling!"
Even though Kardashian might miss her antisocial pregnancy days from time to time, her social post-pregnancy days seem like they're pretty great too. She should definitely try to enjoy this newborn period, in particular, though, because with True having two cousins almost exactly her same age — and 9 close-knit cousins in total — she's only going to get tougher to keep up with (pun intended) from here.