These Photos Of Kardashian Cousins At Baby Class Will Make Your Heart Burst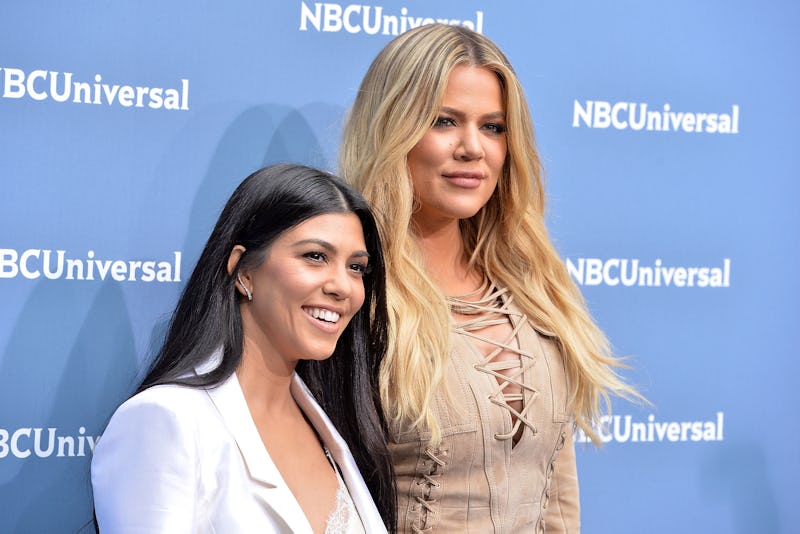 Slaven Vlasic/Getty Images Entertainment/Getty Images
Fresh off of their summer vacation adventures, Khloe and Kourtney Kardashian reunited with the kids and showcased their most adorable moments on Snapchat and Instagram Stories on Wednesday, July 11. And the photos of the Kardashian cousins at baby class are the cutest things you'll probably see all day.
Eldest Kardashian sibling and mother of three, Kourtney mashed up with her younger sister and new mom Khloe for a day filled with enough "oohs" and "ahhs" to last you for a lifetime. Starting the day off, Kourtney and Khloe gushed over how adorable baby True is on Snapchat. And especially with the addition of the coolest puppy dog and baby bunny filters, the two-month-old's cutest definitely couldn't be denied. Baby True has totally made quite the impression on the world since being born in April. From being the first child of Kardashian sister Khloe, to donning the name of her grandmother Kris' grandfather, and even to her Snapchat debut on her mother Khloe's account, no one can seem to get enough of the life and times of True.
And according to Khloe and Kourtney's Snapchats and IG Stories July 11, True's older cousins couldn't help but fawn over her adorableness either. Pictured with True at the epic, Kardashian-filled baby class, True's cousin, and Kourtney's daughter, Penelope was pictured holding the two-month-old superstar during the class. And yes, one look at the Snapchat photo and you'll totally melt too.
Captioning the Snapchat clips with "Baby class is poppin," Khloe was totally spot on with her observation. And the class looked so fun that those from the outside looking in are bound to have a bit of FOMO. Also joining True and Penelope were Kourtney's youngest son Reign, and, making a much needed surprise cameo, baby Dream. Singing and dancing, the baby class was definitely the hottest ticket in town.
The only thing that could've possibly made this day even more perfect would have been additional appearance by Kim Kardashian's three children, North, Saint and Chicago, and the youngest Kardashian-Jenner sibling and new mom Kylie Jenner's baby, Stormi.
Hitting the five month mark, baby Stormi and baby Chicago are both coming to the stage in their lives where walking and talking are new explorations. And seriously, it's probably a good thing that that tiny tots didn't make the baby class this time around, because it totally would have been cuteness overload. Between summer vacations and busy work schedules, missing this particular baby class totally makes sense for working moms, Kylie and Kim. Especially when taking into consideration that Kourtney and Khloe almost missed each other this time around, too — according to their recent Instagram banter about the crossing of their own busy summer schedules, according to Entertainment Tonight.
All in all, seeing the Kardashian cousins enjoying each other's company is the coolest thing. It's nice to know that the older siblings are making it a point to have their children foster a close and tight relationship. Even with the craziness of the press — whether highlighting relationship drama between the family and their partners, or the potential rifts between Rob Kardashian and his siblings — seeing that the family will put each other and the relationships of their children before any of the drama is pretty awesome.
Whether you like the Kardashian family or not, you have to admit, the closeness of their family unit definitely screams "goals." And they're totally setting a loving and positive example of such to the younger generation of Kardashian-Jenner all stars coming after them.
Here's to hoping that Kourtney, Kim, Khloe, and Kylie share more adorable moments of their children bonding with one another all over the internet. Because this crazy cute baby class meet up was totally one for the books.