Khloe Kardashian & Tristan Thompson Were Just Spotted Hanging Out Together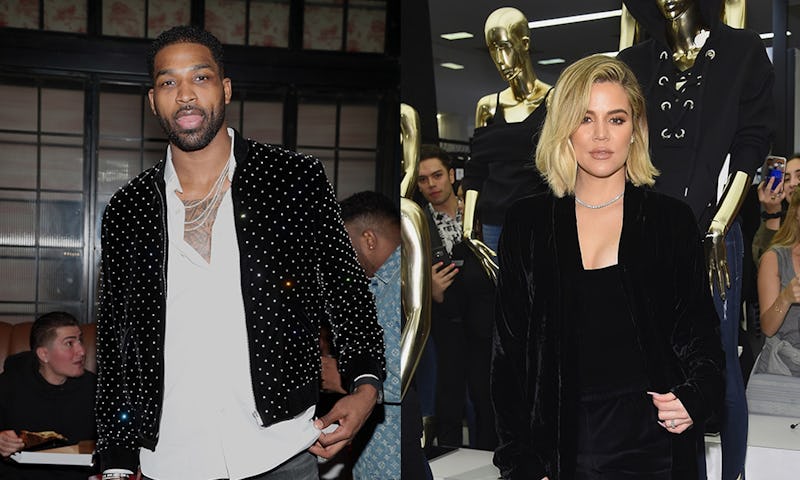 Cassidy Sparrow/Getty Images Entertainment/Getty Images; Jamie McCarthy/Getty Images Entertainment/Getty Images
Just hours after making an unofficial comment on the cheating rumors surrounding her boyfriend via Instagram, Khloé Kardashian and Tristan Thompson were spotted hanging out together in Cleveland on Friday, May 4, according to TMZ. The site shared a video that seemingly shows the new parents grabbing a bite and laughing at a restaurant with friends. Baby True did not appear to be with them in TMZ's video and photos. This marks the first time that the couple has been spotted out since rumors about Thompson's alleged cheating hit the internet — of course, that's not so odd when you remember that they just welcomed their daughter into the world on April 12.
The cheating rumors about Thompson emerged in April, just days before the birth of the couple's daughter, True. The Daily Mail reported that the basketball player was reportedly seen with another woman in New York City on April 7. The publication shared a video of the woman and a man they claimed was Thompson, but the footage was grainy and the faces could not be clearly identified. Meanwhile, TMZ shared a video from October 2017 of a man that appeared to be Thompson getting close with two women in Washington D.C. The video footage is grainy and the faces cannot be clearly identified. Neither Thompson or Kardashian have publicly commented on the reports. (Bustle reached out to Thompson's agent and Kardashian's rep for comment on the videos and the rumors at the time, but has not heard back.)
While Kardashian hasn't been posting on social media much since her daughter's birth, the Revenge Body star did take time to comment on an E! News Instagram post that claimed she was "living in her own personal hell" thanks to the alleged cheating scandal. Without addressing the allegations directly, the reality star left a joke-y comment in response to the article's claims that she's been leaning on her sister Kourtney. Kardashian commented, "Oh damn.... I hope I don't crush her by leaning on her! I love my little @kourtneykardash."
Between the dinner date and her sassy Instagram comment, it seems that Kardashian isn't interested in playing into the narrative that has sprung up about her personal life since the cheating rumors emerged. At the end of the day, only Kardashian and Thompson know what's going on in their relationship, and that's the way it should be. No matter what may or may not have happened, the reality star deserves privacy as she adjusts to new motherhood and makes a decision about her relationship.
Now that True is a few weeks old, it makes sense that Kardashian is becoming active on social media and being spotted out and about again. Having the cheating rumors break so close to the arrival of her daughter couldn't have been easy. At a time when she was preparing to give birth to her child, she also had to deal with the entire world discussing her relationship. That sounds like an incredibly stressful situation, but it's also one that Kardashian appears to be handling with humor and strength.
During their recent appearances on The Ellen DeGeneres Show, Kardashian's sister Kim and her mother Kris Jenner spoke briefly about the alleged cheating. Jenner didn't address the situation directly, but she shared how proud she is of her daughter with the talk show host. She said,
"I'm there to support my kids no matter what happens. And I just do the best I can, just like anybody else would for their family. There's a lot of us, and we all get together and we do things together and we're a force to be reckoned with."
Meanwhile, Kim was a bit more blunt. When DeGeneres asked her about the Thompson situation, she said, "I don't even know how to describe it besides it's just so f*cked up. We really were rooting for Khloé — and we still are. She's so strong, and she's doing the best that she can. It's a really sad situation all over."
At the moment, Kardashian seems to be committed to keeping her private life private. Her lunch date may mean that she and Thompson are working things out, or it could mean something else entirely. No matter what's going on, the Keeping Up With the Kardashians star is no doubt concentrating on doing what's best for her and her family. She deserves nothing but support, love, and respect as she and Thompson figure out what comes next for them.