Khloé's First Kardashian Christmas Card Appearance Raises So, So Many Questions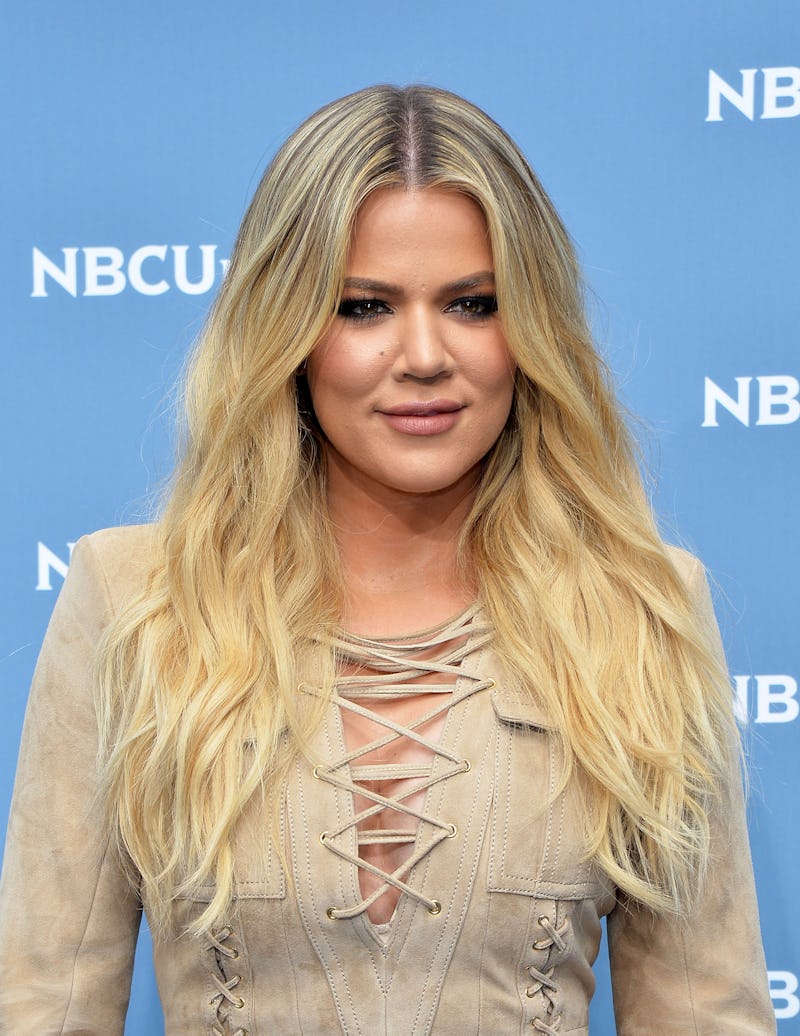 Slaven Vlasic/Getty Images Entertainment/Getty Images
The 2017 Kardashian Christmas card countdown continues — and Wednesday's reveal by Kim Kardashian is a big one. Finally, Khloé Kardashian appeared on the Kardashian Christmas card. However, unlike many have suspected, the card might not turn out to be a pregnancy reveal, at least for Khloé.
As you can see below, this is the 33-year-old Revenge Body star's first appearance on the famous card. She is holding her niece, Dream, Rob Kardashian's daughter. Khloé's blonde lob is covering her face and she is also wearing jeans and a white shirt similar to everyone else. Reign and Mason Disick, North and Saint West, Kris Jenner, Grandma M.J., and Kim, also all appear next to Khloé and Dream.
Despite the many theories that the card would serve as possible pregnancy announcements for both Khloé and Kylie Jenner, that might not be the case. It certainly doesn't look like Khloé is pregnant, but, of course, you can't go off of one photo. Everyone is different and everyone has a different experience with their body during pregnancy. Even though she might not appear to be pregnant in the below photo, that doesn't mean Khloé isn't.
Back to the actual reveal of the photos, Kim's daily image post of the Christmas card has been super confusing. All of the pictures are seemingly separate and don't seem to fit together to create the final card, as some might imagine they would. That could very well mean they might not even be part of a final Christmas card, which would presumably be released on Dec. 25.
Plus, what if the photos that have been unveiled so far were taken awhile ago or before Khloé was pregnant or showing? Maybe the final picture that will most likely be released on Christmas Day was taken more recently and will turn out to be a pregnancy announcement? Or, the card will just be a card without any pregnancy confirmations or denials. The possibilities are endless.
In September, Us Weekly reported that Khloé is pregnant. At the time of the report, Bustle reached out to Kardashian's rep and her boyfriend Tristan Thompson's agent for comment, but didn't receive an immediate response. The couple has yet to confirm or deny the pregnancy rumors. Also in September, TMZ reported Kylie is pregnant with her first child and that her boyfriend, Travis Scott, is the father. After the news broke, Kylie's rep couldn't be reached for comment.
If Khloé and Thompson are expecting their first child together, they may announce it in their own way. For example, a new teaser for the second half of Keeping Up With the Kardashians Season 14 was released Wednesday, and it seems like there's a major reveal involving Khloé. Hmm... maybe she'll announce her reported pregnancy in an episode?
As you can watch below, around the 50-second mark, everyone seems to be super surprised about something. Kim even asks Kris, "Did you not know?" The momager answers, "No!" while shedding tears. Then, Khloé is seen hugging her best friend, Malika Haqq. Kourtney Kardashian also seems thrilled about whatever is going on and declares, "Oh, my God!" The promo is careful not to reveal too much and whatever is happening remains a mystery. Let's just say fans will probably want to keep an eye out for this episode. It certainly looks like a good one.
Who knows if or when Khloé will confirm or deny the pregnancy reports, but based on Kim's latest Christmas card teaser, it sure seems like they're going to keep everyone on their toes. They definitely know how to keep their fans coming back for more. And knowing Khloé, she'll comment on the baby rumors in her own way, on her own terms, and whenever she's absolutely ready to.