Kim Kardashian Admitted The Tristan Scandal Was "New Territory" For The Famous Family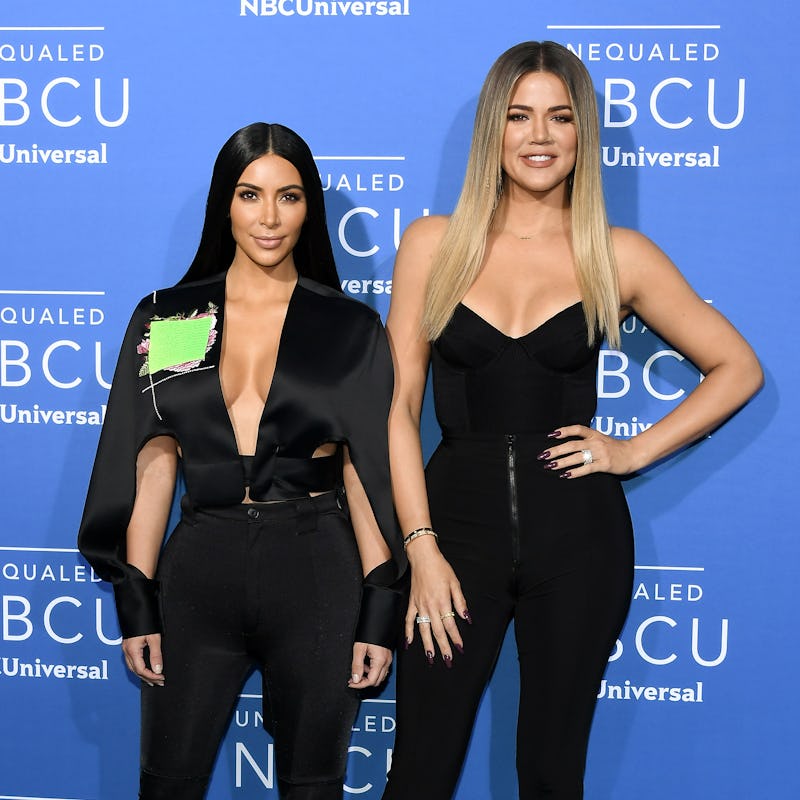 Dia Dipasupil/Getty Images Entertainment/Getty Images
Keeping Up With the Kardashians viewers can usually count on the family members hold nothing back about their personal lives. They've shared so much on their show, via social media, and in interviews. Uncharacteristically, Khloé Kardashian has been very tight-lipped since the Tristan Thompson cheating allegations broke. But if fans are looking for more answers, Kim Kardashian revealed the Thompson cheating scandal was filmed for KUWTK — or at least, some parts of it.
Usually Khloé is so open about her personal life and fans were waiting for her to say something — anything at all — about all the relationship drama that unfolded just days before giving birth to her daughter True. (When the allegations first broke, Bustle reached out to reps for Khloé and Thompson, but did not hear back.) While it's totally her personal business and decision how much to share, viewers pretty much expected her to release a statement, post an inspirational tweet, or do an interview — but none of that happened. Now that Kim confirmed this will be a storyline on KUWTK, that silence makes a lot of sense.
During an Aug. 2 interview for On Air With Ryan Seacrest, Kim teased what to expect from that storyline. She admitted, "We definitely all had that conversation, and honestly I don't want to give too much away because we genuinely had those conversations."
Yes, it sounds like the scandal will be discussed on the show, but Khloé understandably needed some time away from the cameras occasionally. Kim explained, "And sometimes we were filming and sometimes we weren't, and it was more maybe when Khloé wanted her privacy and no cameras when she was in Cleveland going through that, [but] the sisters were still all filming and talking [about] how to approach it and what to do."
The family is no stranger to scandal. No shade intended, but with the sheer volume of family members alone, it's just inevitable that there's bound to be some sort of controversy on occasion. There's just so many of them and they keep adding new members.
Even so, this is a situation unlike anything the family has navigated during all their years in the spotlight. Even Kim explained, "It was definitely new territory for us when you have a new baby coming into the world."
There's a lot to unpack here. There are many factors to take into account and so many Kardashian/Jenner siblings with opinions on how Khloé should handle things. Kim concluded, "I think ultimately we always want her to be happy, but it gets all clouded when there's a baby and, you know? Her motherly instincts kicked in and she has to do what makes her happy, so we'll support that."
That's definitely a mature take on the situation and Khloé could use the support from her family these days, but Kim wasn't always this understanding in regard to Khloé and Thompson's relationship.
During the April 30 episode of The Ellen DeGeneres Show, Kim did not hold back when asked about Thompson. She said, "Like I don't even know how to describe it besides it's just so f*cked up." That's something most people agree with, but was it the best thing to say knowing Khloé was trying to work things out? That's debatable.
Kim also said, "We really were rooting for Khloé, and we still are...you know, she's so strong and she's doing the best that she can. It's a really sad situation all over."
She also pointed out, "Because one day True's gonna see this and you know... it's so messed up." Unfortunately, if True wants to watch the Keeping Up With the Kardashians episodes about her birth, that would also likely include cheating allegations involving her father.
That appearance on Ellen sparked some controversy within the family, too. During a May appearance on Live With Kelly and Ryan, Kim admitted, "OK, last time I went on TV and I answered some questions about her I got blocked on social media — and not from Khloé." Clearly she was hinting Thompson ended up blocking her on social media.
Even so, Kim maintained, "So, I'm going to... yes, I'm always rooting for her. I'm always rooting for love." And she's making some steps forward to support Khloé's decision to remain with Thompson.
Both Kim and Thompson hung out to celebrate Khloé's birthday in June. Of course, Kim documented the event on social media, but it really got interesting in her Instagram Story.
According to an article from People, Kim asked Thompson to unblock her by saying, "All right, guys, what do you think? It's Khloé's birthday, should I ask this guy to unblock me?" Obviously, this confirms that it was Thompson who blocked Kim, even though it was pretty obvious who she was referring to in the first place.
During the Instagram Story, Thompson agreed: "For Khloé's birthday it's only right. I got you." Kim recorded this whole discussion and she even got Thompson to follow her on Instagram. She told the basketball player, "There's no going back now," and hopefully there will be no reason to go back to that. It's not good for anyone involved.
Unfortunately, the family can't just simply move forward. They have to rehash all of the drama when new episodes of KUWTK air. But at least for fans, there will finally be answers.