Kim Kardashian Isn't Completely Prepared For Baby Number 3 & That's Totally Understandable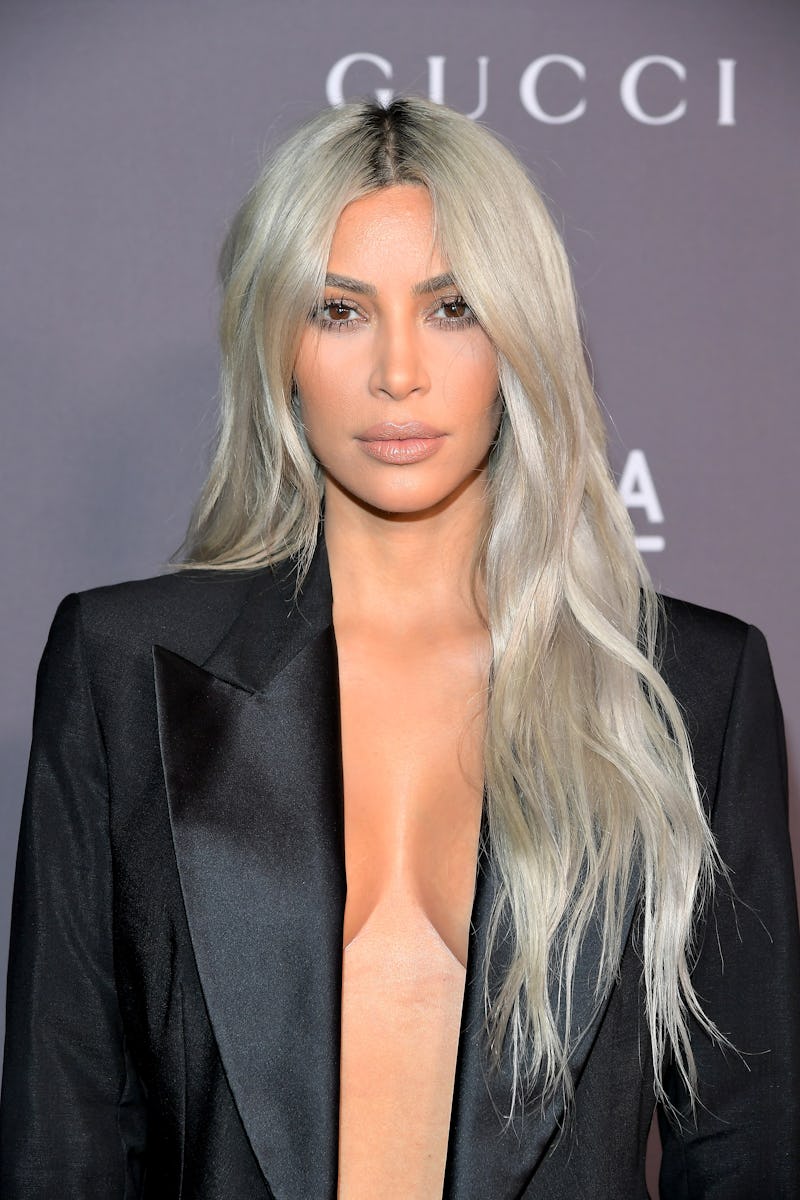 Charley Gallay/Getty Images Entertainment/Getty Images
They say the third times a charm, although it seems that may not be the truth for reality superstar, Kim K. Despite the fact that she's welcomed two beautiful children in the past four years, Kim Kardashian admitted she is not totally prepared for baby number three, according to People. Her feelings are completely understandable given that things for the entrepreneur have been quite different this go 'round for her and husband, Kanye West, who are expecting the newest addition to their clan via surrogate sometime really soon.
As difficult as pregnancy may sometimes be on the body and mind, there are obviously parts of the experience that help a mother along in the process of preparing for the child's arrival. It's a step that Kardashian obviously wishes she had more control over, though circumstances surrounding her health have prevented her from carrying a third offspring. Kardashian revealed in April of this year that she was advised by doctors not to get pregnant due to the complications she suffered with placenta accreta during her last two pregnancies. The drama of both pregnancies and deliveries, as well has her struggles with getting pregnant, have been documented in detail over the past few seasons of Keeping Up With The Kardashians.
Initially assuming that things would be breeze compared to the taxing issues she faced during that time, the 37-year-old socialite explains that her surrogacy experience has been much more difficult than she once thought. Admitting to Entertainment Tonight that she absolutely loathed pregnancy, Kardashian says that it was actually much easier than the feelings that she's been facing this time around. She explained,
"I hated being pregnant … I thought this was going to be so easy, but you know, even in how much I hated it, if I could do it myself I would have preferred that."
In terms of what has made things harder with the forthcoming tot, Kardashian cites lack of control as her biggest issue. Despite the major difficulties she had birthing her 4-year-old daughter, North and almost 2-year-old son Saint, the fashion icon wishes that she had the opportunity to have a normal pregnancy. Of the challenges with surrogacy, Kardashian explained,
"You know, it is really different ... Anyone that says or thinks it is just the easy way out is just completely wrong. I think it is so much harder to go through it this way, because you are not really in control."
Said to expecting a baby girl in January, Kardashian and West were reported to have chosen a woman who is in her 20s and in great physical shape for the deed, according to TMZ. Speaking of the trust she has for her surrogate, it sounds like Kardashian has, presumably, been friendly with the woman for a good amount of time. She continued telling ET,
"Obviously you pick someone that you completely trust and that you have a good bond and relationship with, but it is still … knowing that I was able to carry my first two babies and not my baby now, it's hard for me. It's definitely a harder experience than I anticipated just in the control area."
The power couple's relationship as well as the identity of the surrogate has remained under wraps since the pregnancy news broke earlier this year. The DailyMail indicates that Kardashian and West have had limited contact with the woman carrying their unborn child over the past few months. Kardashian recently celebrated the impending arrival of the baby, hosting an extravagant cherry blossomed baby shower at her Bel Air mansion on Nov. 11. The mother of three share the pretty pink event with fans via social media.
No matter how you slice it, motherhood is no easy task — for Kim Kardashian or any other parent on the planet— for that matter. That said, it's safe to say that no matter how much Kim K. may try to get in gear for the forthcoming arrival, there's most likely no amount of prep to get you ready for one of the most important jobs in the whole wide world.