Twitter Hates Kim Kardashian's Third Baby Name & Their Reactions Are Priceless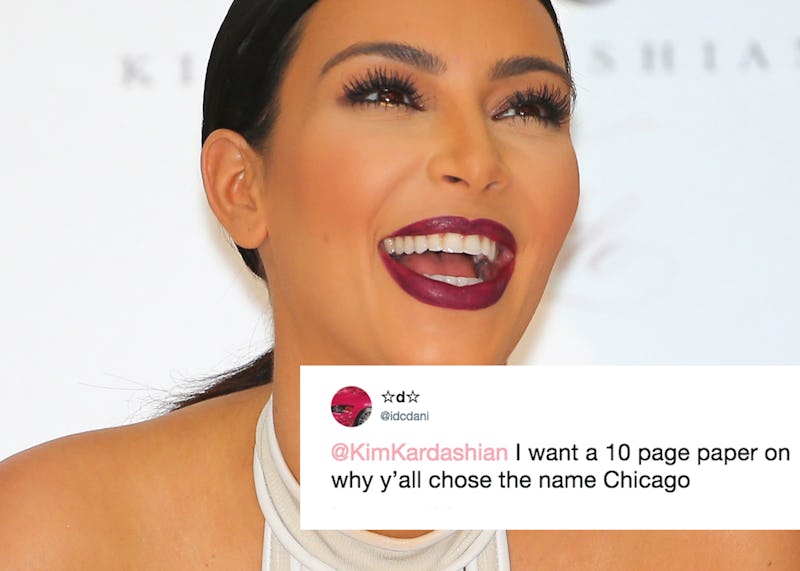 Getty Images/Bustle
Considering that the news of her baby's birth took over the internet in recent days, the announcement of Kim Kardashian's third baby's name, unsurprisingly, sent social media into a tailspin. Running the gamut of hilarious to downright rude, the memes and tweets about Chicago West's name will, for the most part, make you tear up with laughter. The reality star shared the name news via her app by simply posting "Chicago West," and the announcement immediately sent fans running to the internet as the baby's unique name became a huge trending topic on Twitter.
The newborn, who Kardashian and husband Kanye West welcomed into the world via surrogate on Jan. 15, appears to have been named after her superstar father's hometown of Chicago, Illinois, and joins Kimye's brood of interestingly named offspring. After all, she's teaming up in the Kardashian-West household with big sister North and brother Saint. Kimye's new baby girl is said to have been going by the nickname Chi (pronounced "Shy") since she was brought home to meet her adorable sibs.
As has always been the case when it comes to the famous family, the social media reactions have been no holds barred since the Friday afternoon revelation, and the memes are certainly worth checking out.
1. Missed Opportunity
One fan feels like the reality star totally missed out on a huge moment to announce the baby's name in grand fashion, à la this Victorious meme.
2. This Amazing GIF
This person has so many questions about Kardashian's name choice for baby number three.
3. We All Need This
Totally confused by the decision, one commenter insists that Kardashian explain via a 10-page paper.
4. Ready To Tune In?
Another reactor said that the name reminds them of a major primetime series. And they're not wrong.
5. Some Things Are Better Left Unsaid
Using a meme of JAY-Z and Blue Ivy, this fan is living by the mantra of: If you don't have anything nice to say, don't say anything at all.
6. This is More "Kanye" Than Kanye
One Twitter user thinks that it doesn't get much more "Kanye" than Kanye naming his daughter Chicago West.
7. It's All Mapped Out
The new baby's name helped this fan finally figure out what direction they were headed.
8. Sky's The Limit
Another reactor is confident that Chicago West is going places.
9. It's a Moment You'll Never Forget
One social media user guarantees that you'll never be able to forget where you were when Kim K announced baby Chicago's name.
10. Third Times Not A Charm
Hoping for a different outcome, this commenter was totally disappointed by the name choice.
11. It's All Part of Kanye's Grand Plan
Meanwhile, this Twitter user thinks the move is all part of West's grand scheme of proving that he's the G.O.A.T.
12. Welcome to the Neighborhood
Someone else feels like the name sounds like an up-and-coming section of town.
13. Is This Real Life?
Although not at all surprised, this fan can't believe that Kardashian and West really went through with naming their daughter, Chicago West.
14. Chi-Town Pride
Jumping in on the Twitter fun, the Chicago Bears football team showed a bit of support for Kimye's new baby's name.
15. Chi West Has No Worries
This fan points out that Chicago West will forever remain unbothered by what people have to say about her name because with Kardashian and West as parents, she'll most likely always have major bank.
Love it or hate it, the name Chicago West is now officially a part of pop-culture history. And as the newest addition to the Kardashian empire, it's safe to say that it's a name that many won't be able to forget.