The First Look At Kim's Baby Chicago Was Hidden In Kylie's Birth Announcement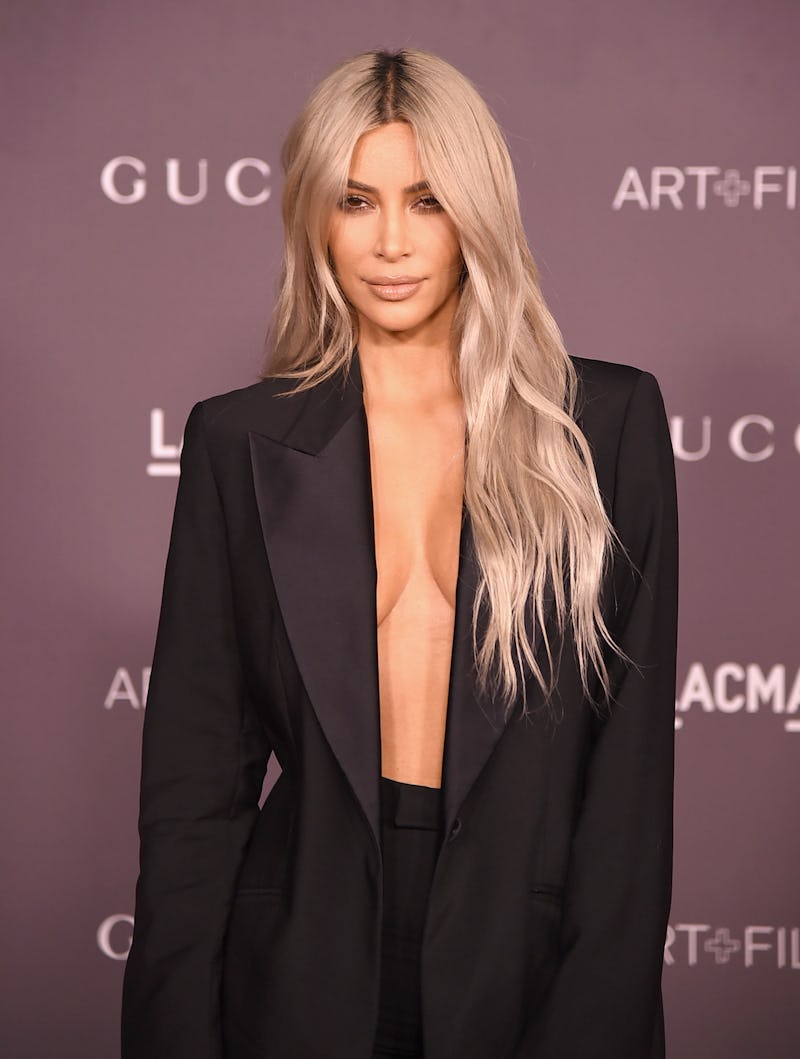 Kevin Winter/Getty Images Entertainment/Getty Images
In an video no one saw coming, on Sunday, Feb. 4, Kylie Jenner announced that she welcomed a baby girl on Instagram and posted a full 11-minute video of her pregnancy journey on YouTube. Obviously, this is exciting news, especially for any Jenner fans who have been wondering if she actually was pregnant for the last several months. But also exciting, was that Kim Kardashian's baby Chicago was featured in the video! That's right, this was a two-for-one Kardashian-Jenner baby extravaganza.
To rewind just a little bit, on Sunday afternoon, Jenner posted the following message to Instagram:
I'm sorry for keeping you in the dark through all the assumptions. I understand you're used to me bringing you along on all my journeys. my pregnancy was one I chose not to do in front of the world. I knew for myself i needed to prepare for this role of a lifetime in the most positive, stress free, and healthy way i knew how. there was no gotcha moment, no big paid reveal i had planned. I knew my baby would feel every stress and every emotion so I chose to do it this way for my little life and our happiness.
pregnancy has been the most beautiful, empowering, and life changing experience I've had in m entire life and I'm actually going to miss it. I appreciate my friends and especially my family for helping me make this special moment as private as we could. my beautiful and healthy baby girl arrived February 1st and i just couldn't wait to share this blessing. I've never felt love and happiness like this i could burst! Thank you for understanding.
It had been reported, but unconfirmed by Jenner, since September that she was expecting a baby with boyfriend Travis Scott. But, no matter how hard fans tried to find clues on Keeping Up With the Kardashians and on social media, Jenner wasn't saying a word. Now, we all know that she really was expecting all along, but just wanted to keep it to herself until the baby was born and she could share what she wanted to with fans through a super touching video.
As for Kardashian, she welcomed her third child, Chicago, on Jan. 15. Kardashian announced the news on her app and website, and wrote:
Kanye and I are happy to announce the arrival of our healthy, beautiful baby girl. We are incredibly grateful to our surrogate who made our dreams come true with the greatest gift one could give and to our wonderful doctors and nurses for their special care. North and Saint are especially thrilled to welcome their baby sister.
Kardashian hasn't yet shared any photos of Chicago (although the paparazzi did manage to sneak some of her reportedly taking her daughter to a doctor's appointment), and now it's clear she wanted to let that reveal happen in Jenner's video.
Around the 8-minute mark in the video, after footage of Jenner's baby shower, sonogram appointments, and stories of how she revealed the news to her friends, the 20-year-old reality star meets her new niece, Chicago. Jenner says, "She's so little!" And someone off camera asks, "Did you figure out the name?" to which Kardashian replies, "I think we're going to go with 'Chicago.'" Jenner then says, "I love 'Chicago.'"
In the next clip, Chicago also meets Rob Kardashian and his daughter, Dream, while Kardashian takes photos.
Overall the video is adorable, and also sort of eerie seeing as Jenner was able to keep all of this — the photoshoots, the videos, the meetings with multiple friends and extended family members — private while fans talked about the possibilities and rumors incessantly. It's amazing that she was able to experience her pregnancy the way she wanted. And, now, there are two more Kardashian-Jenners in the world — and yet another on the way when Khloé Kardashian has her baby.