Kim Kardashian Says She Found Out About Kanye's Twitter Return Just Like You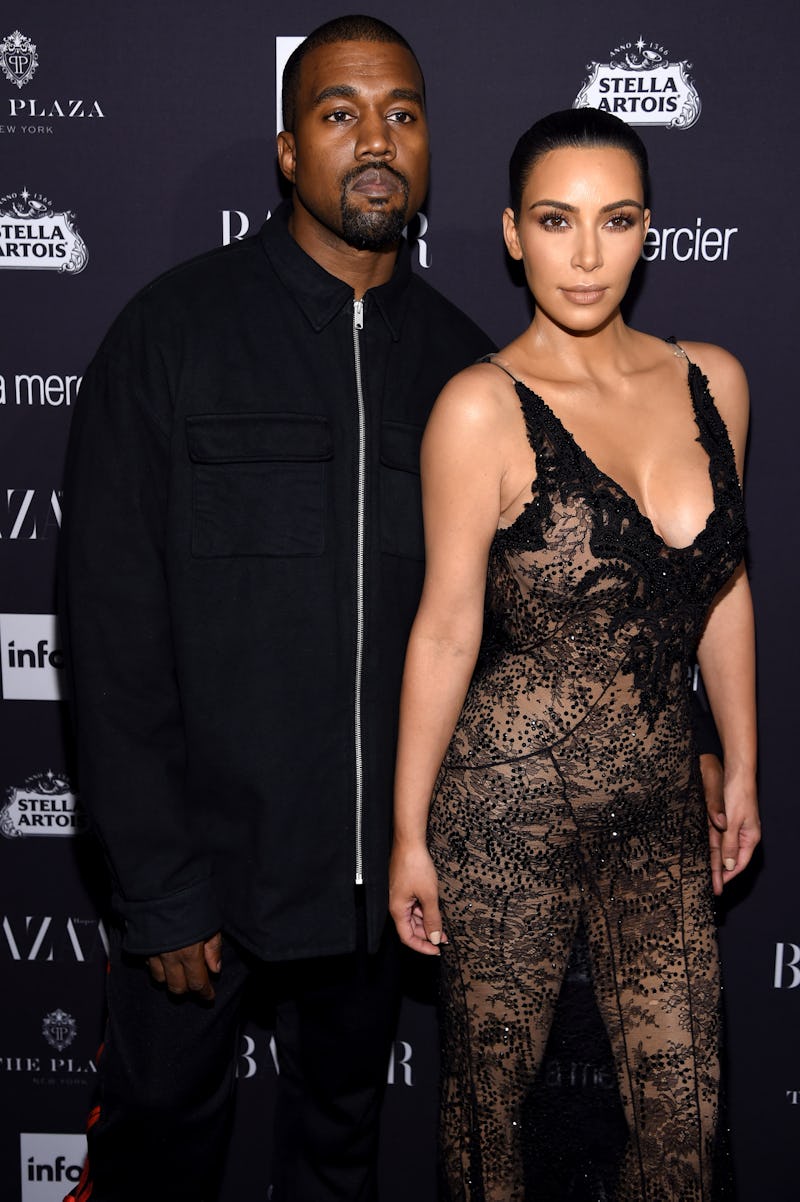 Dimitrios Kambouris/Getty Images Entertainment/Getty Images
Kanye West's return to Twitter after a year off the social media app was a surprise to many of his fans — including his wife. In a sneak preview of an upcoming interview with Ellen DeGeneres, Kim Kardashian commented on Kanye's tweets revealed she found out about his Twitter activity when she saw other people talking about it. In the preview of the interview, which airs on The Ellen DeGeneres Show on April 30, the reality star did not seem to address the rapper's more controversial political tweets.
"I didn't even know he got his Twitter again until I started seeing tweets come in from other people, like retweeting them," Kardashian told DeGeneres. Not only did West not tell his wife that he was planning on moving back onto the social media platform, but he waited to see if she would discover his posts without him. She explained, "I was like, 'Wait, is this real?' And then at night, he came in and was like, 'Did you see my tweets?' And I was like, 'Yes, I did see your tweets'" She added, jokingly, "and I followed him back."
It would have been hard for Kardashian to miss the posts — days after he reactivated his Twitter on April 13 he was making waves with his introspective tweets-turned-"philosophy book."
In the interview, Kardashian gave more context to one of his tweets that she previously responded to on Twitter. On April 17 Kanye wrote, "Sometimes you have to get rid of everything." The Keeping Up With The Kardashian star was quick to respond with a humorous tweet writing, "Wait... EVERYTHING?!??!?!" She included an emoji of a brunette woman raising her hand in the air. However, she explained that deeper meaning she perceived behind Yeezy's tweet to DeGeneres. She explained:
"I mean, I hear him say all these things in the house just about — I think what he was saying about, really to everything, he was talking about clarity, and he always talks about how we should not have our phones first thing in the morning and in the house when we're with the kids, let's not have our phones. It's our rule that we really try to live by. So I think he was talking about cleansing."
While some people were confused by West advising people to sometimes throw out their possessions, fans were even more baffled by his more recent tweets, in which he shared his support for President Donald Trump. In a series of posts, West could be seen showing off an autographed Make America Great Again hat and referred to the politician as his "brother" while claiming they are "both dragon energy."
After the tweets, some media outlets ran articles suggesting West might be battling a mental health issue, but Kardashian was quick to defend her husband from this speculation. "He's a free thinker, is that not allowed in America?" She wrote about her husband. "Because some of his ideas differ from yours you have to throw in the mental health card? That's just not fair."
She also addressed his love of Trump head-on, by commenting that just because he felt differently about the president than many of his fans that didn't mean something was wrong with him. "Most people (including myself) have very different feelings & opinions about this," she said of Kanye's affection for Trump. "But this is HIS opinion. I believe in people being able to have their own opinions,even if really different from mine."
It is unclear from the preview if Kardashian will address West's more controversial tweets in her interview with DeGenerous — the segment could have been filmed before the backlash. Regardless, it promises to be a doozy — in another preview Kardashian addresses the reports that her sister Khloé Kardashian's boyfriend and baby's father Tristan Thompson cheated during her pregnancy.