The Kardashian Cheating Scandal Has Brought Out An Ugly, Gendered Stereotype About Infidelity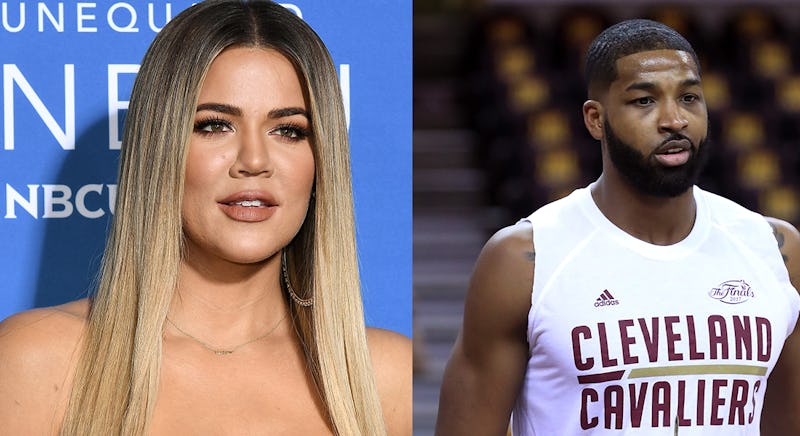 Dia Dipasupil/Getty Images Entertainment/Getty Images; Ronald Martinez/Getty Images Sport/Getty Images
By now, you've probably heard the rumors that Tristan Thompson cheated on Khloé Kardashian. On Tuesday, April 10, the Daily Mail posted a grainy video in which they claimed that Thompson appeared to kiss another woman while in New York City the weekend of April 7, but the faces could not be clearly seen. Later that day, TMZ posted footage of a man they claimed to be Thompson with two women at a bar outside of Washington, D.C., as well as grainy photos of a man who they claim to be Thompson entering and leaving a hotel with a woman. The faces in the TMZ video and photo are hard to decipher. (Bustle reached out to Khloé and Thompson's reps about the cheating rumors and the videos, but didn't receive an immediate response.) But, what isn't hard to see is how focusing on the women involved, including any blame on Khloé, inadvertently fails to hold Thompson accountable for his rumored behavior.
It's no surprise that the tabloids wanted to know, who is the woman Thompson was reportedly caught with? Immediately, she was cast as the "other woman," a "homewrecker," a "man-stealer." It's a narrative any casual gossip reader has seen before (such as in the case of Jennifer Aniston and Angelina Jolie), and it's a problematic one that belittles all of the women involved — casting one as an unwitting victim and the other as a villain. Making matters worse, it supports the long-held notion that women are always in competition over men, especially famous ones. That's made all the more clear in the recent Khloé and Thompson scandal.
This idea that women are constantly throwing themselves at famous men is a common fixture in gossip columns. An ex-girlfriend was blamed for splitting Khloé's sister Kourtney and Scott Disick up in 2015, while a year later everyone in the Beyhive wanted to know who "Becky with the good hair" was after Beyoncé released Lemonade. When Ben Affleck and Jennifer Garner broke up in 2017 their nanny, Christine Ouzounian, was blamed for the split. Though, as a way of bucking tradition, The Cut wrote a piece celebrating Garner and Affleck's nanny for being "both an underdog and an icon of sexual daring and female selfishness."
But, not even famous women are safe from being given the "other woman" status. After Chris Pratt and Anna Faris announced their separation, gossip blogs were all too quick to blame Jennifer Lawrence. Earlier this year, Minka Kelly was accused of breaking up Jesse Williams' marriage when they started dating shortly after he split from his wife of five years, while Marion Cotillard was implicated in Brad Pitt and Angelina Jolie's divorce leading her to release a public statement denying the rumors.
And after being every gossip magazine's favorite jilted woman, even Aniston was accused of being the other woman when she started dating Justin Theroux, who she's has since split from. But don't worry, no "other woman" was involved in their split, according to Gossip Cop, because, unfortunately, everyone seems to try to find one in every celebrity breakup.
All of these cheating stories have one thing in common: They all blame the women. If it's not the other woman, it's the woman who's unable to keep her man. Many people were all to quick to blame Khloé for Thompson's rumored cheating because she should have known better than to have dated him in the first place. Thompson and Khloé began dating in September 2016 while the NBA player's ex-girlfriend Jordan Craig was pregnant. While no one knows why Thompson and Craig went their separate ways, some fans were quick to assume Khloé had something to do with it.
What these narratives have in common is that they scapegoat women while giving men a pass. People reported that Thompson was a "serial cheater," quoting a "source" who said that the Kardashians were concerned about Khloé dating him. "Being on the road as an athlete, you face many temptations," the insider said, almost insinuating that he's powerless once he leaves Khloé's side. Somehow, he's excused for his behavior, but the women are left accountable for their cheating partners.
"Every time the woman is made to be responsible," sex and relationships therapist Esther Perel told Cosmopolitan in 2016, "it also implies that the guys are merely helpless pawns in the situation with no culpability."
Here, there's an insinuation that women are just constantly throwing themselves at Thompson because he's an athlete and he cannot be expected to resist these temptresses. But there's also an air of pressure on Khloé to somehow change him and if she doesn't, it's somehow her fault that he cheated.
There are a lot of reasons why men cheat on their partners — and to be clear, neither Thompson nor Khloé have confirmed there was any cheating going on here — but they are not faultless. They are not victims of temptation. Boys will not just be boys. And the sooner everyone starts realizing that, the better off we'll all be.