Kim Just Posted A New Pic Of Baby Chicago & It's Unbelievably Cute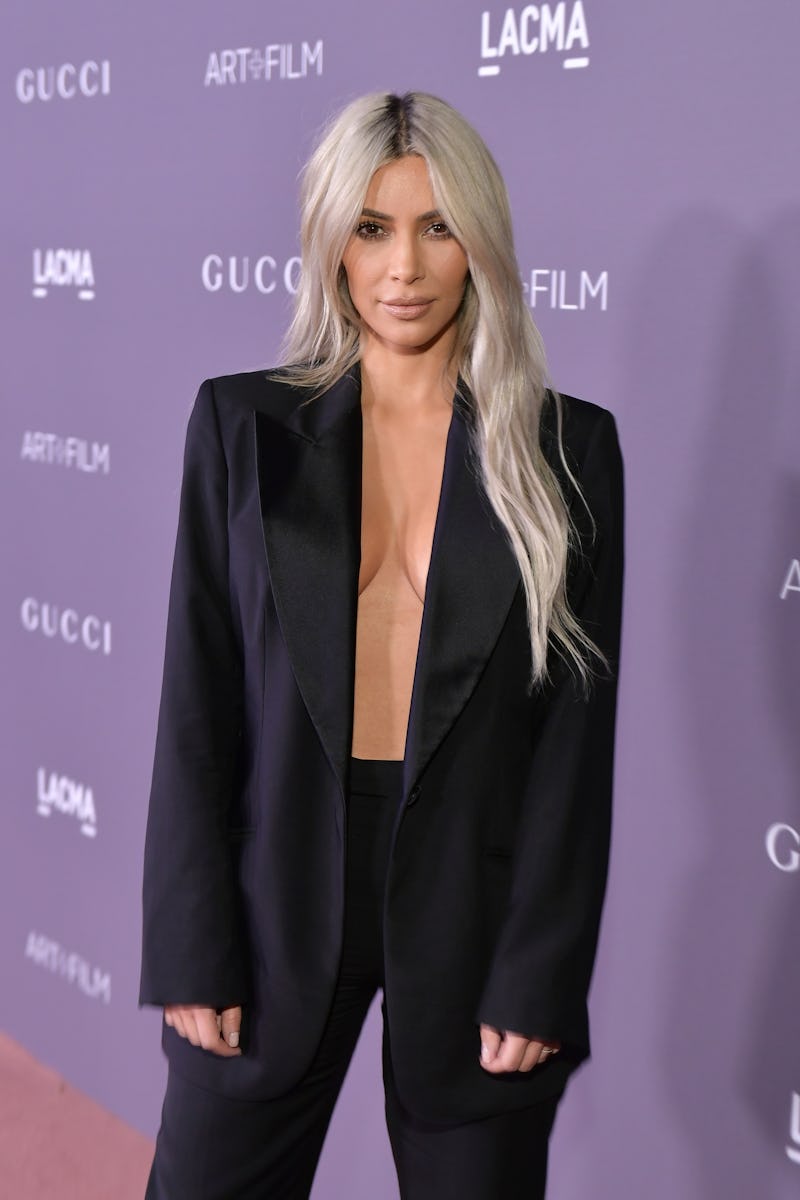 Neilson Barnard/Getty Images Entertainment/Getty Images
We got a glimpse of her in Kylie Jenner's baby announcement video, but now, Kim Kardashian has shared a picture of Baby Chicago, and it is unbelievably cute. On Monday afternoon, Kardashian posted an Instagram of herself and her new baby and captioned it simply, "Baby Chicago." In the pic, Kardashian chose to use a filter that gives both her and Chicago pink bear (or koala? or... something?) ears and noses and may have also lightened the color of their eyes. But, even if you look past the colorful fake features and their matching outfits (mother-daughter robes, perhaps), it's clear that these two are basically twins.
Two days before sharing the picture, Kardashian gave an update on Chicago on Twitter, including what she looks like. In response to a fan who asked how Chicago was doing, the mother of three responded, "The sweetest! Best baby! She looks a tiny bit like North and a tiny bit like Saint but definitely her own person!"
Now, we can all see that Kardashian wasn't kidding. You can tell that Chicago looks somewhat like her siblings, but also that she's, as Kardashian put it, "her own person." And a very cute, tiny person at that.
While Kardashian hadn't previously shared a photo of Chicago, she was featured in Jenner's birth announcement video that also chronicled her pregnancy. In the video, Jenner is shown meeting her new niece and holding her. The 20-year-old says, "She's so little!" In regards to her name, Kardashian says, "I think we're going to go with 'Chicago,'" to which Jenner replies, "I love 'Chicago.'"
In the video, Chicago was also shown meeting her uncle Rob Kardashian and her cousin (and Rob's daughter), Dream. (Chicago time in the spotlight be seen at the 8-minute mark in the video below.)
In January, Kardashian announced that her third child with husband Kanye West was born. In a post on her website Kardashian wrote that her new daughter was born on January 15. She also thanked her surrogate and the doctors who helped throughout the pregnancy and delivery in a sweet message:
Kanye and I are happy to announce the arrival of our healthy, beautiful baby girl. We are incredibly grateful to our surrogate who made our dreams come true with the greatest gift one could give and to our wonderful doctors and nurses for their special care. North and Saint are especially thrilled to welcome their baby sister.
At that point, the wait was on for fans who were curious about what Kardashian and West had chosen to name their child. And, three days after announcing that the baby was born, Kardashian shared that they decided to name her Chicago. In a post on her website titled "Chicago West", Kardashian wrote the following very brief post:
Chicago West
January 15, 2018
12:47am
7lbs 6oz
She also shared on Twitter that Chicago's nickname is Chi. This, of course, got Twitter users discussing how "Chi" is pronounced, but Kardashian's sister, Khloé, cleared that up:
Fans of the Kardashian-Jenners know that the family is currently in the midst of a baby boom. After Kardashian welcomed Chicago in January, Jenner had her baby with boyfriend rapper Travis Scott, later revealed to be named Stormi, on February 1. And, on top of that, Khloé is set to welcome a baby with her boyfriend, NBA player Tristan Thompson, in March or April. So, if you aren't sick of reality TV star birth announcements, baby name reveals, and first Instagrams, you're in luck, because there is an entire new round on the way. For now, we have the first pic of baby Chicago of what is likely to be many more to come.