Kim Kardashian Just Gave An Update About Baby Chicago That Will Make Fans' Hearts Burst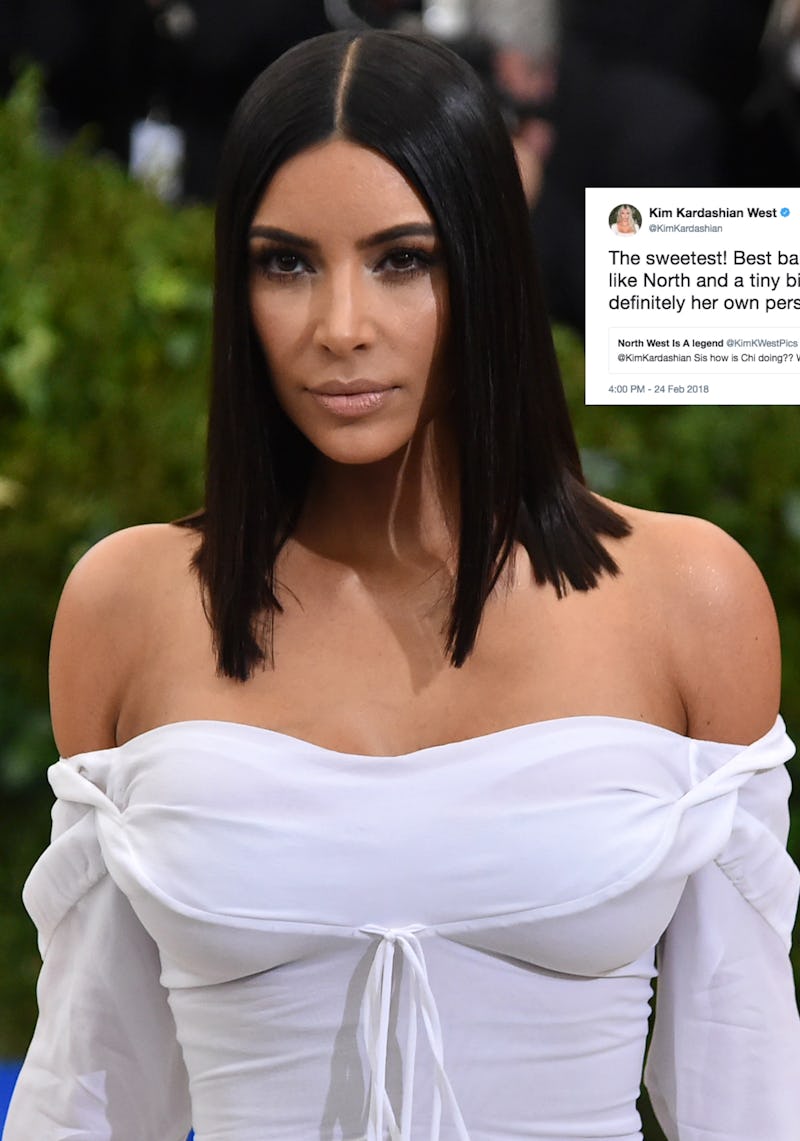 Mike Coppola/Getty Images Entertainment/Getty Images; Kim Kardashian/Twitter
For a reality star whose life is practically an open book, Kim Kardashian hasn't shared a ton of details yet about the latest addition to her famous family. But that all changed on Saturday, Feb. 24 when Kardashian shared an update about baby Chicago West that will make fans instantly smile. And as it turns out, she shared this particular update because a fan was eager for more insight about Baby Chi (pronounced "shy," in case there's any lingering confusion).
The Twitter user, whose display name is literally "North West Is A legend," wrote, "Sis how is Chi doing?? We need weekly updates." Soon after, Kardashian tweeted back,
"The sweetest! Best baby! She looks a tiny bit like North and a tiny bit like Saint but definitely her own person!"
So far, fans haven't seen too many snapshots of Kimye's third baby. She made a brief cameo in Kylie Jenner's baby announcement video, as Jenner was introduced to her newest niece. Then, there was a paparazzi shot of Kardashian taking Chi to the doctor in a stroller (though, you could only really see a small portion of the baby's face). As you may have expected, Kardashian is taking her time revealing info and photos of the newborn. And honestly, it's totally her prerogative — just because she's a huge star, that doesn't mean that she has to thrust her kid into the spotlight, especially when Chicago is only a little more than a month old.
Still, not only does this Twitter update give fans a mental image of the baby, but it's also nice that Kardashian makes sure to mention that while Chicago somewhat resembles her siblings — North and Saint West — she's also entirely her own person. Sure, she's still a baby and that kind of comment may be seemingly small, but this means Chicago won't have unfair expectations placed on her to be exactly like her brother or sister. And anyone who's grown up as a younger sibling knows that must be a relief.
Based on what Kardashian has shared about her other kids, fans know that North is very much her own person — she loves makeup like her mom, but also hide-and-go-seek, candy, and puppies. Meanwhile, Saint seems a little more shy, but super sweet — like when he wanted to gift his mom's Valentine's Day perfume to his "sissy."
As for the youngest West, Kardashian announced Chicago's arrival on Jan. 15 with a message on her app. She wrote,
"Kanye and I are happy to announce the arrival of our healthy, beautiful baby girl. We are incredibly grateful to our surrogate who made our dreams come true with the greatest gift one could give and to our wonderful doctors and nurses for their special care. North and Saint are especially thrilled to welcome their baby sister."
The name choice is especially sweet, since Chicago is Kanye West's hometown. It's a subject he's referenced in his music, and it's also where he spent his formative years with his late mother, Donda West, according to a biography on Rolling Stone's site. Clearly, a lot of thought went into this name choice, even if days before the big announcement, the couple was reportedly struggling to pick a moniker. Apparently it took time to get it just right.
Interacting with fans on Twitter is nothing new for Kardashian, so it's only a matter of time before she shares more updates about the latest member of the ever-growing Kardashian-Jenner family tree. And who knows, maybe she'll actually listen to the super-fan above and share weekly updates — that would be so sweet.