Kit Harington Had ALL The Emotions In His Latest 'Game Of Thrones' Interview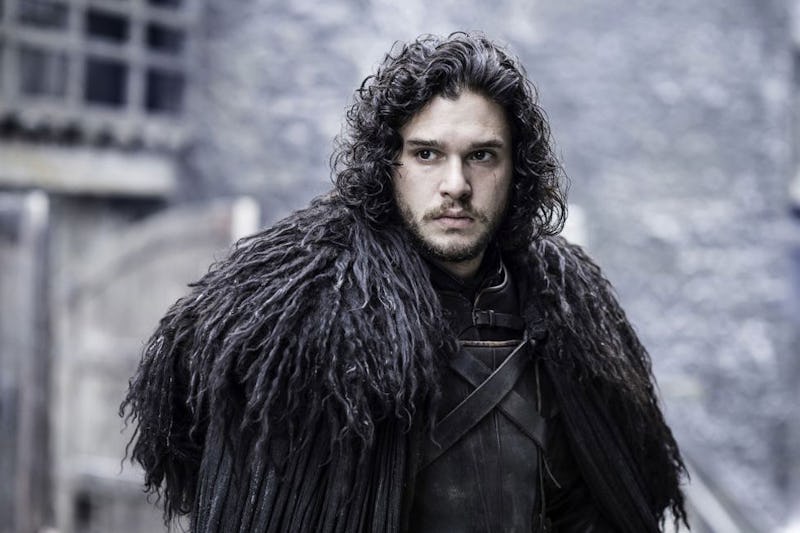 HBO
England lost the semi-finals, Love Island is nearly finished, and the heatwave seems to have faded. They may seem like the only dampers to this English summer, but Kit Harington's Game of Thrones interview about the series ending will make you bawl. Yes, I know we're not even close to the premiere, but still. Harington knows how to spill out the feels and make me feel teary-eyed AF. In a beautiful, poignant way, though.
Game of Thrones officially wrapped last Friday (June 6), with the final scenes taking place at King's Landing according to fansite Watchers on the Wall. The seriously lit wrap party took place a few days before on July 1, so it's no surprise that the cast of the HBO hit are extremely sentimental. I mean, who wouldn't be after working on a show for seven years?
Speaking to BBC Radio 2, Harington described his time working on Game of Thrones with feel-induced admiration, surely making GoT fans well up in the process. He said:
"It's just been this amazing journey. I kinda said to them on my wrap speech that it's always been more than a job. They were a family and it was my life. I've loved every minute of it."
Harington continued: "I've been quite emotional all last week thinking about having finished it."
Whilst I know that the Jon Snow actor obviously has more of a personal, emotional connection to the show, his feelings regarding his "family" and the "amazing journey" that he has taken playing the "king of the north" made me reach for the tissues. Not only that, but the prospect of no more Game of Thrones after this final season is enough to make me want to crawl under my duvet and cry.
England's not coming home, and winter is no longer coming #whatislife.
To make emotions run even higher, Harington also spoke about his time during the last read-through for GoT on The One Show in October 2017. Unsurprisingly, he couldn't hold it together.
"I'm really emotional about it. We had a read-through last week, in fact, so I know everything now," he said. "I cried at the end. It wasn't anything in particular that happens. You have to remember, eight years of it. I think, no one really cares about it more than us."
Harrington's not the only member of the Stark family to have honoured their time on the show. Maisie Williams (Arya Stark) instagrammed a pair of bloody shoes with the caption: "goodbye Belfast. goodbye arya. goodbye game of thrones. what a joy i've had. here's to the adventures to come. #lastwomanstanding #barely #immasleepforthenextfouryears #justkiddingidontneedsleep". I can't be the only one that is looking way too into those hashtags?
Sophie Turner went for a slightly different route, getting inked with a dire wolf with the quote "The pack survives" underneath. Turner spoke about her tattoo on The Late Late Show With James Corden, where she revealed that she was originally advised not to get the quote tattooed as it may look like a spoiler for the last season.
Thankfully though, it's just a quote from Season 7 so you can breathe a sigh of relief.
Even though she isn't part of the Stark family, Emilia Clarke (Daenerys Targaryen) also bid farewell with a touching Instagram post laying alongside some flowers in a winter coat.
Published a few weeks ago, Clarke captioned the post: "Hopped on a boat to an island to say goodbye to the land that has been my home away from home for almost a decade. It's been a trip @gameofthrones thank you for the life I never dreamed I'd be able to live and the family I'll never stop missing #lastseasonitis"
Can you run out of tears? 'Cause I think I have.
There's no official release date for the eighth — and final — season of Game of Thrones just yet, but it will definitely premiere in 2019.