The 'Vanderpump Rules' Season 6 Trailer Could Definitely Use More Kristen Doute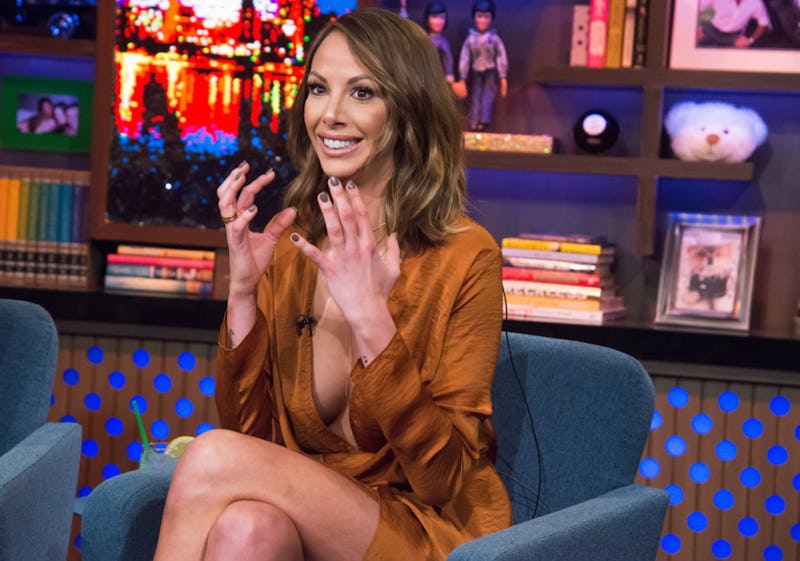 Charles Sykes/Bravo
One whole day ago, the SUR-purb Vanderpump Rules Season 6 trailer climbed onto the pegs of Tom Sandoval's bike and glided onto the internet, wetting the whistles of Pump fiends far and wide. If this preview is any indication of what'll happen this season (isn't that what a preview is?), fans are in for some twists come Dec. 4. Here are the three most shocking things about the exqui-SUR-te first look at Season 6: Katie Maloney and Lala Kent are friends, James Kennedy and Jax Taylor are friends, and the inimitable Kristen Doute is barely in the trailer.
What is going on? Does this clip hail from some alternate Sexy Unique Universe? Is there a deleted scene where Stassi Schroeder ties an "I never actually liked SUR's deep-fried goat cheese balls" banner to the tail of a small plane before taking it for a spin over West Hollywood? Because that would fit right in with all of the other bizarro stuff going on in this video.
OK, fine, the James and Jax thing isn't that surprising. Well, it was surprising a few months ago, but now it's old news: The two former adversaries have been buddy-buddy on social media lately, so viewers knew a Sexy Unique Friendship was blossoming between them. Same thing goes for the Katie and Lala situation.
The shortage of Kristen scenes, however, is far less easy to grapple with. She's been a fixture of the series since day one, and now she's making brief cameos in the Season 6 trailer. Giggy the Pomeranian practically gets more preview time than the living legend who once hissed "suck a d*ck" at her manager while waving a cigarette around like a conductor's baton on the patio of her soon-to-be-former place of employment.
If you blink your mink eyelash-adorned eyes while watching the trailer, you might miss Kristen's precious scenes. The first time she's on screen, she raises a glass to something. It lasts for all of a few seconds. Later on, someone who looks a lot like Kristen chucks a drink across a dinner table and at James. The drink-thrower's face is cropped out of the shot, but it definitely appears to be Darling Doute throwing an alcoholic beverage at her ex-boyfriend. (Hey, at least she didn't suggestively shake a bottle of booze in front of her lap before dousing a table of people.) Of course, these moments are great. And of course, the trailer is great... but the video could use more Kristen.
First, Andy Cohen forgets to say hello to Kristen at the Season 5 reunion, and now, she's hardly featured in the Season 6 preview? How can this be? Where the heck is Kristen? And what does this mean for the new episodes? Is she barely in the trailer because she's barely on this season? Or is she still very much a huge part of the show? *Crosses fingers that she's still very much a huge part of the show because oh my goodness few can mix it up like Kristen can.*
Fortunately, it sounds like my fellow Kristen fans have nothing to worry about. When a viewer tweeted about the lack of Kristen in the trailer, the Bravolebrity replied, "Can't get rid of me, I'll always show up. Trust me - it's going to be a great season."
Let that "I'll always show up" warm your Pumptini-loving soul. A season of Pump Rules without a Kristen regularly mixing it up wouldn't feel right. It would be like a Beemer without a selfie. Or like a SUR without an alley. Or like a stack of mail without a green dress.