Kylie Didn't Name Her Baby Butterfly & Fans Are SHOOK By The Real Name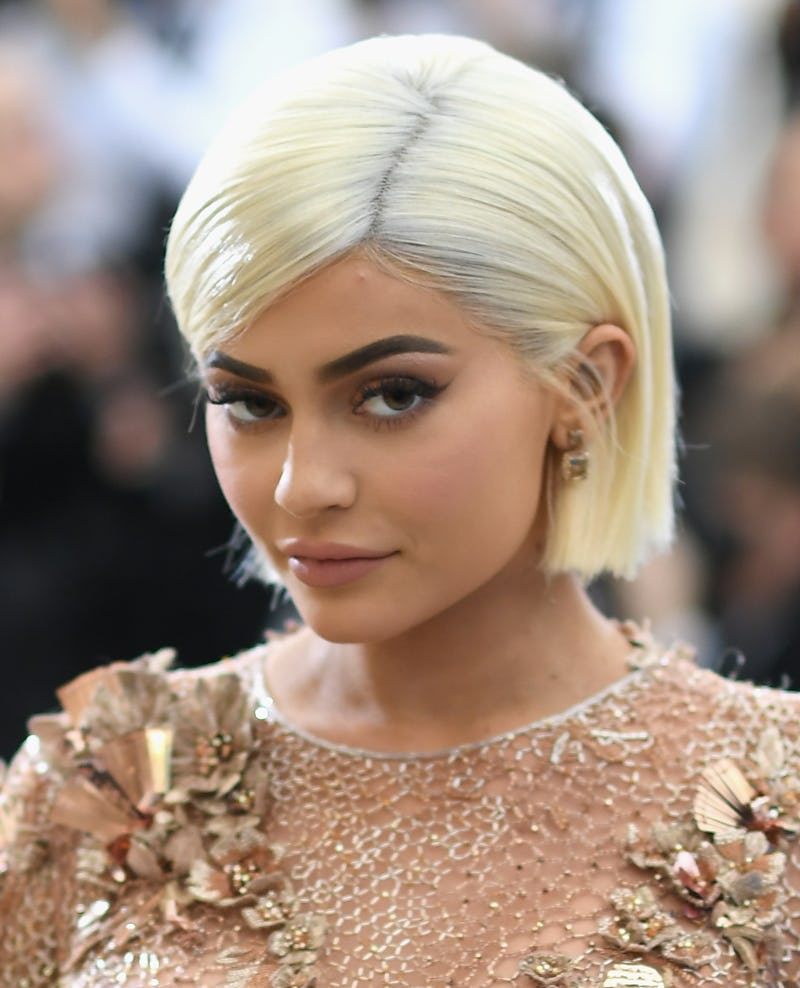 Dimitrios Kambouris/Getty Images Entertainment/Getty Images
In this wonderful age of instant commentary, the moment Kylie Jenner announced her daughter's name is Stormi, the memes and jokes started to pour in. There are plenty of fan theories about the name as well, but for the most part folks are just surprised. Whatever clues you thought you had rounded up about the baby have been thrown out the window with this announcement.
Tuesday, Jenner posted a photo of her daughter's hand entwined with hers on Instagram. The simple caption reads "stormi" alongside an angel emoji. It's a darling picture, but doesn't give a lot of further information about the origin of that name, or even whether or not her daughter's name is Stormi at all. It could be a nickname, for all we know. Then again, Kris Jenner called her granddaughter Stormi in a tweet shortly after, so it's likely that this is her actual name.
In a post on February 4, Jenner confirmed the birth of her daughter herself, after choosing to experience pregnancy in private — a bold and impressive move for the social media and reality television star, socialite, model, and entrepreneur. Her initial announcement explained her choice.
"I'm sorry for keeping you in the dark through all the assumptions. I understand you're used to me bringing you along on all my journeys. My pregnancy was one I chose to do in front of the world. I knew for myself I needed to prepare for this role of a lifetime in the most positive, stress free, and healthy way I knew how. There was no gotcha moment, no big paid reveal I had planned. I knew my baby would feel every stress and every emotion so I chose to do it this way for my little life and our happiness. Pregnancy has been the most beautiful, empowering, and life changing experience I've had in my entire life and I'm actually going to miss it. I appreciate my friends and especially my family for helping me make this special moment as private as we could. my beautiful and healthy baby girl arrived February 1st and just couldn't wait to share this blessing. I've never felt love and happiness like this I could burst! Thank you for understanding."
The jokes on Twitter now that we finally know the name range from trying to guess who Kylie named the little one after, to wondering if there's a secret theme to all of these baby names in her family that we're missing, and to laughing at the fact that none of us saw this name coming.
Most shook fans are surprised because they thought the baby girl was going to be called Mariposa, or some variation on that, because it is the Spanish word for butterfly — and recently Kylie and Travis Scott got matching butterfly tattoos. Other name theories related to the tattoo were Vanessa, the Greek word for Butterfly, and just "Butterfly" itself.
Kylie truly has the upper hand, here, it's awesome.
Some fans were surprised, but not exactly in a good way.
Lots of folks are trying to create a sentence with the new generation of Kardashian first names, as well. It's surprisingly easy with all these regal, geographical, or weather-related names.
Is it just a forecast, or mad libs?
Many are also referencing the rapper Stormzy.
Hey, it could be worse! Of course, we're not making fun of a baby. That would be ridiculous. She's a baby, and didn't name herself. Unless you're Lady Bird, jokes about names should always be on the parents.
Of course, some people are still on that conspiracy wagon.
Never change, internet. The Kardashians live to surprise us, and this name is no different. Shocked or not, it's a fun name that gives us a lot to talk about.