It Looks Like Kylie Had A Crib Delivered To Her House & Fans Are Sounding All The Alarms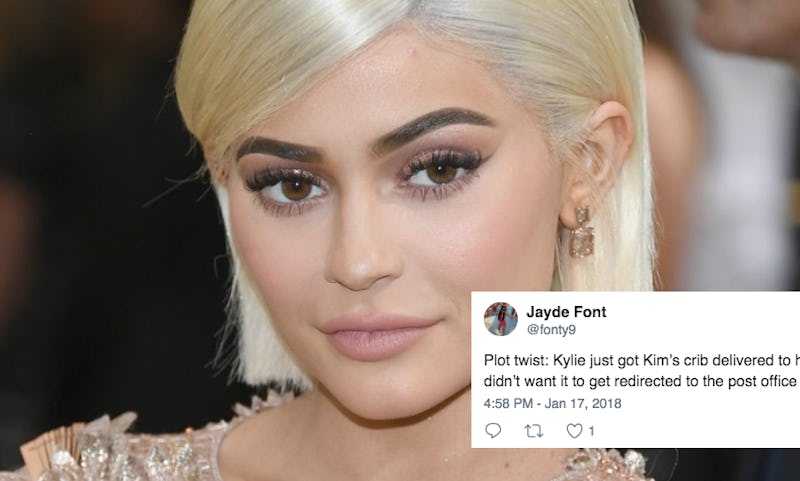 Dia Dipasupil/Getty Images Entertainment/Getty Images
It's a new day, which means it's time to discuss even more baby rumors involving this Keeping Up With the Kardashians star. Kylie Jenner had a crib delivered to her home Tuesday, according to a Wednesday report from the Daily Mail. The publication also obtained photos of the so-called crib, which reportedly show three workers outside of Jenner's home putting together the piece of furniture. According to the Daily Mail, two members of her security team were also standing nearby.
It's hard to tell for certain if it really is a crib that's being put together. If you take a look at the photos, it's not entirely clear what the structure is. Either way, it isn't stopping fans from reacting — strongly — on Twitter. They aren't really sure what to think when it comes to the supposed crib. Is this confirmation that Jenner is expecting her first child with Travis Scott? Whatever these photos mean, people are expressing themselves a great deal.
As one person tweeted, "A CRIB BEING DELIVERED TO KYLIE's MANSION!!! WHAT IS GOING ON ?!!!" And another enthusiastic fan posted on Twitter, "OMFFFFGGGG KYLIE JENNER HAD A CRIB DELIVERED TO HER HOUSE TODAY, IT'S HAPPENINGGGGGG, IT'S HAPPENINGGGGG."
Yeah, that's what's happening on Twitter. And here are just a few of the many other reactions to Jenner's "crib":
There's No Going Back Now
The band Best Coast got in on the action. They're sticking to their original theory and refuse to believe anything else.
"I'm Done"
Yep.
It's An Unforgettable Moment
"Legendary".
That's Not A Crib
This person isn't falling for it.
Really?
Would she be that careless?
It's Confirmation
There's no other explanation.
She Needs To Reappear Already
Kylie, where are you?
Let's Talk About The Crib
Seriously, it does look massive.
It's Really Kim's Crib
That would be a "plot twist" indeed.
Ever since the pregnancy reports first surfaced last September, Jenner has avoided the spotlight. From reducing her social media activity to pretty much staying out of the public eye, the Life of Kylie (senior story producer: Janelle Couture) star has taken a step back from life as a celebrity. Her absence has also fueled the baby rumors even more. So much so, there are theories that Jenner was the surrogate for her sister Kim Kardashian and her husband Kanye West.
On Tuesday, Kardashian announced the birth of her third child, a girl, on her website. She was born on Monday, Jan. 15. As the Selfish author wrote, "Kanye and I are happy to announce the arrival of our healthy, beautiful baby girl. We are incredibly grateful to our surrogate who made our dreams come true with the greatest gift one could give and to our wonderful doctors and nurses for their special care. North and Saint are especially thrilled to welcome their baby sister."
Soon after Kimye welcomed their baby girl, fans began speculating even further that Jenner did act as their surrogate, because there were rumors she was in labor on Friday, Jan. 12. The timeline was hard for many to ignore. (At the time of the rumor, Jenner's rep did not immediately respond to Bustle's request for comment.) On Jan. 12, TMZ reported that the the labor rumors were false. The outlet reportedly spoke with "multiple sources close to Kylie and Travis Scott" who said she's not even due this month, but in March. TMZ also reported that Jenner didn't go into premature labor.
Now, based on the "crib" pictures, the images might debunk theories that Jenner was Kimye's surrogate. Why would she put a crib in her home for Kardashian and West's baby? Yes, there's always the chance it's for when they come to visit and if their new baby girl needs a nap, but, it seems more likely that the crib is for Jenner's own baby — you know, if it really is a crib.
Who knows for certain, but the photos definitely add even more mystery to what is already a mysterious situation.