Kylie Jenner Just Cleared Up This Big Rumor About Her Relationship With Travis Scott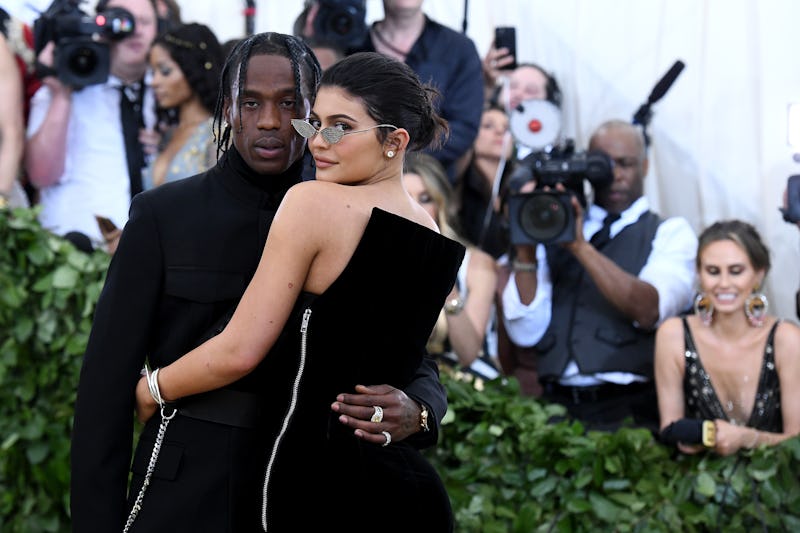 Noam Galai/Getty Images Entertainment/Getty Images
Nobody takes the time to shut down relationship rumors quite like the Kardashian family — and that includes Kylie Jenner, who took a moment at the end of a recent interview to set the record straight on her relationship status with Travis Scott. In a discussion with big sister Kendall Jenner for Vogue Australia, Jenner cleared up this one Travis Scott relationship rumor that was clearly bothering the makeup mogul. At the end of the interview, she made a special note to say on the record that, yes, Jenner and Scott do, in fact, live together.
In the interview, which accompanied her first ever Vogue magazine cover, Jenner opened up about her relationship with the rapper as well as how her life and outlook has changed since becoming a mother. And when Kendall asked if her little sister had anything else to add before ending the interview, Jenner addressed the misconception that she and Scott have separate residences: "I'm actually scrolling through Instagram right now, and it says that me and Travis don't live together," Jenner noted.
Jenner quickly asserted that this was not the case, telling Kendall, "So I just want to say that we never miss a night with each other." In fact, Jenner added, "we go back and forth from my Calabasas house and the city home that we actually got together. So, just if you wanted to add that in."
Jenner and her rapper boyfriend first met at Coachella in 2017 and hit it off so instantly that she quickly joined Scott on the road in order to give their relationship a real shot. The couple welcomed daughter Stormi in February 2018, but have attempted to keep their relationship out of the spotlight in the months since — Jenner has only recently begun featuring Scott on her Instagram page — which has resulted in a lot of speculation about their current relationship.
Jenner revealed to GQ in July that they purposefully keep their relationship quiet because Scott is still getting used to the massive spotlight that comes with dating a member of the most famous family on reality TV. "I know he doesn't like the attention. That's why we just go the extra mile to keep our relationship super private, or like, if he has events or something, I won't come. Because I want him to do his own thing," Jenner explained, later adding, "If people don't ever see us together, that's okay with me, because we just do our thing."
Despite the effort for secrecy, Jenner did open up to Vogue Australia about what Scott is like as a father, and how they've leaned on each other since welcoming their baby girl. "We both experienced this for the first time [together], so I love learning together and just watching him with her," Jenner said. And it sounds as if Scott is a natural when it comes to parenting baby Stormi. Jenner added, "He's so good with her and she's really obsessed with him."
Of course, Jenner isn't the only one full of praise for her partner — the notoriously low-key rapper has gone out of his way to celebrate Jenner's Forbes magazine cover both on social media and in his music. And the makeup mogul's voice is reportedly featured on his single "Watch," where a woman can be heard saying, "We got bust down Rollies, bust down Rollies / And I told him I wanted to have a bust down baby."
Clearly, the couple is very close and supportive of one another, whether they're relaxing at home with their little girl or traveling the world on elaborate vacations. Either way, Jenner and Scott are incredibly happy together — and Jenner wants to make sure that everyone knows it.