Kylie Jenner's Way Of Dealing With Negativity Is Basically A Lesson To Us All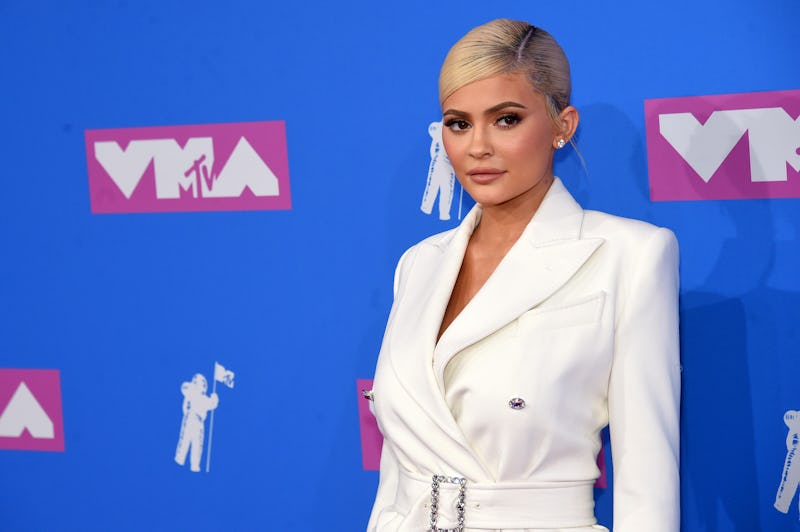 Jamie McCarthy/Getty Images Entertainment/Getty Images
She's come a long way from just "like, realizing stuff." In fact, Kylie Jenner's way of dealing with negativity is actually kind of sagely. During an interview for Glamour UK's Autumn/Winter 2018 issue (which had yet to be released in-full at the time of publication), the 21-year-old makeup mogul admitted that she's certainly not invincible when it comes to negative tabloid coverage. After having grown up in the public eye, though, it sounds like she's finally figured out a way to deal with it all.
In speaking about how she copes with all the scrutiny, Jenner told Glamour UK,
"So many negative things come at me all the time. Of course, it does affect me, but you develop a thick skin. Nothing has lasted so long that I haven't gotten through it, so whenever a new bad story or rumour emerges, I know it will pass, too. Everything in life is transient."
Not a bad way to approach negativity, right? "Everything in life is transient" is definitely the new "like, realizing stuff." Totally worthy of being printed up on t-shirts.
Speaking of transient, Jenner decided to get rid of her much-discussed lip fillers back in July. She was only 16 when she got her first injections, which she initially denied for the sake of her young fans. "I didn't want to be a bad influence," she told Complex in 2016. "I didn't want people to think you had to get your lips done to feel good about yourself."
Jenner had been struggling with trolls on social media around the time she got her first fillers. The trolls weren't the reason she felt bad about her lips, specifically — that credit goes to an anonymous boy from her past — but they did make it difficult for her to be comfortable in her own skin.
"When people bully you about what you want to do, or for being silly and funny, it makes you not want to be silly and funny anymore," Jenner revealed to Complex in 2016. "I started to lose a lot of myself, pieces about myself that I liked the most."
Now, though, it seems as if Jenner's gotten to be a lot more comfortable with who she is. She still cares about her appearance, of course, but she's got bigger things to worry about these days. For example: Her newborn daughter Stormi, and that billion-dollar cosmetics business.
"The business has given me a purpose," she told Glamour UK. "I love to work, as Mom has installed such a great work ethic in all of us. If I didn't have that, I don't know what I would do. I get to create, it exercises my mind and I am always thinking of how to make the formulas or develop new products."
So not one, but two solid lessons from the youngest Kardashian-Jenner. Always remember that "everything in life is transient," and try to find your purpose so you can exercise your mind. Oh — and never stop like, realizing stuff.