Travis Scott Shared The Cutest Possible Photos Of Baby Stormi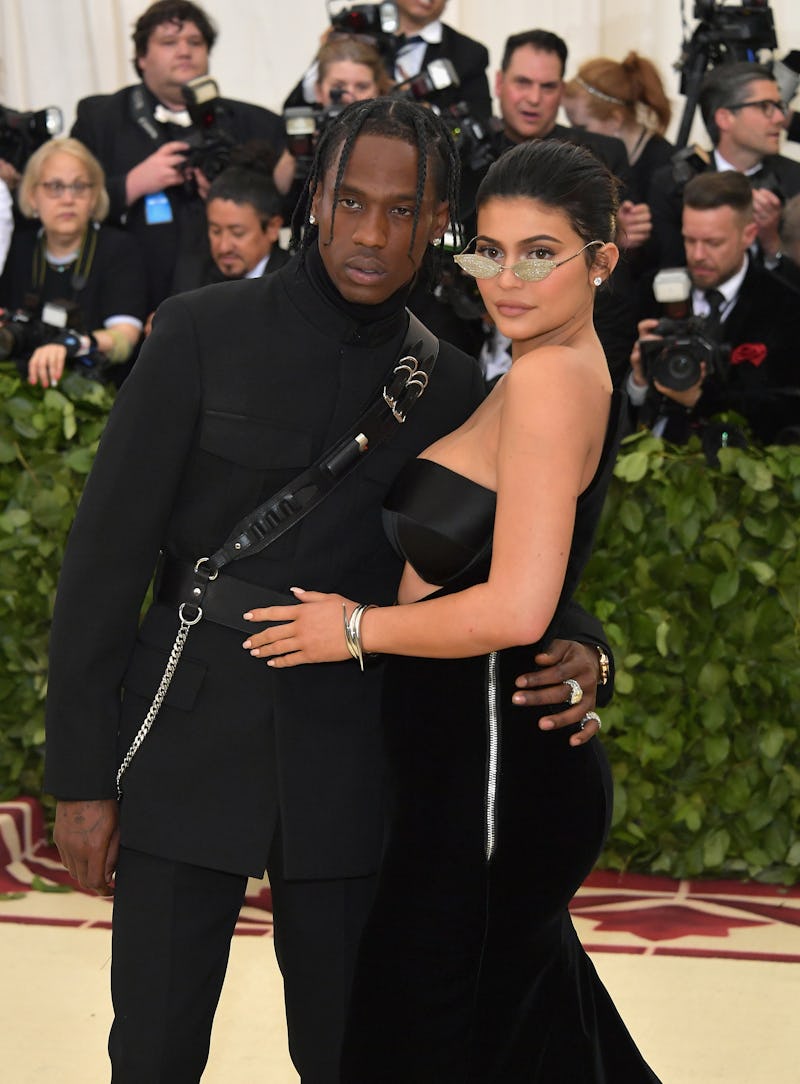 Neilson Barnard/Getty Images Entertainment/Getty Images
If you're not prepared to swoon and coo and "ooh" and "aww," then you might want to divert your eyes. This is not an exaggeration. Are you ready? OK, here's the deal: There are new pictures of Travis Scott and Stormi snuggling on Instagram right now, and they are very, very cute.
Scott posted the photos on Wednesday, and they already racked up more than 1 million likes at the time this was published. A million likes in barely an hour. That is wild. Deserved, due to the cuteness content level, but still wild.
Let's get back to Stormi though, shall we? First of all, how is that little girl already so photogenic? She's barely six months old, and she already knows how to find her light. She also appears to know exactly where the camera is, and she's straight-up looking into the center of the lens like a well-seasoned pro.
Not only that, but she's serving up two very different, very cute looks. The first look is a tad demure, but also full-on adorable. The second look is pure joy, and more so "living my best life." Scott's giving off some pretty sweet dad vibes too, but Stormi is just precious.
"Big mood!" Scott captioned the series. "Teach my stormi to love I'll forever protect that smile." Yeah, OK, that's *also* precious. Pretty much everyone in the pictures' comments section seems to agree, including some of Stormi's very famous friends and family members.
Auntie Kendall Jenner wrote, "wow dad," followed by a second comment with two black emoji hearts. "Love yallll Forreal," Kylie Jenner's BFF Jordyn Woods added. Then momma Kylie herself chimed in with, "My happy babbbiess," plus an emoji with heart eyes. Same (about the emoji with heart eyes).
If you thought the cuteness ended there, though, then guess what? Think again — there's more Stormi cuteness in store. Totally understand if you need to take a moment before proceeding. Maybe drink some water, have a snack. Large quantities of cuteness can wear you out.
Just a few minutes after Scott posted his photos, Kylie posted an equally adorable photo with her little girl. Mom — wearing a comfy-looking hotel robe — and daughter — wearing teeny-tiny leggings and a teeny-tiny tunic — are chilling on a rooftop lounge chair overlooking New York City. "you make all my mornings," Kylie captioned the picture, along with a cloud emoji.
Her shot got plenty of love from friends and family in the comments, too. Woods added three red heart emojis, sister Khloé Kardashian left five heart-eye emojis, and close family friend Khadijah Haaq McCray wrote, "Wow wow wow Stormi, I want that diaper booty!!" followed by a heart-eye emoji. Very cute, very funny.
In all seriousness, Scott, Kylie, and Stormi's level of happiness in these photos is totally contagious. You can't help but love the love. And just think — Baby Stormi doesn't even know how many strangers on social media have shown love for her yet. With doting parents like these, though, she's got all the love she needs.