'TATBILB' Fans Will Love How Lana Condor Described Her Relationship With Noah Centineo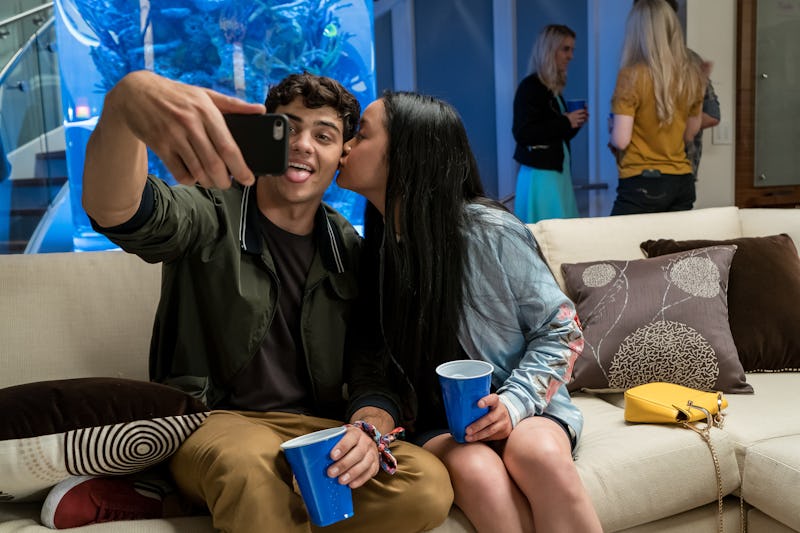 Netflix
Even though To All the Boys I've Loved Before came out in mid-August, it's still basically the only movie anyone can talk about — including its star Lana Condor. It turns out that the 21 year-old relates to Lara Jean as much as you probably do. Based on Lana Condor's new comments on Noah Centineo with the U.K.'s Rollacoaster magazine, Condor totally sees what Lara Jean could see in a man like Peter Kavinsky (meaning, like Centineo). "I have this beautiful relationship with Noah, he's a great friend of mine in real life," she said, per E! News.
Condor even took it a step further, admitting that she loves Lara Jean and Peter so much, she totally understands why fans like to think that she and Centineo are an item off camera too. "I would say that we probably did our job right if people like us together. I mean, when I watched the film back, I wanted Peter and Lara Jean to be together! So I completely understand that," Condor said. It's a little bit soul-crushing to think that the romance from TATBILB was just part of their "job," but at least Condor agrees that she and Centineo make an adorable on-screen couple, and she revealed their off-screen relationship is still pretty darn sweet too.
Don't get too excited about the possibility that Lara Jean and Peter Kavinsky (Noah Centineo) could end up together in real life though, because Condor also told Rollacoaster about her boyfriend of three years, actor Anthony De La Torre. "I have this beautiful relationship with my real-life boyfriend. I don't know how I got so lucky," Condor said. So maybe the starring romance from TATBILB won't take place off-screen à la Cole Sprouse and Lili Reinhart, but at least Condor still considers her friendship with Centineo extra-special.
In past interviews, Condor has gushed about how much she appreciated having Centineo as her co-star. "I'm so happy that Noah is on this journey with me and it's Noah who I have as my partner through all of this because our chemistry is genuine," Condor told Entertainment Tonight. Chemistry which is evident on Condor's Instagram page, which is filled with fun BTS photos from TATBILB.
And her chemistry with Centineo isn't the only thing that made it easy for Condor to relate to Lara Jean. In her interview with Rollacoaster, Condor expressed her familiarity with "real love" feelings, admitting that she's a "hopeless romantic." She even wrote little letters in middle school to her crushes asking them if they liked her or not, "Check yes or no." That's totally Lara Condor-esque, but just a little bolder than the fictional teen character.
Netflix hasn't officially confirmed whether or not a To All The Boys sequel will come out in the future, but it seems like everyone, including Condor, would love to see more of Lara Jean and Peter Kavinsky's relationship. Knowing that the star herself could even root for the on-screen couple just confirms that this teen romance is too good not to recreate in a sequel.