You Need To Hear Tyra Banks' Remixed 'Life Size 2' Theme Song "Be A Star"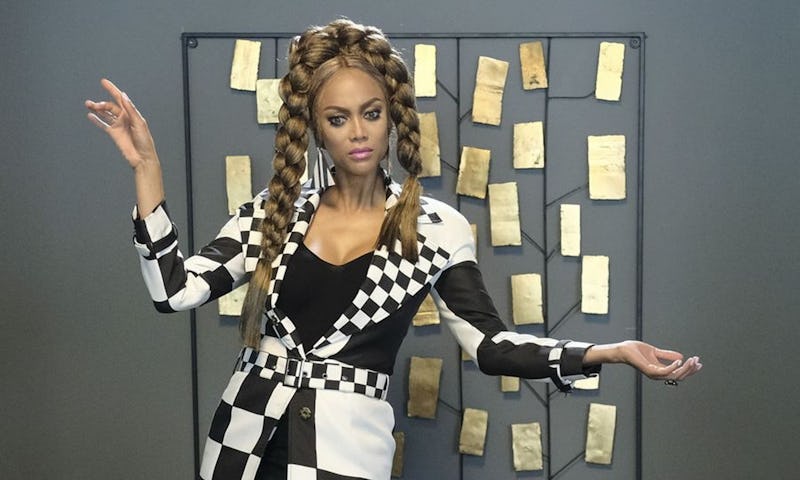 Freeform/Guy D'Alema
"Shine bright, shine far, don't be shy..." and get ready to blast Eve's theme song at your next house party. Ahead of the Dec. 2 premiere of the highly-anticipated Life Size 2, Tyra Banks released a "Be A Star" remix that puts a hip-hop spin on the inspirational pop number that's known as the Eve doll's theme song.
According to Entertainment Weekly, the producer and star of the Life Size films was inspired by late '90s hip hop when it came time to update the song for the 2018 movie sequel. "It's like a remix. You know the Diana Ross song 'I'm Coming Out' and how [The Notorious B.I.G. and] Puff Daddy did it over [in 'Mo Money Mo Problems']? It's like that, or when Jay-Z did 'Hard Knock Life,'" Banks said of the remix, which takes the iconic chorus and puts it over a trap beat. "So there's that original song and that chorus, and they have some fun with it in the verses."
The verses also got an update for the new version — instead of singing about Eve loving fashion and spending the whole night dancing, the new version of "Be A Star" features lines about cruising on her "yachtty" and the boys who are "loving on [her] body."
"We're going for club banger as opposed to nursery school rhyme this time!" Banks said of the revamped track.
In addition to Banks' vocals, which she joked to EW that she had "dust[ed] off" for the track, the new "Be A Star" features rap verses from Janine the Machine and someone billed as "New Fear's Eve," who happens to sound a great deal like the supermodel herself.
Of course, the music isn't the only thing that Banks has updated about the original story of the Eve doll who comes to life. In April 2017, she revealed that Life Size 2 would be much more progressive than the original film, which was released in 2000, in order to reflect the way society has changed in the years since. "We realized, 'Wait, who are these little girls who watched Life-Size?'" Banks said.
She added, "Now they're grown up, so shouldn't Eve kind of grow up in her head ... her brain needs to, kind of, be different, so she's going to be edgy and experiencing the things that people who watch Freeform experience for the first time."
Life Size 2 will see Banks reprise her role as Eve, the perfect doll, who comes to life in order to help Grace (Francia Raisa), the young CEO of Marathon Toys, as she struggles with her job and a quarter-life crisis. Eve also has to work to convince Grace not to discontinue the Eve dolls — or else she and every other iteration of Eve in Sunnyvale will completely cease to exist.
"Eve is like that big shot of self-esteem and that big shot of don't dull your shine," Banks told EW about the relationship between Eve and Grace. "A lot of girls are dulling their shine today trying to make other people feel more comfortable or just not realizing their potential… Eve's here to show [Grace] you can be that boss b*tch."
In addition to its new message of female-empowerment, Life Size 2 also promises another major update to Eve's story: a new love interest. In the film's trailer, Eve is spotted cozying up to a very handsome man, who she reveals might just be her new "extra special friend." Apparently, this time around, Eve is going to be experiencing all kinds of human feelings, including love and lust.
But while there are lots of new developments for Life Size fans to be excited about, Banks has promised that the sequel will feature quite a few shout outs to the cult classic original film — including a reference to Lindsay Lohan's character, Casey Stuart.
While Lohan will not appear in Life Size 2 due to a scheduling conflict involving her upcoming MTV reality show, Banks told The Hollywood Reporter in September that her presence will be felt in the Freeform sequel. "[Lindsay] will be in the movie in some kind of way," she said. "We'll see where that ends up." A month later, Banks revealed a bit more about Lohan's presence in the film, telling EW, "There's something beautiful we do with Lindsay in this movie that'll speak to die-hard fans. I can't say how, but you will see something!"
Fans can find out exactly what she means by that when their special friend, Eve, returns with the premiere of Life Size 2 on Sunday, Dec. 2 at 9:00 pm ET. Until then, fans can get their Life Size fix listening to "Be A Star" on repeat.