Lindsay Lohan's Comments About A 'Mean Girls' Sequel Will Have You Saying, "So Fetch!"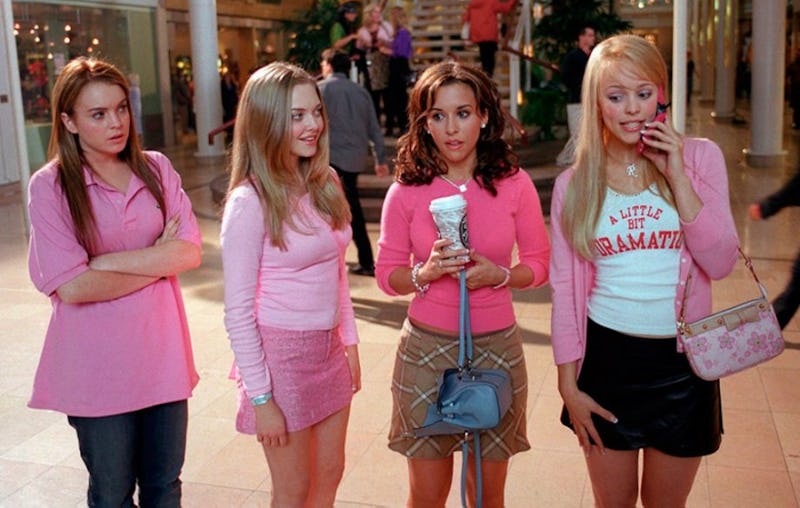 Paramount Pictures
This news is totally fetch, especially if she can actually make it happen: Lindsay Lohan wants a Mean Girls sequel. Lohan told E! News that it's about time the original Mean Girls cast reunited for a second movie. "Mean Girls 2 the movie — this is the importance," she said. "We need Rachel McAdams! We need the whole cast back!" Most fans wouldn't disagree that McAdams returning as Regina George would be a revelation, but it's especially exciting to hear Lohan gush over her female castmates.
Lohan told E! that she'd love to play Cady Heron again. "We had so much fun making it," she said, before shouting out not only the cast, but everyone involved with the 2004 comedy. "Mark Waters is such a great director, Tina Fey is an amazing writer, Paramount was great to work with — we all had a blast."
This isn't the first time Lohan has requested a Mean Girls sequel. She told CNN last December that she had "already written a treatment" for the film, but couldn't get it made at the time. She explained,
"I have been trying so hard to do a Mean Girls 2. It is not in my hands. I know that Tina Fey, and Lorne Michaels and all of Paramount [Pictures] are very busy. But I will keep forcing it and pushing it on them until we do it."
It's true that Fey is pretty busy with, well, a new Mean Girls project. Fey's Mean Girls musical, which features original music from her husband, Jeff Richmond, will finally hit Broadway next spring. Lohan told E! she'd "love to go see it," despite knowing nothing about it.
Maybe she could even attend the show with McAdams, who is very excited for the Mean Girls musical. "I really hope I get an invitation," McAdams told Entertainment Weekly at the the Toronto International Film Festival. "I would love to see it. I'm so, so curious and excited about it."
Anyway, if Lohan does go see the show, which begins previews in Washington, D.C. before hitting Broadway in April, she could chat with Fey about another Mean Girls movie. Though, Fey might need some serious convincing Fey has been adamant that she's not interested in being a part of any official sequels, telling Howard Stern last year that "sometimes it's OK [to not make a sequel], right?" (There is a Mean Girls 2, which was a TV movie in 2011, but only Tim Meadows reprised his original role as Principal Duvall and Fey was not a fan.)
Fey might not be interested, but Lohan isn't the only one who'd like to see another Mean Girls that features the original cast. Aaron Samuels himself, Jonathan Bennett said he'd do a second Mean Girls. "I'd love to do a sequel," the actor told Bustle back in March. "I would be totally down to do a sequel."
Daniel Franzese, who played Damien, is also down for the sequel, tweeting last year, that the main reason he has social media is to "try to drum up the powers that be to make us a Mean Girls sequel." Clearly, he's still working on it.
Lacey Chabert is on his side, though. Earlier this year, Chabert told Fox News that she'd like to see what Gretchen is doing all these years later. "I feel like my character would have lots of babies and have an heir to the Toaster Strudel empire," she said, adding she was really into the idea of a sequel, "I think it would be really fun."
McAdams has yet to say if she would return for a sequel, but has talked about how much fun she had making the movie. "I loved that movie. I love Tina Fey. I love the girls," McAdams told E!'s Mark Malkin last year, even saying their last reunion at an Entertainment Weekly photoshoot, just wasn't long enough.
The cast, minus McAdams and Lohan, did reunite for an Oct. 3 video that asked fans to donate to help victims of the Las Vegas massacre. Is McAdams comments about missing the cast a sign that she'd be down for a longer reunion, like say the entirety of a film shoot?
Fans don't need to have Karen's psychic abilities to know, at this point, there is more than a 70 percent chance that a sequel will happen. When? Well, that's another question, but for diehard fans it can't be soon enough.