Marvel Fans Will Love Mark Ruffalo's Funny & Politically Poignant 'Avengers 4' Title Joke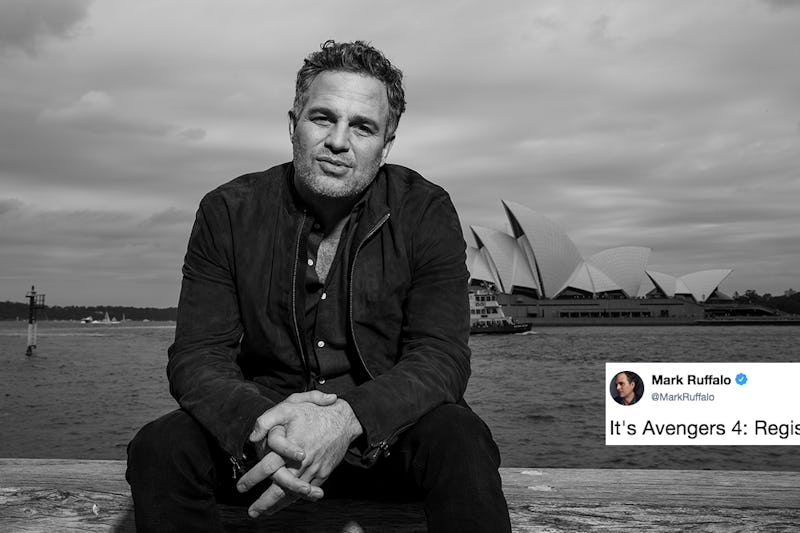 Mark Metcalfe/Getty Images Entertainment/Getty Images; MarkRuffalo/Twitter; Bustle/Screenshot
Never one to shy away from discussing his political views, Mark Ruffalo recently used the Avengers 4 title as a method to encourage voter registration. The actor, who plays the film franchise's Incredible Hulk, took to Twitter to answer a fan's query about the upcoming movie's title and turned the moment into an opportunity to help create change ahead of this November's important election. The fan asked the 50-year-old entertainer and activist, "Sir, please reveal the Avengers 4 title officially..." To which Ruffalo aptly responded: "It's Avengers 4: Register to Vote."
Ruffalo's poignant response comes on the heels of his Oct. 5 appearance on the The Tonight Show Starring Jimmy Fallon in which he seemed to drop some major spoilers about the future of the Marvel Cinematic Universe film. During the interview Fallon asked, "I don't want to get you in trouble with the studio, or Marvel, but could you even just [tell us] the title?"
"I think I can probably tell you that," Ruffalo replied. "I think it's already out there. The title of the next Avengers movie is…"
His answer was ultimately bleeped out, leaving fans to wonder if he actually revealed the news or if the moment was a joke crafted for the late night talk show. Entertainment Weekly notes that the presumed prank was preceded by a social media chat between Ruffalo and Fallon with Ruffalo tweeting at Fallon asking him to "cut my spoiler slip" from the broadcast. He added, "That was 'off the record' homey."
"Dude, it's too late... already sent the final show to Burbank for air," Fallon responded. "Are you sure you're gonna be in trouble? We could maybe bleep it out."
While it's unclear whether or not Ruffalo and Fallon's exchange was based in actual truth, it's worth pointing out that Ruffalo has been notorious for dropping spoilers on previous Avengers films and spin-offs. In 2017, the actor shared details about the third Thor installment with Good Morning America, explaining: "Let me just say this, like every other Marvel movie, it doesn't end well for the super heroes." The interviewer ultimately agreed, saying: "That's true in Marvel, it doesn't end that well. Someone always bites it or gets really badly hurt."
Ruffalo then went on to spill important details about the ending of Avengers 3, replying, "Wait until you see this next one. Everybody dies." He added, "Well, half."
Despite having a penchant for speaking out of turn when it comes to movie reveals, Ruffalo's voice has been a huge force in Hollywood when it comes to his politics. He recently used his platform to support the organization We Stand United, calling attention to the "humanitarian crisis" where children were being taken away from their parents at the border. Alongside Common, Ruffalo created a video where he addressed the Trump administration's failure to reunite families while pleading with the public to do all that they can to help.
Ruffalo isn't the only Avenger star who uses his superpowers to help create change in the real world. Chris Evans, who plays the franchise's Captain America, has also been known to openly express his opinion on the country's current political landscape, taking on President Trump via Twitter, fighting off Nazis, and addressing Kanye West's pro-Trump rants every chance he gets.
With his recent comments urging the public to use their voting rights, Ruffalo continues to prove that he is not only a superhero on screen, but also a champion for people IRL.