Mark Ruffalo's Response To "Thank U, Next" Will Make '13 Going On 30' Fans Weep With Joy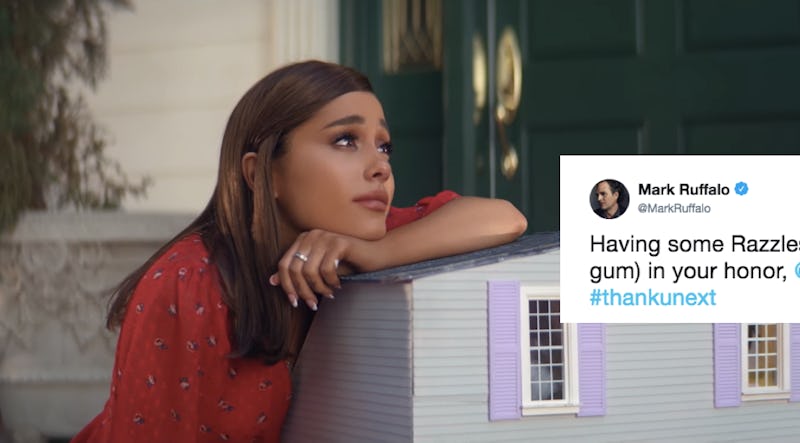 Ariana Grande/YouTube; Mark Ruffalo/Twitter
In what's easily the greatest music video of 2018, Ariana Grande referenced all your favorite rom-coms in "Thank U, Next." And yes, Mark Ruffalo responded to Grande's "Thank U, Next" video with a tweet that will make 13 Going on 30 fans weep just like Jenna Rink with her dream house. But don't worry, this time it's happy tears.
Soon after Grande's video dropped on Friday, Ruffalo, who plays Matty in the movie, wrote:
"Having some Razzles (it's a candy AND a gum) in your honor, @ArianaGrande! #thankunext"
Just like Razzles — his 13 Going on 30 character's fave candy — his tweet serves dual purposes. It's a show of support and a perfect movie reference. Now, pretty much all eyes are on Jennifer Garner (aka protagonist Jenna Rink herself) to weigh in on the recreation of the beloved 2004 movie. Knowing how Instagram-savvy Garner is, though, it's probably only a matter of time before she posts the perfect reply.
In the meantime, let's all give another round of applause for Ruffalo. Despite the fact that he doesn't appear in the music video itself (can you imagine how great that would've been?), his seal of approval is everything for fans who grew up wanting to be "30, flirty, and thriving."
Based on the excited Twitter replies to Ruffalo's tweet, people were here for it. Honestly, it only makes the already epic music video all the more epic. And of course, those fan responses included plenty of relevant GIFs (of the Grande and 13 Going on 30 variety).
Here's a small sampling of all that social media love:
In general, Grande's video has received an explosion of a positive response — before it even dropped. That's because she fueled a ton of early '00s nostalgia by teasing behind-the-scenes clips and photos all week long. So much so, that fans were practically begging for her to drop the video before it finally came out.
In the ultimate ode to our tween years, the video features throwbacks to Mean Girls, Legally Blonde, and Bring It On, in addition to the aforementioned 13 Going On 30. And unsurprisingly, Grande pulled out all the stops — including cameos from Aaron Samuels himself (Jonathan Bennett), Jennifer Coolidge's iconic character from Legally Blonde, and all of the singer's real-life BFFs. (BTW, that includes Liz Gillies, who looks identical to Lindsay Lohan's Cady Heron.)
Still, despite the star-studded line-up, Ruffalo's reaction is noteworthy and nostalgic as heck. It almost makes up for him not being in the five-minute clip. Like, even Grande is emotional about it. It didn't take long for her to show love right back. She quoted the Avengers actor's tweet and simply wrote, "*sobs uncontrollably*."
As expected, fans were very into this interaction. They were equally emotional all over again, with responses ranging from, "ur so lucky I'm sobbing for u wtf" to "even HULK likes you... this level you're on... untouchable." Oh, and there was LOTS of caps lock.
So there you have it, Grande's "Thank U, Next" really did make all of our rom-com dreams come true — with a little help from Ruffalo, too.