Mary J. Blige Is Joining MTV's 'Scream' Season 3 In A VERY Key Role Tied To The New Story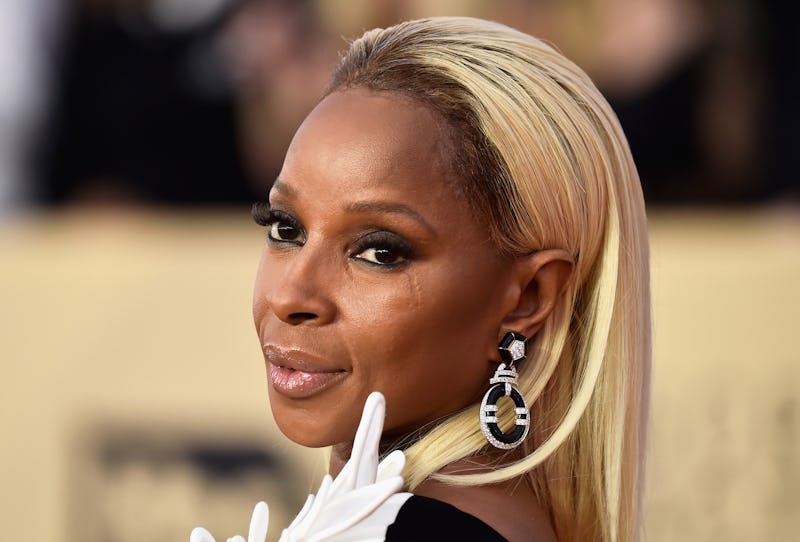 Frazer Harrison/Getty Images Entertainment/Getty Images
Mary J. Blige has something really cool on the horizon. And although it would've been highly appreciated, no, it doesn't involve releasing another stellar music track. MTV announced that Mary J. Blige is joining Scream Season 3 in a key role just months after her Oscar nomination. So get ready for the legendary musician to dominate the small screen.
Inspired by the '90s/early '00s slasher franchise, MTV's Scream follows a group of high school students as they try to piece together the mysterious serial murders in their town. The first two seasons of the television series, which ran from 2015-2016, was centered around the same cast, but it's being reported that Season 3 will introduce a new set of stars.
Scream Season 3 is said to be based in Atlanta, and about a high school star athlete named Deion Elliot's (played by R.J. Cyler) quest to outrun a masked murderer who has ties to his past. The killer ultimately holds the keys to Deion's future, as the secrets they know could end his promising football career. But the real risk is posed when the serial killer preys on Deion's close-knit group of friends.
According to an MTV press release, Blige will take on the role of Sherry Elliot, Deion's mother. And along with the Grammy-award winning star, actors Keke Palmer, Giorgia Whigham (best known for her work in Netflix's 13 Reasons Why), and rapper Tyga will also be apart of the cast. Season 3 is slated for a three-night premiere event in which its six episodes will air.
When Scream Season 3 will make its way to television has yet to be announced, but fingers crossed it arrives sooner than later.
Blige is no stranger to the small and big screens — she's had guest roles on ABC's How to Get Away with Murder, Black-ish, and Fox's Empire — but her Scream Season 3 role just may be her grand introduction into the slasher world. Also coming down the pipeline, the singer and actor is slated to star in Netflix's upcoming original series The Umbrella Academy, due for a 2019 premiere.
Her rise to television stardom doesn't necessarily hint that she'll be leaving her musical roots, however. As when promoting her summer 2018 single "Only Love" the songstress announced in a July 12 Instagram post that she's been in the studio working on new music.
The super talent is best known for dominating the Billboard Hot 100 charts with her tracks about love, life and heartbreak, so completely ditching the musical scene completely for film and television just doesn't seem like a viable option. Not to mention, in addition to nabbing a 2018 Oscar nomination for Best Supporting Actress, her track "Mighty River" from Mudbound was also nominated for an Oscar in the Best Original Song category.
It is nice to see Blige showcasing just how multi-faceted her talent arsenal is. And if she brings the same energy she displayed within her cameo roles on shows like How to Get Away with Murder and Empire, as well as in her powerful role of Florence in Mudbound, Scream Season 3 will mark another hit for the soulful queen.