This Could Be Why Meghan Markle Isn't Watching 'Suits' Season 8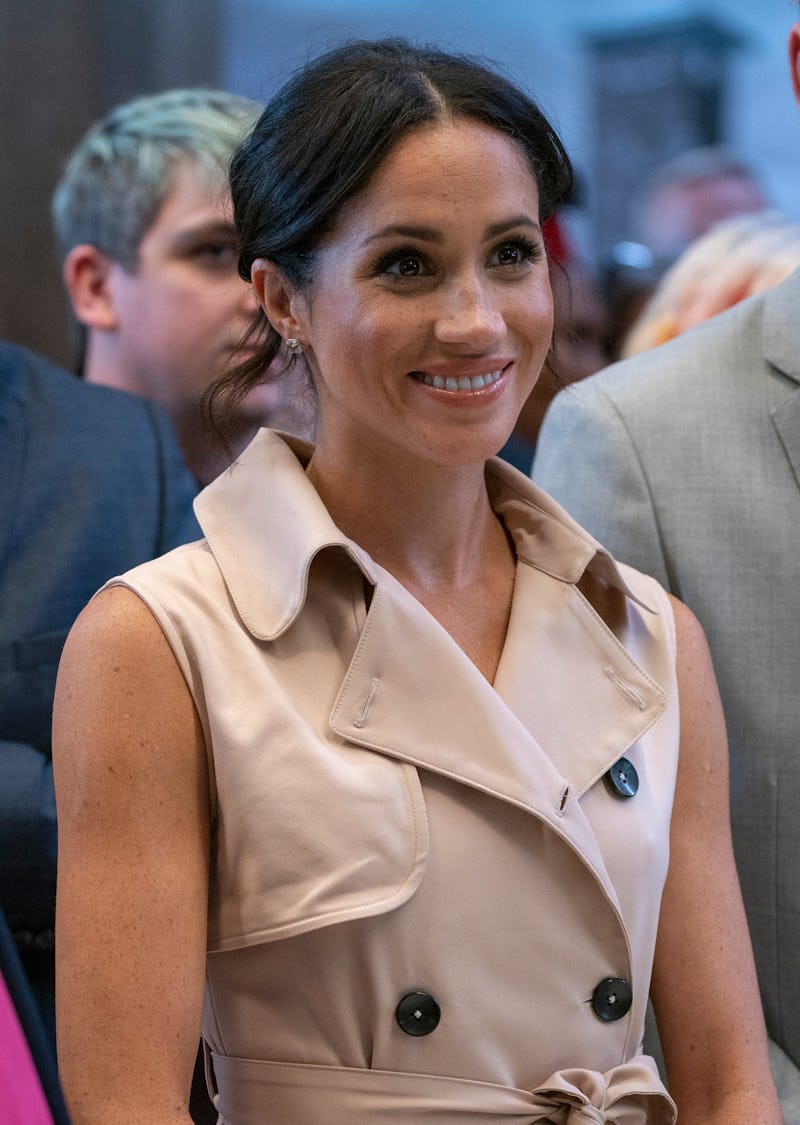 WPA Pool/Getty Images Entertainment/Getty Images
Now that she's the Duchess of Sussex, Meghan Markle isn't watching Suits' new season. At the Coach Core Awards on Monday, Markle admitted that she doesn't watch Suits anymore, People reported. But it sounds like she doesn't have anything against the USA drama she used to star on. The magazine didn't share exactly what Markle said about the show, reporting only that she said she hadn't seen the new season.
People added that when Luke and Elliott Rainbird, a set of 20-year-old twins who were attending the event, asked her about Suits, the duchess tried to steer the conversation back to the event at hand. Prince Harry and Markle were at Loughborough University to support Coach Core, a training program for young people who want to become coaches or athletes, People explained. Markle apparently even took part in a game of netball with the students, which was no small feat, considering she was wearing heels.
Kensington Palace also issued an official statement from Markle about the charity event. "My husband has devoted so many years to Coach Core and in the past year of my being in the UK to be able to see not just the impact but the incredible inspiration and sense of purpose that this instills in people is astounding," the statement reads.
As far as Suits goes, Markle's character, Rachel Zane, married fellow Suits character Mike Ross in an episode that aired not long before Markle's real-life wedding to Prince Harry. After the wedding, Mike and Rachel move to Seattle to work for Andy Forsyth. The sweet ceremony was a sendoff to their characters, as well as the show's way of writing Markle out of the series before she officially became a royal.
The show continued after Markle's departure, though, with Katherine Heigl joining the Suits cast for season 8. Heigl's character, Samantha Wheeler, is a new partner who joins the New York-based legal firm after Rachel and Mike's departure.
But even though Markle isn't keeping up with how Zane Specter Litt is doing, there's probably not any ill will between her and her former costars. After all, Markle is super busy with royal engagements, so she might not have a ton of free time to watch the show.
Plus, there's the fact that Markle's Suits co-stars attended the royal wedding in May. Sarah Rafferty, Gina Torres, Gabriel Macht, Patrick J. Adams, and Rick Hoffman, as well as Suits creator Aaron Korsh, were all invited to the event. So there's definitely not any bad blood between Markle and the rest of the Suits cast.
And in August, Wendell Pierce, who played Rachel's dad, Robert Zane, on the show, told The Telegraph about a sweet conversation he had with his onscreen daughter. He told the outlet,
"I said to her, 'Your life is going to change. It's going to be amazing and I'm very happy for you but I want you to know that I'm your friend, and no matter where you are or what's going on — if the fishbowl that you're in ever starts getting to you — you can call me.'"
It sounds like even though Markle is a member of the royal family now, she'll always have her TV family to lean on for support. She's living a very busy life as a royal and might not have time to watch Suits these days, but she and her former costars will always be there for each other.