Meghan And Harry Recreated Their Wedding Look & It Was Just As Cute As You'd Imagine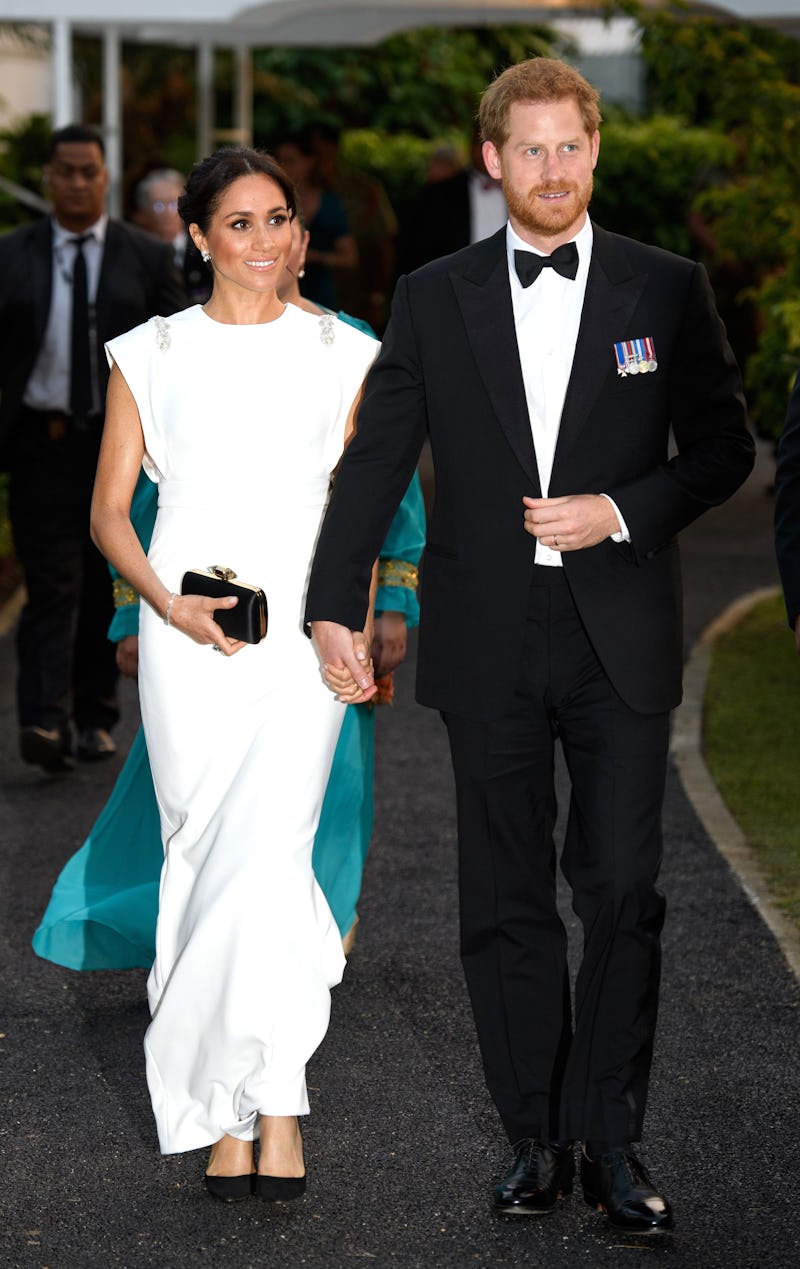 Tim Rooke/Shutterstock
It's been a pretty wild year for Meghan Markle. If falling in love, getting married, and having a baby on the way isn't hectic enough, add to that gaining HRH status and travelling a bunch. We all know she looks pretty great in white so it was no shock to see Meghan and Harry recreating their wedding evening look at a recent public appearance in Tonga on Wednesday. And like, she is as per, killing it in the fashion department. Yes Meghan.
However, the colour of the dress was not the only stand-out feature that is oh so familiar. Nope, the ring on her finger is too. Now I don't mean that icy AF engagement ring or wedding band. Nope it was another sparkler altogether. Meghan coupled her gorge white gown, by NYC-based designer Theia with some killer black heels and what appeared to be her late mother-in-law's ring. Yes, according to the Express, she was apparently wearing the aquamarine ring that she wore to her wedding reception. Town and Country reports that the gem, which was a part of Princess Diana's pretty extensive jewellery collection, was given to Meghan by Harry and is a super cute tribute to his mum. And a tribute not hard to get on board with because it is like, gorgeous.
The newlyweds are very much embracing wedded bliss on their adventure down under. It's a low-key dreamy work expedition. Their first royal tour is pretty hectic but also seriously envy-inducing. They've gotten the heck out of England just as winter is creeping in and are spending around two weeks travelling to Australia, Fiji, Tonga, and New Zealand.
From the very beginning of the tour, Meghan has not only been an absolute style icon but has also proved that fashion and jewellery are not the only things she has in common with her late mother-in-law. Nope, she has also been showing how much she cares for people and how she wants to make a difference in her official role. She clearly shares Diana's vision of helping people in developing countries, especially when it comes to educating women to a high standard. In her very first royal tour speech she laid down what she believes in. "Everyone should be afforded the opportunity to receive the education they want, but more importantly the education they have the right to receive," she told the crowd. "And for women and girls in developing countries, this is vital".
Harry and Meghan have established from early on in their relationship that they want to make a difference in the world. No stop, YOU'RE crying. This tour is centred around The Invictus Games, which was created by former soldier Harry to help other veterans. The games see wounded, sick, and injured service personnel compete in games like wheelchair basketball, which serves to show that they're not defined by their injuries.
With all of this excitement and travel, needless to say the best is yet to come for the newlyweds — and I am not just talking fashion.